It's an exciting time for live streaming these days, there are a growing number of platforms from which you can broadcast. While it's relatively easy to get set up, it can be a bit tricky to find the right streaming camera for your setup.
Not all cameras are created equal, and not all will work for live streaming as well as another. While most modern social media mobile apps offer live functionality directly from the app, there's a bit more setup and effort that goes into broadcasting from your desktop or laptop, but that's what this guide is meant to address–finding the best camera for live streaming from your laptop or desktop.
Best streaming camera for most people: Sony ZV-E10
Last update on 2023-11-03 / Affiliate links / Images from Amazon Product Advertising API
Our top recommendation has changed to the Sony ZV-E10, dethroning our previous pick of the discontinued (or used) Sony a5100 (although still an excellent camera.)
With the ZV-E10 comes a modern, affordable, and versatile replacement that's just as capable of streaming as it is vlogging. The image quality is top-notch and supports a huge range of E-mount lenses.
It may also be of no surprise that we've picked the ZV-E10 as the best vlogging camera for most people, but we feel that it's also a go-to pick for a live streaming camera and shouldn't be overlooked as a tiny, powerful, and affordable interchangeable lens mirrorless camera that can do it all.
Best streaming camera upgrade: Canon EOS R
Last update on 2023-11-03 / Affiliate links / Images from Amazon Product Advertising API
It may be a bit of an odd pick in this day and age, but we still love the Canon EOS R.  As far as sheer image quality goes, it still holds up with the modern flagships.
We think that, when you combine image quality, color science, and a huge array of R-mount (and adapted EF) lenses, the EOS R is an absolute beast of a streaming camera.
Best budget streaming camera: Sony a5100
Last update on 2023-11-03 / Affiliate links / Images from Amazon Product Advertising API
For new streamers just looking to get into the game–or people upgrading from a webcam or lower quality camera–the Sony a5100 gets our pick almost every time.  For the money, the a5100 just cannot be beaten.
The colors are excellent and the autofocus is extremely reliable.  The image quality is actually really great for a mid-tier sensor and will run for hours and hours without overheating.
If you're just starting or looking for your first big upgrade, the Sony a5100 gets our pick as the best budget camera for live streaming. But with cameras like the ZV-E10 getting so close in price, it's becoming a tighter recommendation to go with the older a5100.
Best webcam for live streaming upgrade: Elgato Facecam
Last update on 2023-11-03 / Affiliate links / Images from Amazon Product Advertising API
The Elgato Facecam is our new favorite general-purpose webcam in the 1080p space thanks to its excellent image quality and well-thought-out software, making it an easy recommendation.
There's no 4K here, but for 1080p 60fps with clean images and easy setup, there's no better choice. Outside of very specific features and use-cases, we'd recommend this camera to anyone who has the money for it.
That said, while it's not the most expensive webcam out there, it's close–especially in this competitive 1080p market.
Best webcam for live streaming for most people: Logitech C920x
Last update on 2023-11-03 / Affiliate links / Images from Amazon Product Advertising API
It shouldn't be a surprise that our top budget webcam pick is still the Logitech C920x and its related versions. Despite being around for what seems like forever now, it's still an absolutely fantastic webcam for the money.
We would like to see some much-needed updates to the firmware and webcam software, but at this price, I suppose we'll let it slide. For now.
Best budget webcam streaming camera: Nexigo N60
Last update on 2022-07-18 / Affiliate links / Images from Amazon Product Advertising API
If you're on a shoestring budget but still need something better than a potato, the Nexigo N60 is our pick. It's a bit of a wide viewing angle with a decent amount of barrel distortion, but it looks way better than it deserves to at the price.
Best affordable mobile streaming camera: iPhone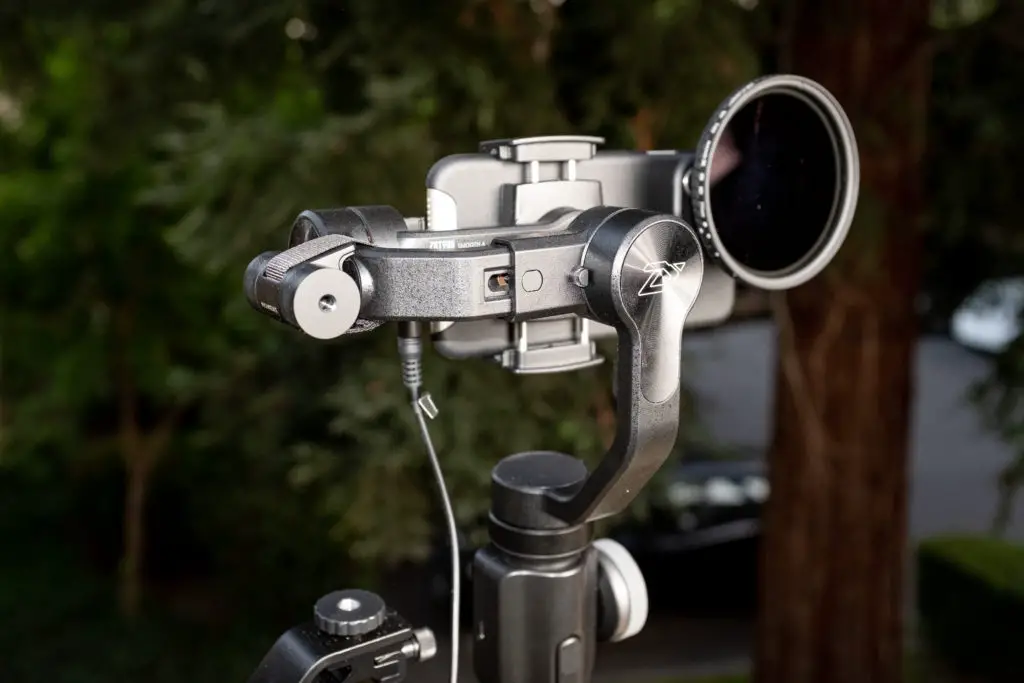 If you want to really go live without being tied to a desk, the easy option is to use your smartphone as long as you have either good wifi or a good 4G/5G signal. 
No, it's not the best video quality, but if you're out and about and need to jump on a quick live session on a social media application, your phone's the way to go.
Fortunately, you can put together an incredibly portable and efficient iPhone video kit for not much money at all, and depending on your needs you can make it as elaborate or streamlined as you need.
You can still get some quite amazing video quality out of an iPhone, a good gimbal or stabilizer, and perhaps an external lens and ND filter without breaking the bank.
What to look for in great live streaming cameras
Excellent overall image quality – Live streaming already takes a visual hit from compression, so you'll want the best picture quality going in. Full HD is fine–4K does downsample to 1080p for a sharper image, but you don't absolutely need it. Yet.
Strong low light performance – You may be broadcasting in darker rooms, and an image sensor with low noise levels in darker situations will help immensely in low light situations with less than ideal lighting conditions. Granted, many streamers now have excellent lighting setups and this isn't as much of a concern as it once was.
Focal length and viewing angle – You probably don't want a camera zoomed into your nose, but you probably don't need an ultra-wide-angle lens either. A slightly wide-angle is usually best, but having a good zoom range is also helpful.
External power adapter – Live streams can go for hours, and your camera battery definitely won't. Plug it in!
Clean HDMI output – If you're not using a webcam, you'll need to connect to a capture device, and a clean HDMI output ensures your image won't have the menu/interface on the output.
Ability to run for a long time without overheating – Computers build up heat as they're being used, and there's a tiny one in your camera that's no exception. A good heat dissipation system will ensure your camera won't shut down mid-stream
A flip-out screen – Being able to see–and control–your camera during the stream is helpful when you aren't able to have your monitoring software up on your computer display. Also helps to change settings with touch screen models.
Easy operation – You don't want to waste time figuring out how to change a setting or going through menus. The easier to change settings, the faster you get to go live!
Update, 11/17/21: In the recent past, streaming equipment was very difficult to come by. At the time, we put together a guide to the best alternate live streaming devices as a workaround for those pieces of gear. Thankfully, inventory started getting a bit better and gear is now easier to find. We're not out of the woods yet, and we'll continue to try to keep things updated as much as possible where needed.
Best mirrorless cameras or DSLRs for live streaming
Sony ZV-E10
Last update on 2023-11-03 / Affiliate links / Images from Amazon Product Advertising API
The newly released Sony ZV-E10 is our new favorite live streaming camera to suggest to most users. It's a modern mirrorless camera with excellent video quality in a small package and a small price tag.
The ZV-E10 has an APS-C sensor with E-mount lens compatibility with a wide range of great lenses. You'll find a flip-out touchscreen display, HDMI output, and even USB connectivity for use as a webcam with UVC compatibility.
This is probably the most versatile, affordable camera on the market right now–we also recommend the ZV-E10 as the best vlogging camera for most people. Thanks to the interchangeable lens, small form factor, and better resistance to overheating we can wholeheartedly champion the ZV-E10 as one of the best cameras for live streaming.
Sony ZV-1
Last update on 2023-11-03 / Affiliate links / Images from Amazon Product Advertising API
There was a time when the Sony ZV-1 was our favorite vlogging camera. That time was only recently ended when it was dethroned by the ZV-E10. But that's not to say that the ZV-1 is no longer a good choice, especially for streamers.
The ZV-1 is very similar to its new brother, however, does not have an interchangeable lens mount. While we felt that the integrated zoom lens wasn't quite wide enough for comfortable vlogging, it's an absolutely great choice in a streaming setup.
You have the choice of either capturing a clean HDMI output from the ZV-1 or using a USB connection with Sony's new USB webcam driver software. There's also a flip screen so you can frame your shot and control the camera easily.
While the ZV-1 is only a small bit less expensive than the ZV-E10, it's still less expensive. If you don't need an interchangeable lens camera for your streaming setup and you want something fairly small with modern features, check out the ZV-1.
Sony a5100
Last update on 2023-11-03 / Affiliate links / Images from Amazon Product Advertising API
While Sony's flagship cameras have been highly recommended for vloggers and filmmakers, the smaller siblings actually are really excellent cameras for live streaming. 
The Sony a5100 is probably the best all-around choice when taking performance into consideration with absolute affordability for that power and is a very popular YouTube camera as well.
The a5100 has excellent autofocus thanks to 179 AF points and works well in a wide variety of lighting situations.  There is a micro-HDMI output (unfortunately) that provides a clean HDMI output for connectivity to your capture card and the output looks great for a compressed stream. 
Paired with no auto shut-off and the ability to run for hours without overheating (when not recording to its internal card) and you have an amazing camera for a very low price.
Currently, this is probably our number one suggestion for most streamers on a budget, especially if you don't already have a large selection of lenses for Canon.
Canon EOS M50
Last update on 2023-11-03 / Affiliate links / Images from Amazon Product Advertising API
With the M50, Canon has finally delivered a camera with two features that they haven't paired together before: 4K video and a flip-out screen.  Although it's not without its compromises, the Canon M50 is a great new entry geared toward vloggers and similar creators, and also makes an excellent streaming camera, with some caveats.
The strengths of this camera lie in the full HD 1080p footage, which has Canon's great dual-pixel autofocus and will do up to 60fps, but no more.  Jumping up to 4k means ditching the dual-pixel autofocus and limiting the frame rate to 24fps.  You can get 120fps at 720p, but you lose so many other options it's not even worth it.
We almost removed this camera from our list because, technically, the HDMI output isn't a "true" clean output. You can do some trickery to get a clean output, but now that Canon has released their EOS webcam utility, you can now get a true clean signal over USB for use in OBS or video conferencing apps.
And the only reason this camera makes the list whereas the Canon SL2 doesn't is because the M50 can provide that "clean" HDMI out, making it not only one of the best vlogging cameras, but also a perfect camera for streaming with great autofocus and other helpful features.
Canon EOS R
Last update on 2023-11-03 / Affiliate links / Images from Amazon Product Advertising API
There are a lot of amazing cameras out there (including the new Canon EOS R5 and R6), but when it comes to picking the best camera for streaming we have to give the upgrade pick nod to the Canon EOS R.  As the first flagship mirrorless model, the full-frame EOS R arrived with a bit of hesitation from the community it has now been embraced as a popular go-to camera for a wide variety of uses.
The dual-pixel autofocus on the EOS R is second to none, and the color science is tops as usual.  It provides an excellent HDMI output and doesn't have any overheating issues under pretty much any use condition.
While it does use the EOS R mount, you can adapt it to the standard EF/EF-S mount and use your existing Canon lenses without issues.  There's a flip-out touchscreen monitor making it easy to monitor without needing to open your stream software to check your framing and focus and the EOS R is above average in low light performance.
The absolute sheer quality of the EOS R along with the great quality R mount lenses make this an amazing choice for years to come and earns our upgrade pick as the best camera for live streaming.
The successor to the GH4, naturally, is the Panasonic LUMIX GH5. Arriving earlier this year, the GH5 is very much the same camera loved by video creators, with some helpful upgrades, both in features and video quality.
This time around, you can shoot 4K video in up to 60fps, with 1080p at 180fps; both a frame rate sweet spot for these resolutions. These features, along with an improved autofocus system, make this not only still a great camera for streaming, but one of the best vlogging cameras out there.
If you do a lot of cinematography and need slow-motion functionality at higher resolutions (or more slowness at standard HD), this camera is a great option to cover all your bases. The camera can also output 4K 10-bit images at 4:2:2, whereas the GH4 can only do 10-bit at 4:2:0. This would almost never be used during streaming due to image bandwidth sizes but is great for non-live recording.
The GH5 also adds a cool "rack focus" focus shifting system, which will allow for changes in autofocus to emulate cinematic focus pulls, instead of requiring manual focusing or an all too quick change in focus like previous autofocus systems.
All in all, if you need the extended color depth and upgraded sensor and focusing, it's a great option. This camera pulls double duty as a killer live streaming camera and also an affordable cinema camera.
Both the GH5 and GH4 are excellent cameras for live streaming, but if all you need is basic functions and don't need the updated autofocus system, save the money and get a GH4.
Best webcams for live streaming
Elgato Facecam
Last update on 2023-11-03 / Affiliate links / Images from Amazon Product Advertising API
The Elgato Facecam is yet another excellent streamer-focused product from Elgato, which has been coming out swinging in the live streaming space recently. This is our new favorite webcam.
The Facecam is a full 1080p 60fps webcam with a fixed-focus f/2.4 lens and an 82-degree field of view, offering excellent light sensitivity and a wide composition–although not too wide.
With a USB 3.0 connection and uncompressed YUV video transmission, you'll get excellent video quality with clean and accurate images and low latency input.
We also like that the settings for the camera are all stored directly on-camera. If you need to move to another computer all your settings go with it. And the software for customizing those settings is fantastically set up, with few issues that hinder easy setup.
Logitech C920x
Last update on 2023-11-03 / Affiliate links / Images from Amazon Product Advertising API
Despite its age, you can't go wrong (for the price) with the absolute legend that is the Logitech C920x and its related versions.
The C920 has been around for many years, and you'll find them in a multitude of desk setups.  The image quality for this size sensor is quite great and delivers some of the best image quality for the price hands down.
The C920 and C920x are actually identical cameras–the "x" designates that it comes with an Xsplit license. Other than that, there are no differentiating features.
The webcam shoots at full HD 1080p at 30fps, has dual stereo mics, and has a solid build. It's the definition of "nothing fancy", but it's a workhorse and gets the job done. You can get better image quality from more expensive webcams, but, well, they're more expensive.
It's definitely the best option around for performance per dollar and sits atop many a monitor as a result. There are newer versions at higher price points, but honestly, you can't go wrong with the C920 as a good mid-range budget option.
Nexigo N60
Last update on 2022-07-18 / Affiliate links / Images from Amazon Product Advertising API
The Nexigo N60 has no right being as good as it is at the price you can buy it for. No, this doesn't mean that it looks "good", but it damn sure looks "good for the price".
You'll find a 110-degree field of view with a fixed-focus lens and a 1080p 30fps sensor. It's not the best in low light, but it has much less noise than you'd expect. There's also a built-in noise-canceling mic if you really need it, but it does sound a bit clipped and you'd be better off with a separate mic, of course.
If you really can't squeeze out even C920x money, the N60 is absolutely your bargain choice.
Logitech C922x Pro
Last update on 2023-11-03 / Affiliate links / Images from Amazon Product Advertising API
The follow-up to the C920 is the Logitech C922x Pro. It's essentially the same as its predecessor, however, does allow for shooting 1080p30 and 720p at a frame rate of up to 60fps, if you're into that buttery smooth look.
As with the C920/C920x, the C922 Pro also has an X variant, which we've chosen here as it seems to be the easiest to find most places. It also comes with a few months of free Xsplit Live.
With rising broadband speeds and many people already streaming gameplay at high frame rates, the 60fps that the C922 Pro provides makes this a new favorite Logitech webcam for streaming on Twitch and YouTube Live.
If you're already broadcasting at 60fps and don't mind a 720p facecam, this is your best bet before jumping up to the Brio 4K.
Logitech C930e
Last update on 2023-11-03 / Affiliate links / Images from Amazon Product Advertising API
The Logitech C930e is the business version of the C920. Basically the same device, however, this model offers a wider field of view, along with pan, tilt, zoom (PTZ), and other conference-friendly options including h.264 compression, and a wider 90-degree field of view.
This is a good option if you do a lot of group videos, otherwise, you may want to go with another less business-focused model.
Logitech Brio 4K
Last update on 2023-11-03 / Affiliate links / Images from Amazon Product Advertising API
For those who absolutely, positively shoot every pixel available, the Logitech Brio 4K is your weapon of choice. Yes, it shoots 4K. No, most streaming/chat platforms don't support 4K. But you can record locally, and then edit/upload that 4K footage.
But in actuality, the Brio 4K shines the best when in the 1080p modes, and even offers a 60fps frame rate option in full HD. The Brio is sharp, adapts well to not-so-great lighting situations, and also has Intel RealSense in order to function as a Windows Hello unlocking method. The Brio 4K also offers a 5X digital zoom and adjustable field of view, which makes it a very versatile webcam.
It's pretty much the opposite of the cheapest webcam on the list, but for all the features it packs it's definitely worth the money. As to whether you absolutely need 4K (or more likely 1080p60), Windows Hello, and "HDR" capabilities, that's up to you, and it just may not be worth the extra cost if you're on the lower side of the budget.
With the recent improvements to the Logitech G-Hub software, however, the Brio 4K is actually improving image quality quite a bit. We're starting to warm up to the Brio 4K as the best webcam pick, but still a bit on the fence, for now.
Best camcorders for live streaming
The Panasonic HC-V770 is a great entry-level 1080p camera with a quality clean HDMI output.
The camera has a bunch of great features for the price, including HDR, wifi/remote monitoring/shooting, 20x optical zoom, 5-axis image stabilization, manual focus, mic/headphone jacks, and 1080p at up to 120fps (software interpolation can get you up to 240fps).
At the just barely sub-$500 range, this would be an excellent entry-level live camera.
Zoom isn't really known for video recording at all but is a well-known name in the audio game. Striking gold with the likes of the H4n handheld recorder, they've reached further into the portable content creation market with the Zoom Q4 Handy Video Recorder, along with some other models in this lineup.
The Q4 shoots 1080p video with a wide-angle 130-degree field of view, but the audio is where this camera stands out. It has dedicated X/Y mounted stereo mics for excellent field audio capture without requiring external mics, amps, or adapters.
You can control the gain manually or let it go on automatic gain control, as well as apply an optional low cut filter to remove boominess if you're shooting somewhere with a ton of volume. There are also, of course, dedicated headphone and external mic jacks on the back.
A distinguishing feature to the Zoom cameras is that you don't need a capture card–USB will connect the camera to your PC for transfer and live streaming. Add a flip-out screen, tripod, and three-prong action camera mounts, and small portable size and you have an excellent on-the-go lightweight video capture system as well as an excellent camera for those who love great audio without the hassle.
The Zoom Q8 Handy Video Recorder is two levels up from the Q4 (the Q4n falls in between the two) and offers some massive upgrades in the audio department.
First, the included X/Y mics are removable and can be replaced with other mic capsules that have been available for the Handy Recorder series of portable audio recorder devices.
You can also replace the usual stereo configuration mics with a shotgun mic, mid-side mic, as well as a few others depending on your audio needs.
Then there's the addition of two phantom-powered combination jacks at the back, allowing for XLR or quarter-inch inputs with individual gain controls. The headphone mini-jack remains, offering a serious set of I/O for such a small camera.
The video features still take the back seat here, with no zoom and what is referred to as 3M HD, or a resolution of up to 2034 x 1296 up to 60fps with a 160-degree field of view.
Again, not the highest-end video options, but the audio offerings here cannot be beaten on an inexpensive device like this.  If you stream music or like to broadcast your band performances, for example, this makes an excellent live camera.
Finally a Canon camera in this list! The Canon VIXIA HF G40 is the successor to the popular G20 and G30, both of which can be found used or from sellers who still have them around, but for the sake of this list, we'll run with a newer version.
The G40 provides great performance with all the usual offerings for a 1080p/60fps camera. Image stabilization, wifi control/shooting, 20x optical zoom, all of the useful IO for input/monitoring, and even dual SD card slots.
You also have the choice of encoding the video into AVCHD or MP4 codecs, depending on your destination or workflow process. If you're looking to step up into a serious video camera, the G40 is a great intro to that realm.
If you're looking for a flexible, high-quality 1080p camera for any production need, the Canon XA35 is a great option. No, there's no 4K here, but there is a high-end sensor, great glass, and built-in XLR inputs on the removable handle for a self-contained video/audio rig.
HDMI and HD/SD-SDI output start to show that this is a camera for serious video enthusiasts and also includes the increasingly common prosumer feature of wifi control.
The XA35 is a very common run-and-gun journalism camera because of its compact size and impressive feature set. If you don't need 4K, but want top-end video and audio features and are serious about image quality, the XA35 is most likely your solution.
Best HD capture devices for streaming live video
Elgato Cam Link 4K
Last update on 2023-11-03 / Affiliate links / Images from Amazon Product Advertising API
Update, 11/17/21: Due to the increased demand for live streaming devices, the Cam Link 4K was extremely difficult to find up until recently.  We had started a guide to some of the best alternate live streaming devices to this and other equipment that live streamers may need during this crisis and will be attempting to update it as often as possible. While inventory is much better now than last year, there are still some delays and stock issues. You may find a faster alternative option from that guide, as well as some more affordable options.
Elgato's original Cam Link was a pretty decent little device, however, it lacked some features and stability.  The Elgato Cam Link 4K is a huge upgrade to the original device and now is one of our favorite video capture devices.
The Cam Link 4K will accept an HDMI input from any video source up to a 4K 30fps signal and will turn it into a plug and play webcam device that can be recognized in any app that works with webcams, such as OBS/SLOBS, Skype, and many more.  It will turn your DSLR, mirrorless, or camcorder into a 1080p60 webcam that you can then stream to nearly any platform.
If your device has a clean HDMI output, chances are it will work with the Cam Link 4K. It's probably the easiest option to get up and running for anything you're wanting to do, whether it's live streaming on social media, or video conferencing with Zoom, Skype, Hangouts, and more.
If you're looking for a solid capture device at an affordable price that works with most software out there, start with the Elgato Cam Link 4K.
There are a ton of inexpensive HD capture devices out there, but as far as reputable, quality budget capture devices go, the AVerMedia AVerCapture HD is a great option.
Despite being geared toward capturing game console video for live streaming you can connect your 1080p HDMI camera without any issues. No fancy features or uncompressed footage here, but for less than $100 it gets the job done.
Blackmagic Design Intensity Shuttle
The reviews on the Intensity Shuttle devices are a bit mixed, but if you have compatible hardware and get things set up properly, you have great capture of your 1080p devices. The Intensity Shuttle is available in a USB3 version as well as a Thunderbolt model, so you're covered regardless of what side of the OS divide you come down on.
You can capture uncompressed video, however, the storage requirements might be a bit more than you can provide for it depending on your drive configuration. But if you do your homework and have some patience, it's a great option for HDMI capture.
Buy Blackmagic Design Intensity Shuttle USB3 here
Buy Blackmagic Design Intensity Shuttle Thunderbolt here
Epiphan AV.io HD and 4K
When we first put this guide together, Epiphan was a new brand to us. However, after looking into it further, we saw that they actually have a really solid lineup of products. We first heard of Epiphan from Linus Tech Tips regarding their hardware revamp for their live streaming show, The WAN Show.
Not only do they go over all the new audio hardware (which, of course, is one of our favorite types of hardware), but Linus introduces the use of the Epiphan converters, and later on demonstrates a full-on hot-swap disaster situation live on-air. This stuff just friggin' works.
Epiphan has a 1080p model as well as a 4K version, and neither is cheap. They don't require drivers and are natively detected by Windows, so setup and config are entirely done within your streaming software with the AV.io devices merely acting as a camera source.
If you need no other features other than to capture video and audio from an external HDMI source and have the budget for rock-solid gear, look no further.
Buy Epiphan AV.io HD here
Buy Epiphan AV.io 4K here
What sites can I live stream from?
YouTube Live is the de facto live streaming platform at this point and has a huge amount of users who live stream from the site. However, Facebook Live is now pushing strong to catch up, especially after going after the game streamers as part of Facebook Gaming's marketing campaign.
YouTube has had desktop streaming and just rolled out mobile streaming to everyone with a YouTube account. Facebook is the opposite, at first allowing everyone mobile streaming capabilities and now allowing everyone–not just fan pages–to stream from their desktop/laptop.
Not everyone may be familiar with Twitch, especially if you're not into gaming and watching other people play games. But it's definitely the go-to popular platform for streaming games.
How do I connect my mirrorless or DSLR camera to my laptop/desktop to live stream?
The process of getting your camera connected to your laptop in order to live stream is probably the most misunderstood aspect of live broadcasting for those who are new to the process. 
When we wrote this guide it was written with the assumption that people looking for a good live streaming camera already knew how to do this and skipped over this as we were writing a device-focused buying guide.
But we've since circled back around to this process and have explained the process for beginners in our guide on How To Live Stream With A Camera. 
If you're unsure of how to connect your existing mirrorless or DSLR cameras for live streaming, pop on over, give it a read, and then come on back here when you're looking for advice on specific live streaming cameras to buy.
Do I need a high-end computer to live stream?
As it often, unfortunately, is the case, the answer here is "it depends". In general, modern CPUs are powerful enough to handle processing a connected facecam or other cameras while doing other tasks, such as gaming.
Modern CPUs have more cores and threads and can handle multitasking better than older CPUs, in addition to just being better at single tasks in the first place. You don't need to break the bank to get the horsepower you need anymore.
That said, it will definitely depend on which game you're broadcasting (or Photoshop, or Reaper, or whatever else you're working in), how heavy you're compressing footage, what resolution your camera is set to, and other variables.
Also, you won't really need to be terribly picky as to which other specific features you need for a streaming computer, unlike say, with a video editing laptop. Having enough CPU power to handle the camera(s), your streaming software, and the game you're playing is pretty much the only requirement. And if you're not game streaming then your need for CPU power is lessened by quite a bit.
Do I need a 4K camera for streaming?
If you don't have god-tier Internet connectivity, absolutely not. Unless you plan on doing a large amount of non-live video and need the glossy sheen of all those pixels, 4K isn't necessary yet. Most streamers stick with Full HD (1080p), and some even lower.
Your internet probably won't even support uninterrupted broadcasting in 4K, so if streaming is the majority of your usage, skip the extra pixels and get a better sensor/lens and lighting. These will improve your overall image quality much more than a 4K sensor will.
Don't get us wrong, you can absolutely improve a Full HD stream quality by shooting in 4K and downscaling to 1080p. This will produce a sharper image by using more pixel data to create higher image quality at that lower resolution.
But do you really need a video resolution higher than 1080p for your streaming camera/facecam? Usually not.
Can I use Wi-Fi to stream from my camera?
Most likely, no. If you're wanting to connect your streaming camera to your computer via Wi-Fi, while some cameras allow this for file transfer, it won't work for video connectivity (maybe there's a few cameras here and there, but they're rare).
Wi-Fi can only connect to one device at a time, basically. If your computer is connected to your wireless router, for Internet connectivity it probably can't connect to your camera at the same time unless there's a second wireless adapter in your computer. Again, rare.
Some point-and-shoot and more specialized cameras may have options to connect to a live streaming platform via Wi-fi to an internet connection and stream that way, but once again, this is pretty rare.
In general, if you need to stream over Wi-Fi, stick with your smartphone.
What kind of cameras can I use to live stream?
When deciding on what camera to buy for your stream setup, you'll first have to figure out which type of device you want to use.
Each has its strengths and weaknesses, as well as clear reasons why you would or wouldn't want to pick that style of camera.
Webcams
First, is the good ol' webcam. While most laptops have them built into the monitor bezel, they're almost never any good.
This is where you would buy an external webcam with a larger CMOS sensor, better lens, and higher quality mic than what is built into the laptop (although you should still use a separate microphone and audio interface if you can).
Webcams are usually the first choice in kicking off a live broadcast adventure due to their availability, low cost, ease of use, and many streamers' first camera is a Logitech webcam.
They make excellent affordable choices for beginners, as long as you've got a reasonable amount of light on you to keep the sensor from struggling to get a good exposure.
Also, some webcams will fall under the pan/tilt/zoom (PTZ) category of cameras. These are basically webcams that offer, well, panning, tilting, and zooming.
They're used in video conference environments most often, but they do offer some cool features. 4K models will also offer some really useful digital zoom for some creative punch-in zoom options.
You also don't need to mess with any sort of capture devices that you would need when streaming with a video camera, making it a dead-simple plug-and-play setup.
Webcams may not have the highest video resolution and are crippled by poor lighting conditions and have lower picture quality than their bigger brothers, but they're super affordable and can do excellent work if handled properly.
That said, you'll need to compensate for the lower quality image sensor with more light than you think you would need for a full-size camera.  Thankfully there are some amazing streaming lights out there that won't break the bank.  But even with that taken into consideration, the C920 gets our pick for the best budget webcam.
DSLRs and mirrorless cameras
DSLR and mirrorless cameras are often the first choice of cameras when learning how to start a vlog as well as for independent filmmakers and established content creators.  Unfortunately, this second option gets a bit more complicated, however, can boost the quality of your stream considerably.
Yes, If you go with a DSLR or mirrorless camera you'll most likely have a ton of flexibility with your camera settings, higher video resolution options, and you can pick a specific lens to get exactly the look you want.
The reason this gets complicated is that DSLRs aren't necessarily made to be video cameras. Most do not have native video interfaces via USB and require an HDMI output to a capture device to connect your DSLR to your laptop or desktop. And even then, not all cameras output clean HDMI at full resolution (clean resolution refers to not having the onscreen display data on the output).
You don't necessarily need a full-frame sensor in your camera, but if you have an APS-C or Micro Four Thirds sensor you'll want to compensate with a wider lens than if you had a larger sensor.
You'll also need to be somewhat particular if you want to use a mirrorless or DSLR camera as a webcam, but thankfully Canon has announced some new software to use their DSLR cameras as a webcam over USB, negating the need for an external capture device.
Most DSLRs don't come with power adapters and require separate purchases, as well as not always being easy to use–many are battery inserts that leave a cord coming out of the battery compartment. Battery life on most DSLR and mirrorless bodies have fairly low battery life, so a power adapter will be mandatory for longer sessions.
It should also be mentioned that some DSLRs and mirrorless can be prone to overheat, which could shut down your show mid-show. Thankfully many won't overheat unless they're actually recording as opposed to just outputting signal over HDMI.
Camcorders
Dedicated camcorders are the third option for live video. Yes, DSLR and mirrorless cameras are all the rage in video these days but definitely don't sleep on camcorders by any means. Whereas DSLRs aren't necessarily designed for always-on video capture, camcorders are purpose-built for it.
As such, they have video-first features like clean HDMI outputs at the common resolutions and frame rates and don't heat up the way that a DSLR does. Camcorders are most often your best bet for long durations and are most likely the easiest method to get going, outside of webcams.
As with a mirrorless or DSLR camera, a camcorder is usually only one half of the hardware equation. You'll need some sort of HDMI video capture device, which then will connect to your computer via USB, Thunderbolt, or another similar interface. The options of connecting directly through USB are basically non-existent.
At this point, however, very few smaller streamers are probably using this setup outside of established media/video outfits and are much more common with larger budgets for high-end setups.
We feel that camcorders are a bit underrated with all the shiny DSLR and mirrorless options out there, but if you need a bunch of video-specific features built-in, perhaps give these a shot.
Conclusion
Well, that got a bit long-winded, but there are so many great cameras for live streaming that this could just go on forever. We didn't even cover any of the higher end cinema cameras such as the Canon C100 or Blackmagic Ursa 4K Mini (although those are both excellent cameras and are frequently used in live streams!).
If you're still a bit uncertain on which would be the best camera for you, go back to the basics: What is best for your situation and budget? To be honest, even the venerable Logitech webcams will get great results if you light yourself properly and can do great work until you're ready to upgrade to a larger setup.
We hope this helps narrow down some choices and answer some questions regarding live video camera and capture card choices for live streaming. If you have a question that we haven't covered here, leave a comment below!