Picking out the right vlogging camera to fit your needs can sometimes feel extremely daunting and overwhelming. We get that, we feel the same way!
With new cameras releasing all the time it can be a challenge to keep up, but we hope to provide a helpful list to get you on the right path so you can stop shopping and start vlogging.
Note: We've previously covered how to start a vlog, but we've since moved our vlogging camera guide into this separate article to let us go into more detail on what you should be looking for.
Best vlogging camera for most people (4K): Sony ZV-E10
Last update on 2023-11-03 / Affiliate links / Images from Amazon Product Advertising API
The Sony ZV-E10 is our favorite vlogging camera for most people because it provides everything that a vlogger or YouTuber would need in a compact package with excellent image quality and great features.
You'll end up getting almost everything you want out of a vlogging camera with the ZV-E10. 4K 30fps (and 24fps), 1080p up to 120fps, great autofocus and low light performance, a fully-articulated flip-out screen, and several Log recording formats. And all of this with an APS-C size sensor and Sony E-mount lens compatibility.
And it's that interchangeable lens mount that raises this camera above its predecessor, as the built-in ZV-1 lens isn't wide enough for handheld vlogging. But with wide-angle options like 10mm lenses make this camera a fantastic vlogging camera.
Unfortunately, there's no IBIS (in-body image stabilization) in the ZV-E10, making this one feature from the ZV-1 we miss, there are plenty of great lenses with built-in stabilization.
And the Active Steadyshot in the ZV-E10 is absolutely fantastic in most situations. It will impose a crop on your image, of course, but as long as you have a wide enough lens it won't be an issue.
We also love the fact that thanks to its small size, it's an amazing companion to small gimbals such as the Zhiyun Crane M3. You may not be able to balance larger E-mount lenses, but it works excellent with most lenses you'd usually pair with this camera.
Overall, if you're a fan of the ZV-1 you'll love the ZV-E10 and its great upgrades. This camera is going to be the one to beat for quite some time.
Best vlogging lenses for the Sony ZV-E10
While we didn't have lens choices for the previous top pick, the ZV-1, we're glad to have the choices for our new winner. They're actually the top picks we listed for the a6600 as they're both APS-C sensors with an E-mount system.
We like the Sigma 16mm f/1.4 DC DN as a good wide prime. While it doesn't have lens stabilization, it's wide enough to allow the Active Steadyshot to do its thing with the extra 10% crop that it imposes. It's also great in low light and looks amazing.
If you want a zoom lens with stabilization, we'd advise the Sony 10-18mm f/4 OSS wide-angle zoom lens. While it's not as great in low light, we think that this f/4 zoom more than makes up for it with its extremely wide 10-18mm range.
Best vlogging camera on a budget (1080p): Canon M50
Sale
Canon EOS M50 Mirrorless Vlogging Camera Kit with EF-M 15-45mm Lens, Black
Dual Pixel CMOS AF for fast, accurate autofocus that helps you get the photo you want right as the moment happens
241 Megapixel APS C CMOS sensor and the DIGIC 8 Image Processor delivers incredible color, clear details, and stunning range
Vari angle touchscreen LCD has a flexible tilt range ideal for high angle and low angle shooting, and reviewing your photos
Last update on 2023-11-03 / Affiliate links / Images from Amazon Product Advertising API
We've previously included the Canon M50 as one of the best cameras available for streaming to Facebook Live or YouTube Live, but the real reason this camera is so popular is that it's nearly a perfect vlogging camera.  It's tiny, super affordable, and has Canon's killer autofocus–most of the time. Arguably, this is one of the best vlogging cameras with a flip screen.
While this was Canon's first affordable camera in these ranges to support 4K, to do so you lose the dual-pixel autofocus that makes recent Canon cameras so great for vlogging (and everything else).  You also won't get anything higher than 24fps in 4K, so no silky b-roll in UHD with this pocket-sized wonder.
But, you do get some pretty high-quality 1080p HD video at up to 60fps, and if you really need 120fps it's available at 720p.  But even after all of those caveats, this is quickly becoming a go-to vlogging camera because of great color science (as expected from Canon), a proper flip-out vari-angle touchscreen, and a great small form factor–and the matching price tag.
There is digital stabilization in the M50, and when you pair it with a lens with its own IS, you can make use of what Canon calls Combination 5-Axis Stabilization for some excellent steady video. And as with most other modern cameras, you also can control the M50 over wi-fi with the EOS app.
We know that the M50 has been out for a while and the M50 mkII and M6 mkI and mkII exist, but we still feel that the M50 is the best video blogging camera for the money in the 1080p space. If you don't need much 4K video resolution at all, don't overlook this camera.
Best vlogging lenses for the Canon M50
The kit lens is definitely wide enough for vlogging, and while EF-M lenses aren't as plentiful as we'd like by now, getting an EF-M to EF/EF-S adapter is a great way to expand your lens selection.
Best vlogging camera upgrade (4K): Sony a6600
Sale
Sony Alpha A6600 Mirrorless Camera
World's fastest AF at 0 02 sec with real-time AF and Object tracking
24 2MP APS-C Exmor sensor with front end LSI and ISO up to 102 400
Wide 425-phase/425-contrast detection AF points over 84% of sensor
Last update on 2023-11-03 / Affiliate links / Images from Amazon Product Advertising API
If you want more control, features, and the ability to use interchangeable lenses, we really love the Sony a6600 as a great compact vlogging camera upgrade. There are a lot of similarities between this model and others within the a6000 line, but we feel that there are some distinguishing features that easily make this a no-brainer upgrade choice.
Just like the rest of the models in this line, you'll get excellent 4K video quality, a flip-up screen, lens-based image stabilization, wi-fi control, 120fps high-speed video, weather-sealed body, the usual suspects for sure. But, since we're looking at an upgrade pick, the a6600 has some worthwhile differences.
Primarily, we love the addition of in-body image stabilization (IBIS) to the a6600, making some already great in-lens stabilization even better. You'll also find better battery life, better low light performance, and a headphone jack if you need to monitor your audio levels.
We also prefer the slightly larger handgrip on the a6600 as it does feel better in the hand when operating as a regular photo or video camera. Other than that, however, the bodies are very identically sized with the a6600 being just 100g heavier than the a6400.
Overall, we feel that the a6600 is one of the best cameras for vlogging in the compact, crop sensor category. There are some excellent options in the a6000 lineup, but we think that the low light performance, great eye-tracking autofocus, and IBIS really seals the deal for the a6600.
Best vlogging lenses for the Sony a6600
As far as lenses go, we'd advise to just buy the camera body itself and skipping the kit lens. We like the Sigma 16mm f/1.4 DC DN as a good starting glass for the a6600 because it's wide enough and the lack of lens stabilization is made up for by the camera's IBIS. It's also a low-light performance beast, which always gets our vote.
For a more flexible upgrade lens, we'd advise picking up the Sony 10-18mm f/4 OSS wide-angle zoom lens. This is a stabilized lens, meaning that it can work in partnership with the IBIS in the body for some ridiculously good-looking stabilization. It's also a much wider field of view than the 16mm making it easier for vlogging–especially with multiple people. It's not nearly as good in low light as the 16mm f/1.4, but it's a great overall vlogging lens.
Best vlogging camera regardless of cost (4K): Sony a7S III
Last update on 2023-11-03 / Affiliate links / Images from Amazon Product Advertising API
The Sony a7S III is absolutely the best vlogging camera available if the price isn't an issue–and you don't mind a full-sized device. While it's no FX3, it's a mostly video-first design, as we've seen from the manufacturer in the past few years–something a DSLR camera can't typically say for itself.
There's really nothing missing from the a7S III: Full-frame sensor? Check. Flip-out screen? Check. Awesome eye-tracking AF? Check. Great stabilization, both optical and active? Check. Brilliant color science? Check. Insane low-light performance? Check. 4K video at 120fps and 1080p 240fps slow-motion? Check and check. 4:2:2 10-bit All-I codec? Checkity-check.
Honestly, the list keeps going from there, but these are some of the headline features that people love from the a7S III. Pretty much anything you could ever want from a video or photo camera has been included in the a7S III, making it quite possibly the hybrid device available today.
While we don't have many complaints about this camera, there are some. It's not cheap, 240fps doesn't work on all cards (requiring very specific cards at the moment), and the display on the flip-out screen is a bit small if we're totally honest.
But in general, if someone wanted the epitome of video quality and features while the price isn't an option, we'd definitely suggest the a7S III as the best high-quality, feature-rich camera with little hesitation.
Best vlogging lenses for the Sony a7S III
Speaking of lenses, we'd suggest something in the 20mm range as a good vlogging lens. As there's no crop on full-frame sensors this is a reasonable focal length (on an APS-C camera like an a6600 we'd suggest 16-18mm at the longest).
As with most manufacturers, Sony lenses aren't cheap. They ARE pretty excellent though, especially the G Master versions (think Canon L-Series lenses). G Master lenses may be overkill for vlogging, but they offer wider apertures for better low-light performance.
For full-frame bodies like the a7S III, we like the Sony 16-35mm f/4, which is a constant f/4 through the zoom range and built-in OSS (Optical Steady Shot) to work hand in hand with the IBIS of the a7S III.
Also available is the Sony 16-35mm f/2.8 G Master, which offers much more low-light performance, but does not have OSS. This isn't a huge deal since Sony bodies typically have excellent IBIS.
If you would like something a bit more wide–or also plan to use a lens with APS-C bodies like the a6600, we like the Sony 12-24mm f/4 and Sony 12-24mm f/2.8 G Master lenses. Neither have OSS, but this isn't an issue if your body of choice has IBIS.
Best action camera for vlogging: GoPro Hero 9 Black
Sale
GoPro HERO9 Black - Waterproof Action Camera with Front LCD and Touch Rear Screens, 5K Ultra HD Video, 20MP Photos, 1080p Live Streaming, Webcam, Stabilization
5K Video - Shoot stunning video with up to 5K resolution, perfect for maintaining detail even when zooming in
20MP Photo with SuperPhoto - Capture crisp, pro-quality photos with 20MP clarity. And with SuperPhoto, HERO 9 Black can automatically pick all the best image processing for you
Front Display plus Rear Touch Screen - A new, larger rear touch screen with touch zoom on HERO9 Black and a dazzling new front display makes for easy framing and intuitive camera control.Included components:HERO9 Black Camera,Rechargeable Battery,Curved Adhesive Mount,Mounting Buckle,USB-C Cable,Thumb Screw ,Camera Case
Last update on 2023-11-03 / Affiliate links / Images from Amazon Product Advertising API
It's safe to say that everyone is familiar with a GoPro–the name is practically synonymous with "action camera". And while some may scoff at the idea of vlogging with a GoPro we feel that the GoPro Hero 9 Black actually is a fantastic vlogging camera.
The Hero 9 Black is largely an iterative improvement over the previous version–better stabilization, better audio, better battery life, and a new sensor capable of up to 5K30 video along with proper HyperSmooth Boost stabilization in all resolutions.
But this time we finally have a front-facing display for selfies and vlogging. This made all the difference as we took our Hero 9 Black on trips and found compositions so much easier.
Despite the incremental changes, we still feel that the Hero 9 Black is the best GoPro Hero available today for the money. You can get incredibly smooth and usable 4K video quality as long as the light is good and makes an excellent alternative to even larger compact camera bodies if you need to travel light.
Best vlogging camera you probably already have with you: Smartphones
If you don't want to carry a separate device around or spend money on a dedicated camera, chances are that your iPhone or Android is more than capable of getting the job done. We feel that the iPhone 12 is probably the best quality video of any phone, but the Samsung Galaxy line is absolutely right behind it.
Don't let the lack of a fancy camera stop you from vlogging. Grab your smartphone and start creating today. The key is, no matter which camera you have, to just start making cool stuff.
Other excellent vlogging cameras
Different vloggers will have different needs and preferences for which camera they want to vlog with. Some want something light and small, others need blazing fast AF, cinematic image quality, and a ton of features and are okay with a larger body for those features.
There's no such thing as the perfect camera–if there was, Camera Conspiracies would be out of a YouTube career! This means that even though we've provided our top picks above, they're not the only good options available. Some people love their Fujifilm gear, others don't mind carrying around an a7S III. Some love their G7 X mark III and wouldn't trade the color science for a ZV-1.
It's all quite subjective once you get away from the specs sheet, and there's some awesome gear out there. With that said, we do want to highlight some of our other favorites that are worth some consideration.
Sony ZV-1
Last update on 2023-11-03 / Affiliate links / Images from Amazon Product Advertising API
The Sony ZV-1 was released in 2020 with much praise from video enthusiasts. Built specifically for vloggers, it brings in many of the much-loved features from other models from the RX and the Alpha lines, making this a very impressive-looking point and shoot camera at first glance.
Up until the release of the Sony ZV-E10, the ZV-1 was our top vlogging camera recommendation for most people. That's not to say that the ZV-1 isn't still a great camera–it's smaller, less expensive, doesn't require a separate lens, and has built-in IBIS.
You'll get great 4K video up to 30fps and 1080p up to 120fps (with faster modes in High Frame Rate settings) for great slow-motion, outstanding onboard audio with a removable windscreen, excellent image quality, and typically impressive Alpha series low light performance thanks to its 20MP 1″ CMOS sensor.
There's also a built-in neutral density (ND) filter for shooting in full daylight and of course, some very reliable video stabilization included. The background defocus button is also a fun addition that helps you get the bokeh (or toneh, if that's how you roll) you're looking for.
The built-in microphone is actually really great, and the inclusion of a detachable windscreen is a godsend for recording outdoors for sure. Of course, you also have a microphone input to connect an external or wireless mic setup (like the Rode Wireless Go systems, which we love), and the sound quality of the internal preamps is definitely quite high.
The hot shoe is also a mic input, as it's compatible with the Multi-Interface audio accessories, such as an external mic or the XLR microphone input accessory. There really is a lot of flexibility with how you can outfit your video recording setup with this device.
Sony also has made a Vlogger Accessory Kit available, which comes with a 64GB SD card and a very useful tripod that also functions as a vlogging grip and remote via Bluetooth. You can buy the camera and Vlogger Kit separately, or get both the ZV-1 and the Vlogger Accessory Kit as a bundle for a bit of extra savings. You can also control it via wi-fi if you prefer.
While this device has so much going for it, the one thing we'd like to see improved is the lens choice. We think that it's not quite wide enough for a vlogging camera. Without extending your arm out all the way, it's a bit close for our tastes, but it's not a full deal-breaker. This is actually made a bit worse by turning on stabilization, as there's a bit of a crop in to facilitate that feature.
As a fix to this, we'd suggest picking up the Ulanzi ZV-1 wide-angle adapter. It's not the most graceful solution, but it is a solution. Another option would a longer tripod like the Joby GorillaPod 3K or GorillaPod 5K, which are 12″ and 15″ long tripods respectively as compared to the Vlogger Kit grip which is about 7″ in length.
Honestly, the ZV-1 was released into a rather competitive market. The Canon Powershot G7 X mark III and the Sony RX100 series have long since dominated this category of compact point and shoot cameras and are still excellent devices, but we feel that the ZV-1 is currently the best model out of this group.
While we hope to see a ZV-1 mkII at some point soon with a shorter wide-angle focal length, even with this minor complaint we still think that the ZV-1 easily is one of the best cameras for vlogging. If you want something that just gets out of the way and lets you focus on video content (pun intended), this is the one to beat.
Sony a7C
Sale
Last update on 2023-11-03 / Affiliate links / Images from Amazon Product Advertising API
Another new body to the alpha lineup is the Sony a7C–a full-frame sensor in what's essentially an APS-C body. This is basically a trimmed down a7S III that's comparable in size to the a6600.
The a7C is a really compelling offering. You get a large amount of the great features from the superstar a7S III but at a bit more than 33% less of the price.
You'll get a smaller body but still have great IBIS and autofocus, a flip-out screen, 4K up to 30fps, and 1080p HD video up to 120fps for slow-motion, but all of these are limited to H.264/XAVC S at 4:2:0 8-bit codecs.
As compared to the 4:2:2 10-bit H.265/XAVC available on the a7S III along with up to 4K 120fps this is definitely limited, but with a much lower price tag, this is an understandable omission. As a note, you can record 4:2:2 8-bit externally from the a7C, so at least there's that if it's necessary.
You're also only getting one SD card slot and a micro HDMI output on the a7C, but you still have a USB Type-C, headphone, and microphone 3.5mm ports, Bluetooth, and Wi-Fi along with the same NP-FZ100 battery from the a7S III in a much lighter package with considerably better battery life.
We really like the premise of the a7C. The footage looks amazing and it's considerably more affordable than its bigger brother. If you don't need the higher bit-depth, better codecs, and higher frame rates the a7C is an excellent full-frame camera for vlogging.
Best vlogging lenses for the Sony a7C
Our suggestions for the a7C are essentially the same as for the a7S III. The Sony 16-35mm f/4 (or Sony 16-35mm f/2.8 G Master) and Sony 12-24mm f/4 (or Sony 12-24mm f/2.8 G Master) are still our picks for this body.
While there is a kit lens available, we feel that a 28-60mm is not nearly wide enough for a vlogging camera and we would advise getting the body only and buying one of the above lenses separately.
Canon EOS RP
Last update on 2023-11-03 / Affiliate links / Images from Amazon Product Advertising API
The Canon EOS RP is a bit of an underrated camera, as it isn't a feature-filled behemoth and instead is a more pared-down version of the EOS R. While the image quality is quite good, there are several reasons why you wouldn't want this camera (and a few why you would).
If you love the image from the EOS R, the RP is a good lower-cost alternative. Especially if you want a smaller, lighter full-frame body than the EOS R, 6D mkII, or similar designs.
Unfortunately, there is no stabilization built into the body, and there's still the massive 1.6x crop factor in 4K. But now that the RP has been out for a while and come down in cost, it's still a quite capable lightweight 1080p vlogging camera (and 4K in some situations).
We feel that there are better smaller body and lower budget options available than the RP, but it's worth a mention if only to point out where it falls in the grand scheme of things.
Best vlogging lenses for the Canon EOS RP
Native RF mount lenses are a bit slim still at this point, especially for wide-angle lenses, so the best bet for an RF vlogging lens would be the Canon RF 15-35mm f/2.8L IS USM. It's not cheap, but most RF mount lenses aren't.
This glass will absolutely be your best option for vlogging on an R-series camera, and pretty much required for 4K video on a camera with a massive crop in that mode.
At this point, the only autofocus-enabled third-party RF mount glass available is the Samyang AF 14mm f/2.8 for RF mount. It's considerably cheaper than the Canon versions, but it's a solid alternative, given that price difference.
Samyang owns multiple other brands including Rokinon, so you can find this labeled as a Rokinon AF 14mm f/2.8 for RF mount as well. They're identical lenses, so check for the best price between the two.
DJI Pocket 2 Creator Combo
DJI Pocket 2 Creator Combo, 3 Axis Gimbal Stabilizer with 4K Camera, 1/1.7" CMOS, 64MP Photo, Face Tracking, YouTube, Vlog, Portable Video Camera for Android and iPhone, Black
MOTORIZED STABILIZATION: A 3-axis gimbal stabilizes the camera for smooth video on the move. This technology is also great for a crisp photo at any time. The gimbal keeps the camera steady, even for long-exposure shots and in low-light environments..Operating Temperature : 0° to 40° C (32° to 104° F)
HIGH IMAGE QUALITY: An upgraded 1/1.7-inch sensor captures images with 64MP photo and 4K video. A sweeping 20mm f/1.8 lens provides a wide, vivid cinematic look.
ENHANCED AUDIO: Consisting of four microphones, DJI Matrix Stereo offers sound recording in different directions, as well as Audio Zoom and SoundTrack, which enhance audio based on the camera's direction and focus
Last update on 2023-11-03 / Affiliate links / Images from Amazon Product Advertising API
If you don't want to carry around a full camera (or even a compact camera) with you, but want something a bit more specialized than your phone, take a look at the DJI Pocket 2 Creator Combo. The Pocket 2 is a handheld camera and gimbal combination and brings smooth handheld footage to a tiny and portable package.
The Pocket 2 builds on the success of the original device and has an upgraded 1/1.7″ CMOS sensor for better 4K video as well as a better microphone array. The Creator Combo also comes with a wireless clip-on mic so you don't have to rely on the mics on the device for your dialog.
The quality of video from this little device shouldn't be surprising–it's the same tech that goes into their drones and is built to be very portable–even allowing for easy editing directly on your phone or tablet.
We've been pretty impressed by the footage that this device is capable of and have no issues recommending the Pocket 2 as a great ultra-portable camera for vlogging when you don't want to bring a larger device with you.
Canon EOS R
Sale
Canon EOS R, Vlogging and Content Creator Camera 4K UHD, Digital Single-Lens Non-Reflex AF/AE, 0.76 Magnification, OLED Color Electronic Viewfinder, CMOS Sensor, Mirrorless, Full-Frame (Body Only)
FULL-FRAME CMOS SENSOR & DIGIC 8 30.3 MP IMAGE PROCESSOR: Ensures crisp photos and high-resolution videos; enables optimum performance, image processing, and video functionality
DUAL PIXEL CMOS AF: Features an impressive 5,655 manually selectable AF points** and delivers sharp focus in up to 0.05*** seconds so you can capture, focus, and maintain action shots with ease
RF MOUNT COMPATIBLE: The EOS R camera is designed to work effortlessly with RF lenses; it maintains compatibility with EF and EF-S lenses through the use of one of three optional mount adapters*
Last update on 2023-11-03 / Affiliate links / Images from Amazon Product Advertising API
The Canon EOS R is a full-frame body that offers a 30.1-megapixel sensor, up to 4K 30p video in 8-bit 4:2:0 internal or 10-bit 4:2:2 clean HDMI out video recording, and offers the C-Log recording profile for maximum color grading potential. Unfortunately, 120fps is only available in 720p, but that video, even when upscaled to 1080p, actually looks really good.
While 1080p recording makes use of the full sensor, 4K capture does have a 1.7x crop.  With more vloggers shooting in 4K these days, this is becoming more and more of a dealbreaker for the EOS R as a vlogging camera–but in all honesty, the 1080p footage is still incredibly stunning.
Despite its early unpopularity, the EOS R did find an audience as the go-to YouTube camera for a ton of creators because of the flexibility and all-in-one-ness that it offers.  You get the high quality of the 1DXmkII, but with a flip-out screen and C-Log at the cost of just having no 1080p120.
It could be noted that where we previously would have recommended the Panasonic Lumix GH5 we feel that the EOS R is a more solid vlogging recommendation, even if only for the much better AF system.
Also worth a mention, the EOS R does usher in a new Canon lens mount, the RF Mount.  This is necessary because it's a mirrorless system that's meant to work with adapters for EF mount.
But the RF mount is pretty cool on its own, thanks to its flexibility and added features–like the Control ring, which can be assigned to one of a number of different controls, such as ISO or exposure compensation, or the drop-in filter adapter, allowing an ND filter (or other similar filters) to be inserted between the body and lens. Both of these are incredibly useful features to help ease the pain of moving to a new lens mount system.
Honestly, there's a lot to love about the EOS R.  While we didn't initially include it in our rundown, we've come to really admire what this camera has to offer, and is definitely a great addition to any vlogger out there.  It may not be a beginner's vlogging camera, but a good eventual goal for sure.
Best vlogging lenses for the Canon EOS R
Just like the EOS RP, RF mount options are limited. We still suggest the Canon RF 15-35mm f/2.8L IS USM as the top pick, as there's still a crop in 4K on the EOS R.
You can also pick up the Samyang AF 14mm f/2.8 for RF mount or Rokinon AF 14mm f/2.8 for RF mount as well.
Sony RX100 VII / Sony RX100 VA
Sony RX100 VII Premium Compact Camera with 1.0-type stacked CMOS sensor (DSCRX100M7)
20. 1MP 1. 0 Type stacked CMOS sensor, Zeiss Vario Sonnar T 24 200 millimeter F2. 8 F4. 5 large aperture high magnification zoom lens
0. 02 sec. High AF speed, 357 point focal plane Phase detection AF and 425 point contrast detection AF
Up to 20 fps blackout free shooting, using up to 60 times/sec. AF/AE calculations. Diopter Adjustment: -4.0 to +3.0 m-1. Operating Temperature- 0 degrees C.- +40 degrees C. / 32 degrees F. - 104 degrees F
Last update on 2023-11-03 / Affiliate links / Images from Amazon Product Advertising API
In our opinion, the world of compact cameras (if not just all cameras in general) can get a bit overwhelming and overly iterative with the number of models available. The RX100 line is no exception. And this has been further muddied a bit with the release of the RX100 VII and the ZV-1 showing up a year later.
A quick note about the name. The V in VA or VI is basically "mark five". So the VII is "mark six", whereas the VA is "mark five A". I know, it's confusing at first, but hey, they love their weird monikers!
That said, these are great little compact photo and video cameras and are easily carried around without needing a ton of extra weight or space. The RX100 VA is an update of the RX100 V in almost every way, mostly bringing processor and small updates carried over from the RX100 VI.
The current versions of the RX100 line all shoot 4k up to 30fps and 1080p up to 120fps. As far as video formats go, they get the job done for non-pro needs, as expected.
The RX100 VII (and the RX100 VI before it) upgraded the focal length from 24-70mm to 24-200mm, which also brings the aperture from f/1.8-2.8 to f/2.8-4.5. Losing on low light options, but gaining almost 5x the zoom.
The VII also has a touchscreen display and now shoots SLog-3 and HLG if you want to experiment with HDR video.
The VA, however, has the normal 24-70mm zoom lens, the wider aperture, no touchscreen, and no HLG or SLog3, and instead is basically just a more powerful, updated version of the RX100 V.
The RX100 VA also sports a built-in 3-stop ND filter, making daytime vlogging quite a bit easier. Built-in ND filters are always a good thing. And while the RX100 VI didn't have a mic or headphone port, we're glad to see a mic port show up on the RX100 VII.
All in all, the RX100 line is a very capable series of cameras. There isn't a lot differentiating them from one another, and most will have all the features you need, like a flip-up screen, decent low light performance, optical image stabilization, wi-fi, and a small form factor you can take with you anywhere.
Just pick which specific features you need over the other. We like the RX100 VII in general, but the RX100 VA is better in lower light thanks to its wider aperture and daylight with its built-in ND filter. But really, you can't go wrong with any of them if this is your desired type of camera and you've decided to skip on the ZV-1.
Insta360 ONE X2 360 degree action camera
Sale
Last update on 2023-11-03 / Affiliate links / Images from Amazon Product Advertising API
There have been 360-degree video cameras on the market for a while.  Most have been in some sort of ball that you throw or mount somewhere.  But the release of the Insta360 ONE X brought a refreshingly new take on both the functionality and quality of a 360-degree camera, and we think is possibly the coolest camera on the market right now.
With the Insta360 ONE X2, you get the ability to shoot great quality 360 footage and then edit that footage in post to include changing the view point, zooming, creating tilts and pans, and doing all sorts of insane tricks without needing to deal with it in-camera while filming.  You just carry the camera around on the pole mount while shooting, and that's that.
The software will actually remove the pole via creative stitching of the video, making it look like the camera is floating around.  It's not perfect, but it's insanely good.  With the Creator Kit, you get the pole and a handle to attach to the base of the pole to let you swing it around creating a sort of "bullet time" video look.  It's really pretty awesome.
While the original Insta360 One X was already a great device, the One X2 upgrades nearly everything from that first release. Most notably there's now a touch screen display so you can see what you're shooting–one of the biggest drawbacks from the original.
The One X2 is also now IPX8 rated waterproof to 10m, eschewing the need for an external case. There's also a bigger battery, H.265 codec, a new Vivid color profile, and a wide-angle video mode if you want to shoot a regular video clip. Honestly, it's a pretty substantial upgrade with a bunch of features from the Insta360 One R carried over.
No, it's not the cheapest option around, nor is it the best for everyday vlogging.  But its sheer flexibility for post-production editing choices and dead-simple filming operation makes it one of the more useful options available.  You absolutely need to check this out if you want crazy outdoors shots and to really flex those creative muscles in your vlogs.
How to pick the best vlogging camera for you–what features do you need?
This is easily the first thing most people think of buying when starting a vlog, for obvious reasons. Not every device is a good vlogging camera–some are better equipped than others.
But it's often overwhelming because of just how many cameras are on the market. There are features that can be useful for vlogging and there are some you may or may not need. 
Everyone may have different specific needs or features that they want, but there are a few key features that you will absolutely need for a good vlogging camera:
A wide-angle lens
Flip out or flip-up screen
Reliable autofocus
Solid stabilization
Microphone input
Hot shoe mount
A wide-angle lens
Most vloggers are their own cinematographers–meaning that as a vlogger you're almost always going to be holding the camera yourself. As your arms are only so long, there's a limit to how far away the lens can be.
To compensate for a closer camera, you'll want to get a lens that's not as zoomed in–a wide lens. This can fit more into the frame at close distances, meaning that you'll get your whole torso and scenery into the shot and not just your head filling the frame.
There is such a thing as "too wide", however. Ultrawides or fish-eye lenses can introduce unpleasing bowing, warping, and distortion of the image. They're fun in some videos, but not a great everyday vlog lens.
For full-frame cameras, we'd suggest a good focal length of around 18mm to 24mm. This means that you can get a prime lens (a fixed lens that has no zoom) at this range, or a zoom that encompasses this range (such as a 16-35mm zoom).
Smaller sensors, such as APS-C or Micro Four-Thirds have a crop factor, and as such, take that same 20mm and turn it into as much as 32mm or even 34mm (depending on the crop of that camera).
You can determine the full-frame equivalent of a crop factor lens by multiplying the focal length by the crop factor, such as 20mm x 1.6 = 32mm.
So on a smaller crop-sized sensor such as the a6600, which has a crop factor of 1.53, we would need a 16mm lens, which is a full-frame equivalent to 24mm.
The same goes for sensors with resolutions or modes that have a crop. The 1.7x crop on the EOS R 4K shooting mode means that a 20mm lens acts like a 34mm, but will be a normal 20mm in the 1080p mode.
It's sometimes a bit confusing at first glance, but at least knowing that not all focal lengths are the same on all cameras will help you pick the right lens for your videos. Looking at samples from the same body as you have (or plan on buying) will help make things much more simple.
Flip-out screen
The best vlogging cameras have a flip-out screen, period. Flip-up is also acceptable, but the side flip is usually best so that you can still see yourself when you have a mic or light mounted on top (blocking the flip-up screens). 
If your desired camera only has a flip-up screen, don't worry though. There are ways to work around this, however, and will just require an extra piece of gear to mount your accessories.
You will be setting up your framing, checking exposure, and possibly monitoring audio using this screen, so you'll definitely need to see it.
Ideally, this screen is also a good touchscreen so you can change your settings without needing to get up and go around to the back of the camera, so keep that in mind as well.
These days, most manufacturers have at least a flip-up screen, if not the flip-out display and allow for touchscreen controls to control settings and focus.
Note: You'll notice some vloggers using bodies that don't have a flip-out screen, but instead mount a monitor atop the camera. This is usually done because that quality is so good that adding the extra weight and size of an external monitor is worth the tradeoff for the quality offered. For beginners, I wouldn't advise going this route, but if you absolutely have to, it's an option.
Reliable autofocus
Since most vlogs are one-person affairs where you're running and gunning sometimes, you'll need a camera with the best autofocus, or AF, you can find. Almost nothing is worse than getting a great take and realizing that the focus was blown the whole time.
Having a consistent, quick, and accurate autofocus system will be crucial to reduce retakes, editing, and generally ensuring quality visual quality.
Typically, Canon's Dual Pixel Auto Focus (DPAF) is the best available these days. Sony isn't far behind, however, with both brands offering excellent eye and face focus tracking. Olympus and Fuji both also have pretty great focus systems these days, so most manufacturers are getting caught up with great phase-detection focusing.
Solid stabilization
Cameras without any sort of stabilization these days are pretty rare, outside the cinema camera space. Watching footage without stabilization can be frustrating at best, or nauseating at worst, so you'll need some sort of stabilization to smooth that out.
If you're vlogging you're not necessarily staying still. You're carrying your camera around on a small tripod while walking around, and even minor movements (or just handholding it at arm's length) will cause shakes and jitters. Stabilization will smooth this out, making your vlogs easier and more pleasing to watch.
Thankfully, most offer some form of steadying of the image with one or more methods and can really help smooth out your video.
The best is in-body image stabilization, or IBIS. This means that the stabilization is done in the body itself, and not in the lens or in software. The sensor itself moves to counteract the body movements and create smoother footage.
Before IBIS became commonplace, most stabilization was done in the lens via optical stabilization. If you had a Canon or Nikon DSLR camera, for example, this was your only option. Either you had a stabilized lens, or you didn't. That's it.
Eventually, digital stabilization became common, which would use motion data combined with cropping and moving the image frame around to counteract the body movement. This technically cuts down video resolution, but it's usually better than nothing.
These days, some bodies such as some of the Sony alpha line offer all three methods–IBIS, optical stabilization, and digital stabilization to combine into one massive stabilization effort. This ends up getting some incredibly solid footage and looks almost as if it's on a gimbal or other support hardware.
Microphone input/headphone output
There is one constant truth with cameras: Most mics on any camera, regardless of the quality of the camera, are less than stellar. They'll get the job done for emergencies or as a scratch audio track for syncing footage. If you're in a safe, well-treated consistent environment you may find it's usable, but you're going to need more for your A-roll footage, for sure.
That said, while they are getting better these days, using an external microphone will definitely get better sound quality. But you need to connect that mic somehow, and that would be through a microphone input.
A mic input is a mandatory requirement, in our book. Whether it's a hot shoe-mounted shotgun mic, or a lavalier mic clipped onto your shirt, even a $20 Amazon mic will be often better than your camera's onboard mic.
Headphone outputs are also useful, but less required for vlogging. They're helpful when you're shooting video and you need to monitor the audio levels as you're shooting. This will pretty much guarantee that you aren't filming yourself and are instead shooting something like an interview or scripted video, perhaps with something like a cinema camera. If you're filming someone else, acting like a "film crew", you'll want it; otherwise, not having this isn't a deal-breaker for single-person vlogs.
Hot shoe mount
A hot shoe is the metal bracket on top of most cameras. Initially developed as a way of attaching a flash for a photo camera and syncing the triggering and duration of the flash.
These days, especially in the world of DSLR video and whatnot, there are tons of items that will mount on a hot shoe. Many of these don't have any actual connectivity to the body but make use of the mount as a way of just attaching something for portability.
In fact, shoe mounts that don't have the metal contacts to electronically interact with another hot shoe device and instead are just purely for mounting another device are called cold shoe mounts.
Microphones and lights are the most common devices that you may slide into a hot/cold shoe. But you can also find compatible wireless mic receivers, audio preamps, bubble levels, and other similar accessories.
If you want to be able to make use of a shotgun mic or a video light and not need to hold it separately, having a built-in hot shoe mount is the easiest way to do this.
That said, it's not your only option. If your camera doesn't have a hot shoe mount, you can get brackets that attach to the tripod mount on the bottom of the body and give you a cold shoe mounting point–or maybe even more than one, depending on the bracket.
Tripod mount
Honestly, almost every camera (or related device) has a tripod mount on the bottom of it, so not really sure why I'm writing this. But just in case, double-check for one if this is important to you.
Clean HDMI out
Not everyone needs this feature, depending on what you're specifically using your camera for, but it's important enough to warrant covering it.
Many devices have an HDMI or mini HDMI output so you can connect it to a TV or monitor as a bigger replacement for the small screen on the back. Up until a certain point, most of these were used exactly for that purpose–not as a recording source, but a replacement that's easier to check focus on.
As such, not all HDMI outputs are what's known as a "clean output", or an output that doesn't have all the settings graphics on it, like on the back of your device's screen. No shutter speed, ISO, focus brackets, exposure guide, nothing from the overlay is on the output.
The idea behind having a clean HDMI out is that you can connect it to a capture device for direct video recording to a computer or some other recorder. This is especially useful for streaming video because the video needs to go from the camera to the computer, which pushes the stream out to the internet. If your output had all the overlay, the footage is basically useless.
Having this clean output is not just for streamers, however. Some cameras offer higher-quality recording modes over the HDMI port, such as 10-bit 4:2:2 color instead of the 8-bit 4:2:0 recorded internally to the SD card. This can be recorded by an external recorder like the popular Atomos devices, for example.
Also, if your camera doesn't have a flip-out screen, you could also connect just a small monitor to face toward yourself while recording. This would add bulk to your setup, but it's definitely been done frequently enough before more brands added flip-up or flip-out screens.
To be honest, most vloggers will never use the clean output for vlogging, but if you want to also do live streams to YouTube and Facebook at some point, you'll find it necessary.
Wi-Fi
Finding a body with built-in Wi-Fi and Bluetooth is now pretty easy, although it wasn't always the case. But having these included make certain tasks incredibly easy.
While transferring footage and photos from your camera to a phone or tablet for editing is often easier (albeit slower) than digging out a cable, the real useful feature here is the ability to control your camera wirelessly and monitor your framing from your phone.
In the past, you would need a dedicated remote cable or wireless remote add-on that could get pretty expensive. Now you can use an app on your phone to stop and start recording, take photos, and make sure that your focus and exposure are on point.
This may not necessarily be a must-have feature for vlogging, but we've come to love this ability in all sorts of scenarios and feel it's a bit of an underrated feature that deserves some attention.
Types of cameras for vlogging
There are actually some very distinct types of cameras that you may want to look at, as these various form factors have their own advantages and drawbacks. Looking at the basic differences between a DSLR and a mirrorless, for example, will definitely help you find the right solution for your needs, so it's worth taking a quick moment and outline what those main differences are.
Smartphones for vlogging
Believe it or not, you probably already have a great camera on your smartphone!  With not too much extra gear you can put together an excellent iPhone video kit (or Android video kit) to help get some pretty incredible footage.
If you have any of the current flagship phones (or even lower-priced "flagship-killers") such as the Samsung Galaxy, Apple iPhone, or Google Pixel, you've got an excellent camera on both front and back.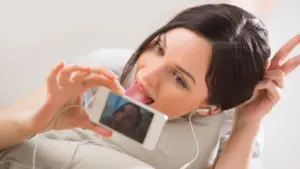 You may run into some issues using your phone, however. Most likely, you'll want to use your rear sensor as it's usually quite better than the front.
This presents a problem for seeing what you're shooting, so you may end up botching some a-roll shots due to poor framing. But with some practice, you can get pretty good with it.
That said, the front cameras on most flagship smartphones are super solid and work out quite well for your a-roll. You can get some quite useable footage from your phone's front-facing camera these days, so don't be afraid to make use of it.
Unfortunately, especially on the Android side of things, recording lots of video can often result in the phone overheating and dropping quality–or shutting off video capabilities entirely.
Phones are getting better about this every year, but it's worth being aware of this, especially if you're in a particularly warm climate and do a lot of outdoor vlogging.
The other big drawback is the small sensor on smartphones. You won't get the popular blurry background (or "bokeh") from a smartphone sensor without some computational trickery to blur the background with software.
This doesn't always look great and may not be desirable. But without larger sensors and wider aperture lenses, it's not going to be possible to do this optically.
But there are absolutely some real upsides to using your phone for vlogging. You already own it, you're familiar with it, and, as such, the barrier to entry is pretty much nonexistent.
Not to mention the fact that you already carry it with you everywhere–as Chase Jarvis loves saying, the best camera is the one you have with you. Not having to drag along a larger camera with you may be just what you need to encourage your vlogging habits.
And if you wanted to add to your phone's capabilities with a small kit, there are also a wide variety of accessories out there to help you shoot better mobile video, which can be quite helpful. Just because you're using your phone doesn't mean you can't get great footage!
DSLRs for vlogging
It's pretty easy to say that today's amateur cinematography scene is mostly due to the advent of DSLRs that suddenly had video capabilities. The Canon 5D mark II started the arms race in affordable high-quality video, and no one saw it coming until Vincent Laforet's stunning short film Reverie.
Since then, the DSLR form factor is still a strong combatant despite mirrorless and smartphones catching up in the quality department much more quickly than any of us would have guessed at the beginning of this new phase in creator empowerment.
If you're looking for great image quality, auto-focus, and overall flexibility, a DSLR is still a great option. If you're a baller like Casey Neistat and don't mind carrying around a giant camera on a Gorillapod, why not, right?
Up until the modern mirrorless offerings, to get better sensors and AF systems you needed to go with a DSLR, whether it was a crop or full sensor. This requires larger housings, however, which meant much heavier bodies. DSLR lenses are also larger and heavier than their mirrorless counterparts.
Mirrorless cameras for vlogging
In the mid- to late-2000s, manufacturers were releasing smaller cameras that eliminated the mirror and prism mechanism that made traditional DSLRs as big as they are. These mirrorless interchangeable lens cameras (or, MILCs) were able to shrink down to a size that was unheard of while maintaining the majority of quality that DSLRs are capable of.
Micro Four Thirds cameras
While the Epson RD-1 was the first mirrorless in 2004 followed by the Leica M in the same year, the mirrorless train really left the station first in 2008 when Panasonic and Olympus launched the Micro Four Thirds system.
Soon, all the major manufacturers had started developing and releasing their own mirrorless mounts and sensors. While these standards weren't natively compatible, they all featured shorter flange distances and sensors about 40-50% smaller than your traditional DSLR. Because of these features, it's easy to adapt most other lens mounts to a mirrorless body giving you a ridiculously huge selection of technically usable lenses.
Thanks to the small size and flexibility of these bodies, they make excellent vlogging cameras while delivering outstanding quality to rival most DSLRs. Mirrorless cameras are able to shoot in live view without the drawbacks of working around a prism and mirror configuration and have much better electronic viewfinders (EVFs) than they ever have before.
Of course, because of their smaller physical size and shorter flange distances, the sensors are often much smaller than even an APS-C sensor found in a crop sensor body DSLR. Usually, logic dictates that the smaller the sensor, the smaller the pixels, and the lower the quality (hence why everyone is all up on the "full frame" DSLR hype train–totally awesome for photos, but not a requirement in video). Mirrorless sensors can often be more prone to rolling shutter effect as well, although some are much better than others at mitigating this problem.
Current smaller sensors are insanely good though, and can very much rival the larger sensors in quality. APS-C and Super 35 sensor sizes will get stunning video without needing the extra cost of a traditional full-frame sensor (yes, I know technically Super 35 is a "full frame" sensor, but for the sake of argument, we'll just stick with "full frame=DSLR 35mm equivalent" as our point of reference).
Full frame mirrorless cameras
While the smaller Micro Four Thirds sensors are still quite good, a larger sensor is usually better for a myriad of reasons, such as noise performance, bokeh, and light sensitivity.
The Leica M9 was the first full-frame mirrorless camera, and since its release in 2009 we've seen the format mature to a DSLR-killer status. Modern full-frame mirrorless cameras such as the Canon EOS R, R5, and Sony a7S III are absolutely flagships deserving of the praise lauded upon DSLRs that came before.
These modern mirrorless bodies are quickly replacing traditional DSLRs in video with improved dynamic range, AF system, a growing selection of great interchangeable lenses, and lighter bodies, many vloggers are switching over to more video-centric mirrorless bodies.
Point and shoot cameras for vlogging
With smartphones becoming ubiquitous, point-and-shoot cameras have fallen out of favor with most people. But they're still viable for some people who want a better sensor than their iPhone, but not as bulky as an interchangeable lens camera.
Thankfully we've seen some excellent point-and-shoots, primarily in the Canon G7x line and the Sony RX100, and now ZV-1, as evidenced by the latter being our best overall pick.
You can still get large, one-inch sensors (or larger) in a point and shoot that's small enough to fit in a pocket. As these become more video-focused devices, they become even more compelling, despite being nearly killed off entirely by smartphones.
Action cameras for vlogging
This is another segment of the camera market that once flourished vigorously almost out of nowhere but now has somewhat faded into utility status. Action cameras–tiny little squares that mount on to almost anything with the right gear–are very useful for some tasks but can be outperformed by other types for the more pedestrian shots.
But that's not to say you shouldn't count out using one if you need the small size and flexibility that an action camera can provide. They're everywhere for a reason, after all, and modern action cams have insanely great stabilization making them great for vlogging.
We also include 360 cameras in this category now, which is a newly-revived category of devices that are now becoming much more viable options than they have been in the past.
These are smaller, dedicated cameras like traditional action cams, but allow you to shoot 360-degree footage and then post-process the footage later with pans, zooms, and more. They're quite fun and make for some very creative footage–we're excited to see this category improve even more.
You could also make a claim for including drones in this category–albeit they're not usually a purely vlogging camera. But plenty of vloggers make use of them in B-roll, so why not at least give them a mention!
Final thoughts
As with most video-related topics, there's no one singular choice for the end-all, be-all setup for everyone. But with vlogging so ingrained in pop culture these days, we're seeing more and more manufacturers develop equipment with this task in mind and there is a really great selection of devices available in the space.
Whether you're going for a mirrorless camera, full DSLR, point and shoot, action camera, or anything in between, there's absolutely a camera out there for you. The number of high-quality vlogging setups out there; you'll need to make a few choices, but we've never had a better selection of vlogging cameras than we do now.
Let us know your thoughts! Is there something we missed? Did you have any questions about any of our choices or features we've discussed? Leave us a comment down below and we'll be glad to answer any questions you may have!