What began as a simple website for sharing home videos and funny skits has become what many consider to be the new face of video entertainment. And once you know how to create a YouTube channel, getting in on the action and uploading your own YouTube videos is easier than you may think.
Whether your goal is YouTube fame and glory, you just want a channel to upload your ideas to as a hobby, or something in between the key is to get started. And that's what we're hoping to help with–let's get you started on your first steps to creating a new channel.
Why should I create a YouTube channel?
In recent years especially, YouTube has taken over both the Internet and television and it is one of the top sources of media for this generation. More and more people spend their time watching YouTube instead of cable TV, Netflix, and other video platforms.
What sets YouTube apart from other streaming services is that anybody can create a YouTube channel and become a YouTuber.
This means that you can essentially run your own video channel with no gatekeepers stopping you from uploading whatever content you desire onto a platform that can potentially reach millions of viewers.
In fact, the Google-owned website has over a billion users all uploading their own video content and, in a lot of cases, profiting from it once you know how to make money on YouTube.
Of course, extreme success won't come overnight, but the opportunity to become the next PewDiePie, Linus Tech Tips, or Potatojet is available to whoever wants to put in the (often underestimated) effort into doing so.
Can anyone set up a YouTube channel?
Yes, anyone with a Google account (and therefore a YouTube account) can create a YouTube channel. To our knowledge, there are no restrictions that would prevent someone from starting a channel, other than most likely users under 13 years old.
How much does it cost to create a YouTube channel?
There is no cost to create your Google account, YouTube account, or a YouTube channel itself. Just like most Google services, these are free accounts and services to consumers.
You may, however, want to invest in gear for producing YouTube videos, however, such as live streaming cameras, cinema cameras, lighting, audio interfaces and microphones, and other filmmaking equipment and live streaming gear. And trust us, this can definitely add up once you catch the video gear bug!
How to create a YouTube channel
Sign in to YouTube
In order to start a YouTube channel and before you can upload your first video, you're going to need a YouTube account, which is basically a Google account.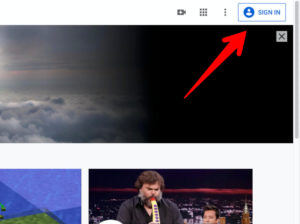 Statistically, you probably already have one of these accounts, so you can click Sign In link at the top right of the YouTube home page (or top right of the mobile app) and sign in with that account if you're not already signed in.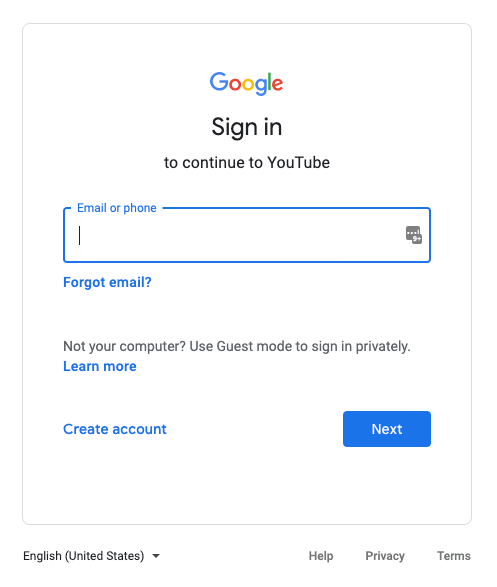 Create a Google Account (if you don't have one yet)
If don't have a Google account yet, first of all, let us be the first to welcome you to the year 2020 (spoilers: it's terrible here!). Second, you'll absolutely need a Google account. Thankfully, creating a Google account is pretty easy:
Visit Google's new account signup page
Enter your name
Either choose to enter a new username or click Use my current email address instead if you have a Gmail account already
Click Next
Verify your new account with either the mobile phone number validation or email validation
Click Verify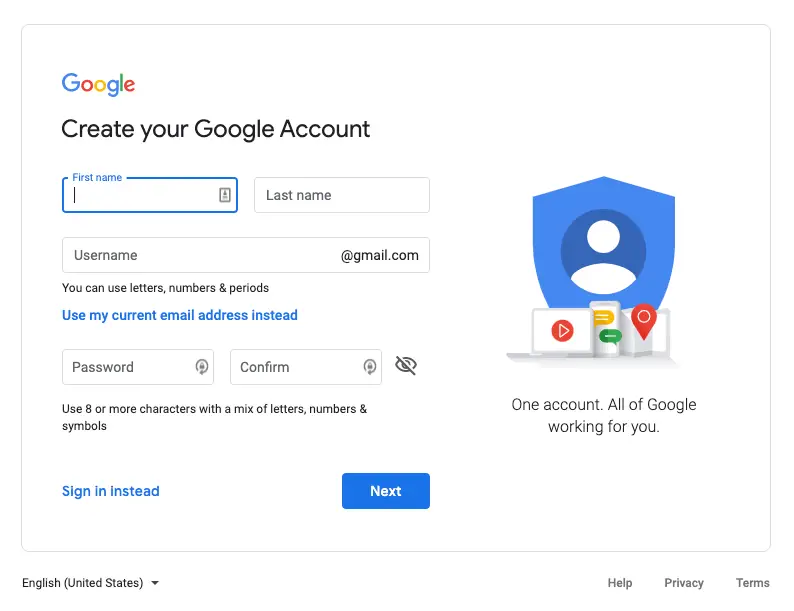 Once you've verified and set up your Google account, you can then head over to the YouTube homepage and click Sign In on the upper right-hand corner of the screen and log in with your shiny new Google account if you're not already signed in.
How to create a channel on YouTube
Now that you're created your Google account and signed in to your YouTube account you can actually get started on creating a YouTube channel.
To do this, click on your account icon in the upper right-hand corner and click Create a Channel (if you've already created a channel, you will not see this option).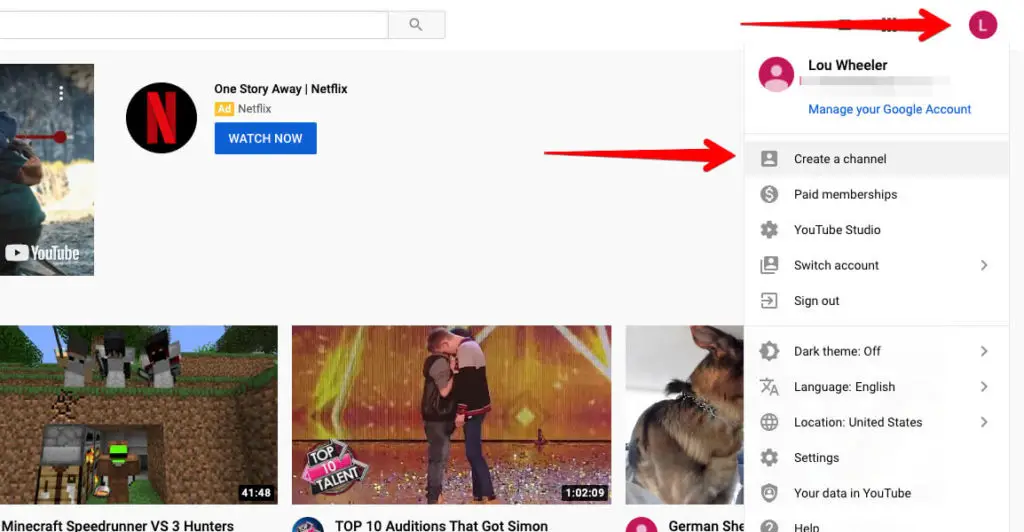 From here you'll have two options of how to proceed with creating your channel: Use your name, or Use a custom name.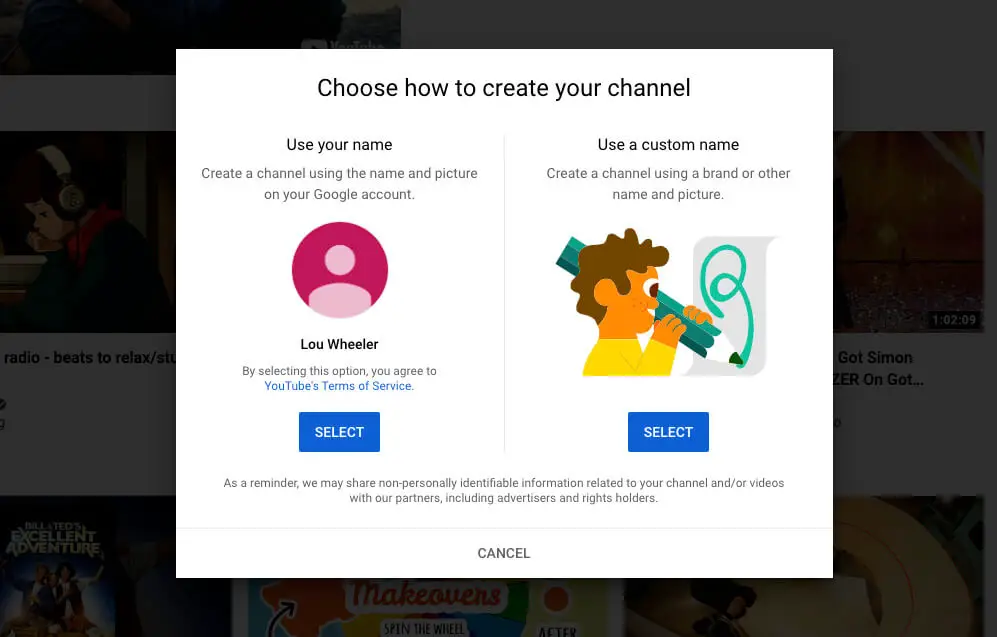 If you wanted to start a personal YouTube channel under your own identity–the identity of the account itself–the personal channel is fine.
However, if you wanted to operate under a business or other name, pseudonym, or a brand account, choosing the custom name option is the way to go.

When you create a YouTube channel under a new name, a separate Google account will automatically be created for this custom username. Google officially refers to these as Brand Accounts.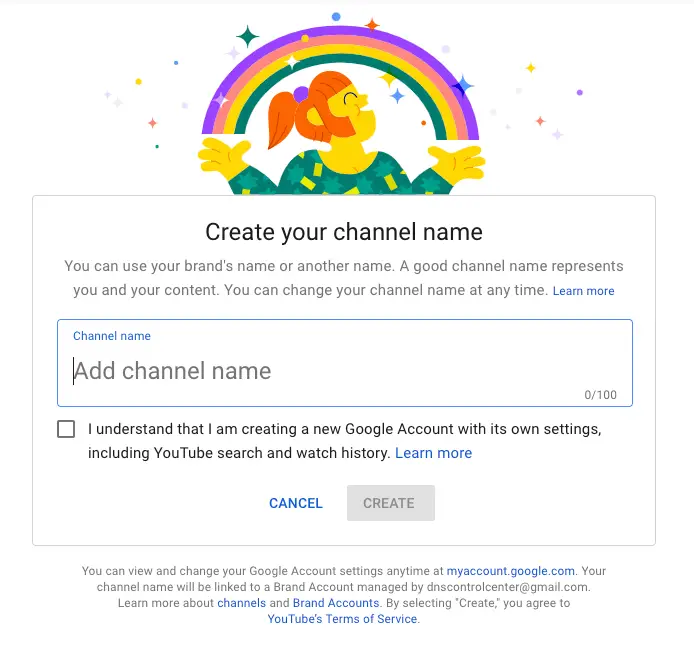 This is also the correct way to create a new channel that may be accessed by multiple people on a team managing a brand account, as you shouldn't share your personal account credentials–especially your Google account credentials.
After giving your channel a name (or using your account's identity), you will be given the option to upload a profile picture, a description, and to add links to any other social media or websites you have that you would like to be connected to this channel.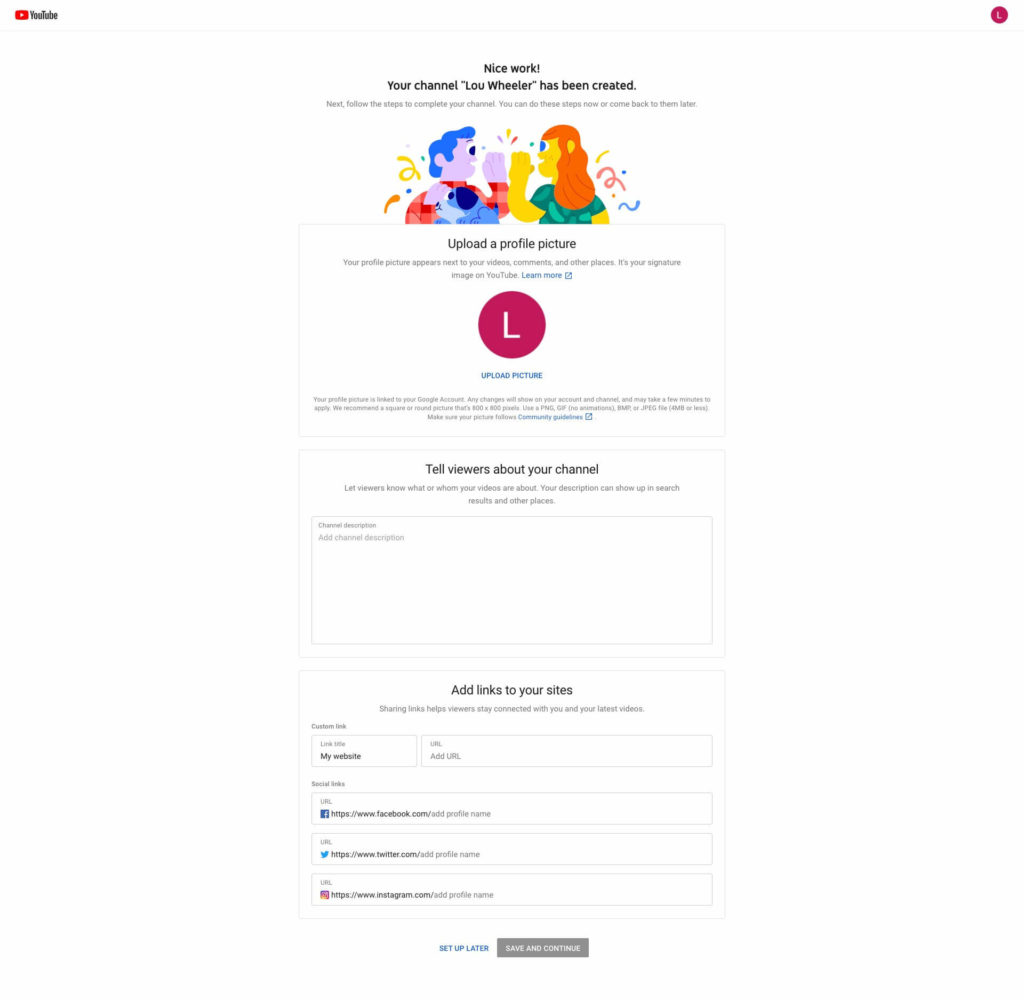 If you don't know exactly what to put here yet, you can always come back to it later on through the regular channel editing options.
You'll also be able to create a new second channel through this method as well. From the channel switcher (click your profile icon > Settings > Add or manage your channel(s) to get to the channel switcher), click Create Channel and restart the process for each channel you want to create for your business or other name or brand account.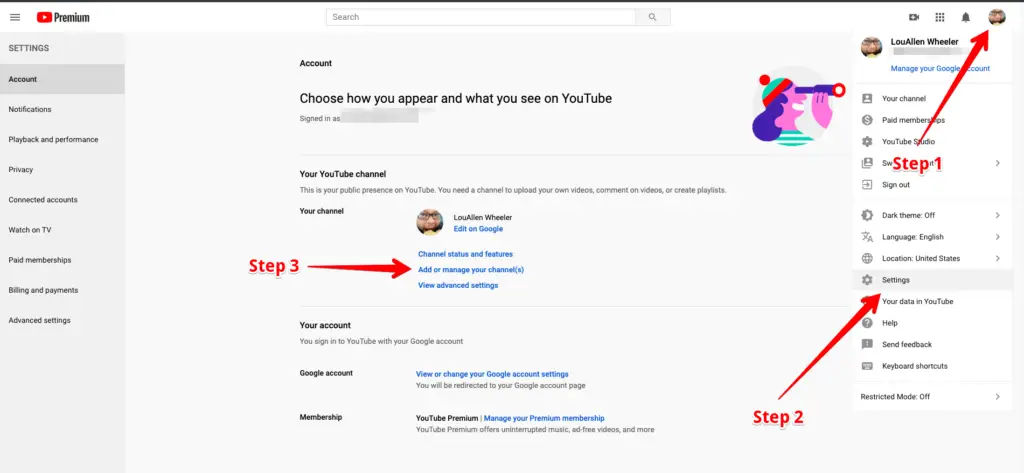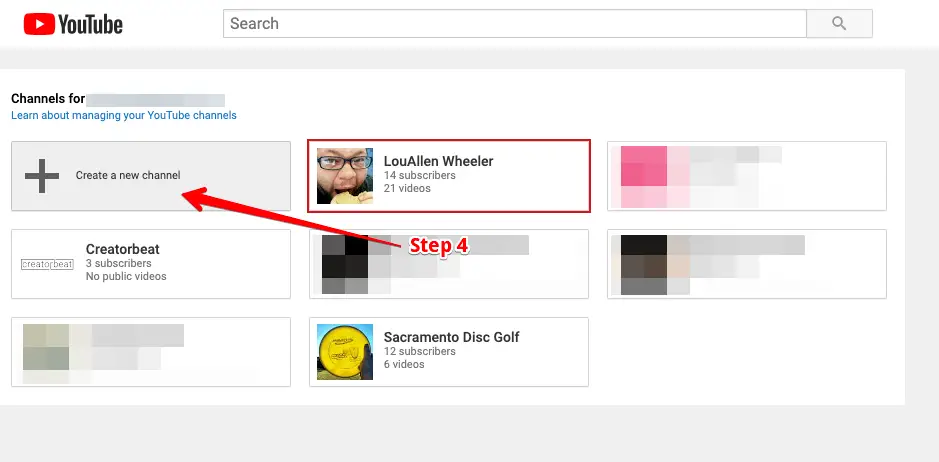 How to create YouTube channel art
One of the fun (and important) customizations you can do after you create a new channel is to upload custom channel art. This usually consists of a unique profile picture and a large channel banner that grabs a viewer's attention.
Your channel banner is incredibly important. It can give new viewers a good idea of what content you have on your page, and/or can promote your brand.
Not to say that profile photos aren't critical, because they are–they represent your channel in the Subscription feeds/tabs, comments, and other important views, especially in the new YouTube.com layout.
YouTube channel art recommended sizes
Just like most social media platforms, YouTube recommends specific sizes for images on your profile. The recommended size for a YouTube banner is 2560 x 1440 pixels, with a safe area in the center of 1235 x 338 pixels.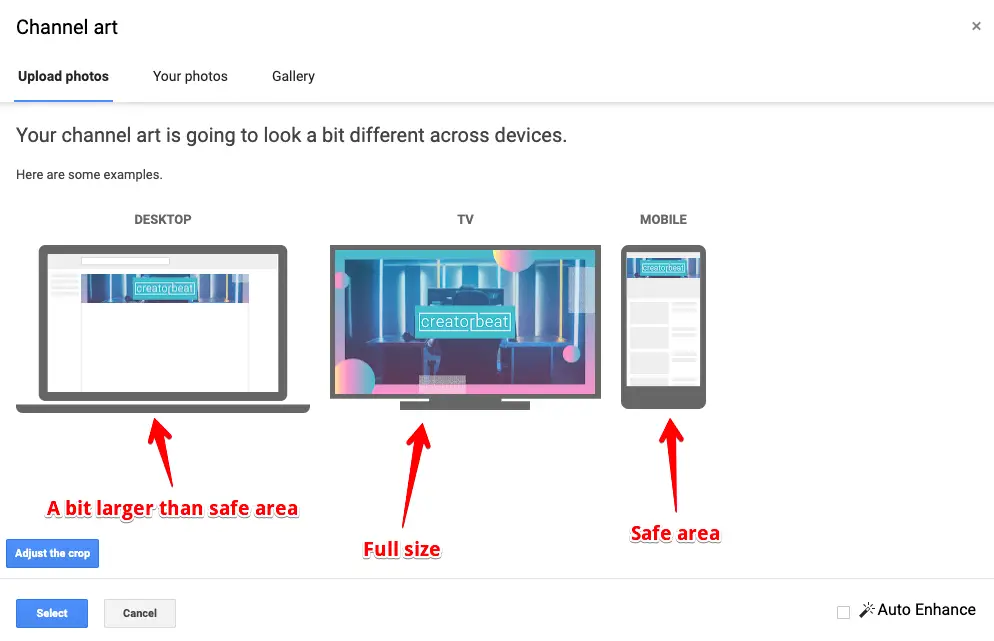 The larger size works no matter the device your channel is being viewed on, while the smaller safe area ensures that your main design elements won't be cropped out on smaller devices, such as smartphones.
This is especially crucial when designing graphics for a brand account. A huge majority of viewers consume video on their phones, so be sure that your graphics aren't being cut off on these devices.
YouTube recommends the profile photo or icon be 800 x 800 pixels but should still look recognizable at as small a rendering as 98 x 98 pixels.
This image is used anywhere from the video end card Subscribe graphics all the way down to the tiny circular avatars along the top of the Subs tab in the mobile app.
The icon should work in both square and round formats, but other than these criteria it's not as particular as the channel banner. You can upload your YouTube account profile photo in JPG, BMP, PNG, or GIF formats (no animated GIFs, sadly).
Designing your YouTube channel art
With this basic template in mind, you can then create your custom channel art. You can do this in Adobe Photoshop if you like–and many YouTubers do. You could just as well use a free Photoshop alternative, a free online image maker such as Adobe Spark
, or our go-to choice, Canva.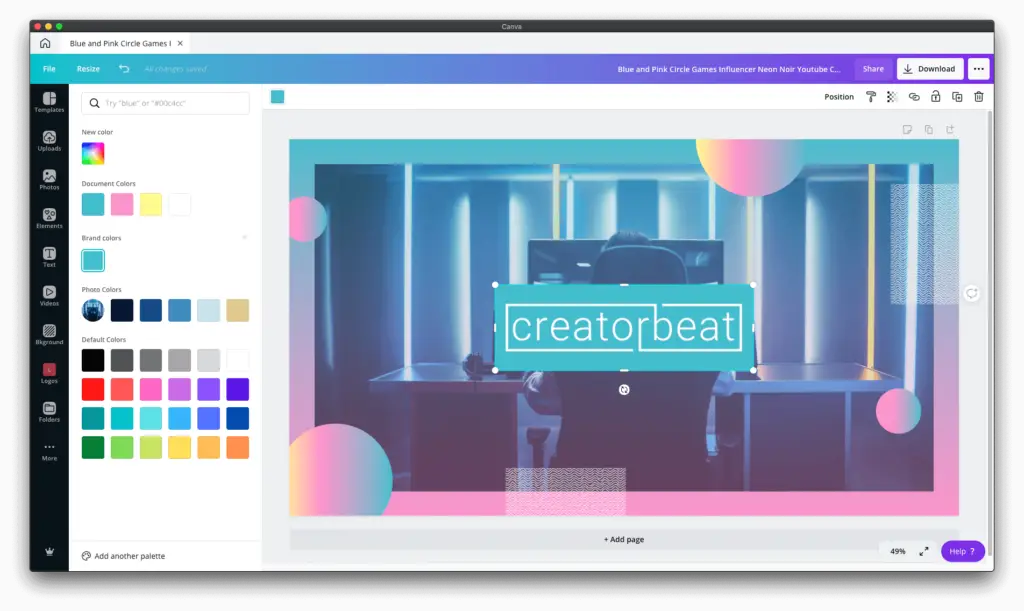 We actually do a lot of our blog images and social graphics with our Canva Pro account, but the free version is also quite excellent. It's a really fast way of creating some very clean images for pretty much any need. It's what we've used for whipping up a quick YouTube channel banner from their selection of Canva Pro YouTube templates.
When creating your channel banner design, be sure that the logo and/or any important text gets placed in the center safe area we mentioned before to avoid cutting off your main graphic elements on mobile apps.
Also, keep in mind that YouTube has an option for you to place other links in the bottom right corner of the banner. In addition to the safe area, check to make sure that, if you plan to use this feature, no important design element will be covered by the link icons.

Other than these items, there are no limits to your creativity here. Your banner and profile should immediately speak to the personality and feel of your channel, enticing a prospective viewer to take notice and hopefully subscribe and watch your videos.
Uploading your YouTube channel art
Once you have created your channel art, you're ready to upload them. Unfortunately, you can no longer upload or update your channel art on the YouTube mobile app, so you'll need to go on YouTube from an actual computer (or Chromebook!) in order to upload your channel art.
If you're not already on your channel page, click the profile icon at the top right and then click Your Channel, then click Customize Channel in the upper right corner. From there you will be taken to a separate screen where you can click on different parts of your channel and edit them.
Click on the Add Channel Art button nestled in the center of the empty space where your banner will go. Then, you will be given the option to upload your channel art. Select your file and upload it, adjusting the positioning or crop as necessary.
Uploading the YouTube profile photo or icon is pretty similar. From your channel page, place the cursor over your icon. An "edit" icon will appear, which you can then click and have the option to upload your file to use on your profile. As with the banner, select the file and crop it if necessary to fit.
YouTube channel description (or, the YouTube About Page)
Just like any blog or other website, your channel should absolutely have a great About page–or the YouTube channel description as YouTube labels it. Yes, each video has its own description, but the channel itself also has its own main description.
Found under the About tab on the channel page, the description really serves two purposes: first, it gives new viewers a good summary of what to expect from your content at a quick glance, so a well-written description will be helpful in bringing in viewers that may have otherwise been on the fence or unsure of the scope of the channel.
Second, it can help you in search results. The first 100-150 characters of your description will show up in your channel listing in the YouTube search results page and can quickly describe your channel. You'll want this first 100-150 characters to really stand out and grab a viewer's attention.
And of course, the description can contribute to your search ranking as well. The exact impact of the description and how it may or may not help a channel rank in the YouTube algorithm is–just like everything else algorithm-related–somewhat a mystery, but it's widely observed that including good keywords in your description can assist with your channel ranking.
How to write a good YouTube channel description
Your YouTube description should accomplish a few things. As we mentioned before, the first 100-150 characters should be the attention-grabbing summary of what your channel does. This should be something that hooks the viewer quickly.
Next, you'll want to provide a strong description of what your YouTube channel can do for the viewer. Don't focus on writing about your channel, but instead what the viewer will get out of watching your channel.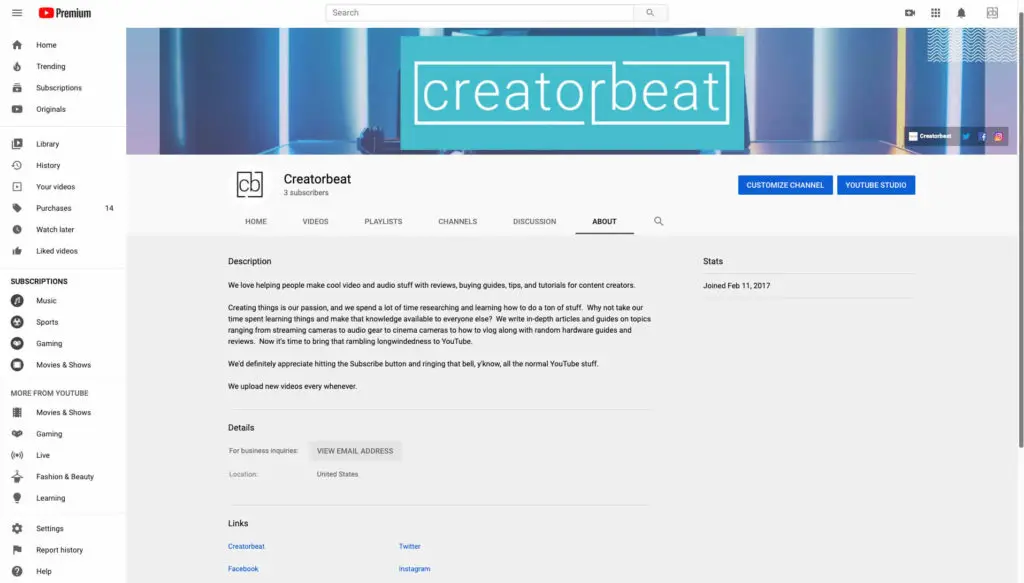 If your channel is built to teach someone how to do something, for example, highlight that goal in your description. Create a strong reason for someone to stick around and subscribe to your YouTube channel.
Be sure to include relevant keywords in your description that pertain to your channel, as that will increase your chances of being noticed in the algorithm. But don't be spammy–keyword stuffing your description won't do any good as YouTube is good at identifying unnatural content.
If you have an upload schedule, this would be a good place to mention it. If you have multiple series within your channel that upload on a certain day of the week, you could point this out here as well.
The description is also where most YouTubers place their business email address so they can be contacted for sponsorships or other business propositions. If there's any other contact info you would like to provide, it should also go here.
Last, you may want to include a strong call to action at the end of your description. Ask for the subscribe and/or bell icon and all the usual YouTube things.
Add links to your YouTube channel
Most likely your channel will have a presence on other social media platforms, and you'll want your viewers to be able to easily find these other accounts.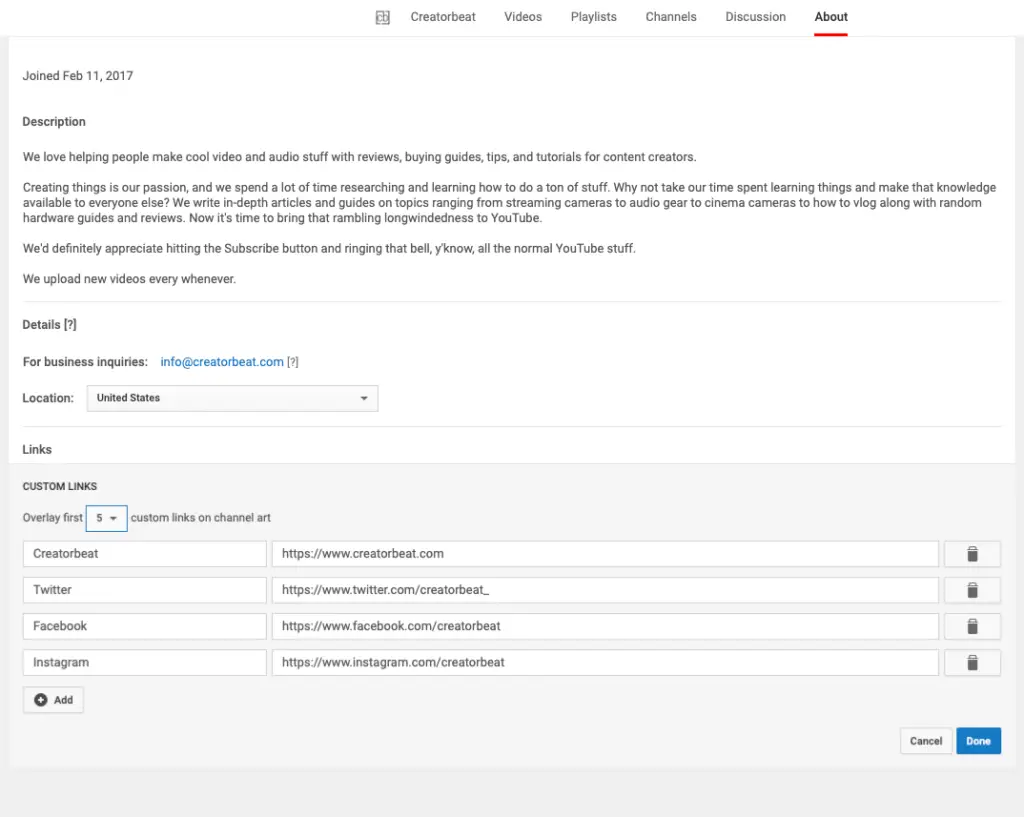 Adding links to your other websites or social media accounts to your description is a common practice and viewers know to check here if they're interested in your other social presence.
However, you can also add links to the channel banner, as we mentioned before, from within the Customize Channel view again. You'll know you're in the right edit mode when you see a gear icon just below the channel art, in the right-hand corner.
You can either click the Edit pencil at the top right of the banner and click Edit Links, or click the About tab and then click the Edit pencil in the links section to edit those links. The banner menu method is faster, but both do the same thing.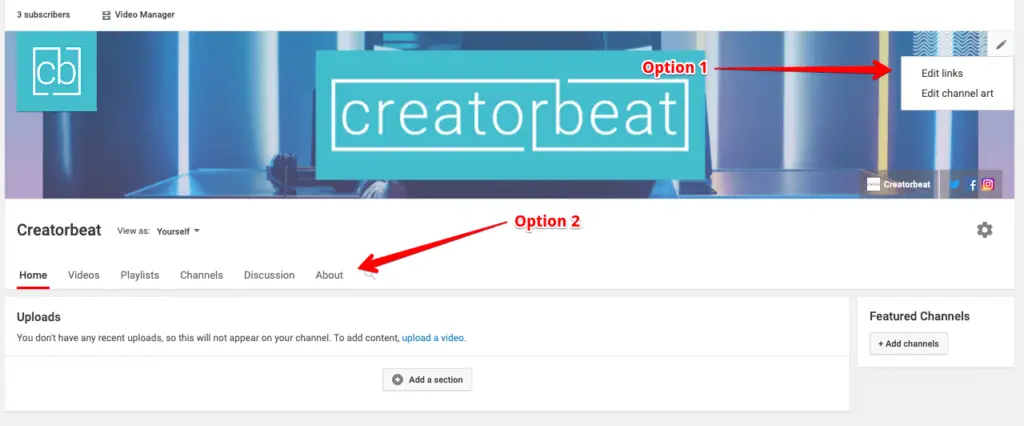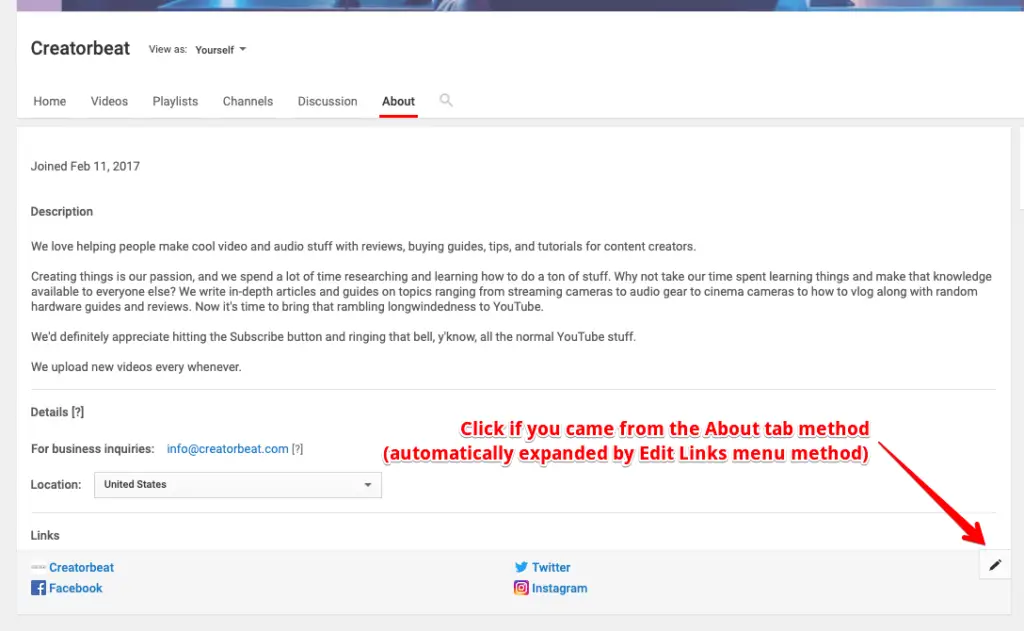 From here, you can give the links a title if necessary, enter the URL of the links, and define how many of the links can show up on the channel banner.
If you can't add links to your description, you may have not turned on the customization functions somehow. Click the previously mentioned gear icon, and enable the toggle to Customize the layout of your channel. Head back to your channel and you should now see the Edit Links option on the channel art.
Add a YouTube channel trailer
You may have visited a YouTube channel page and notice that there's a video all by itself–maybe it even autoplays. This is called a YouTube channel trailer video.
A good YouTube channel trailer mimics that of a good movie trailer. The point of a trailer video is to drum up interest in a movie, TV show, or other entertainment experience. It's supposed to get you excited to see more.
The YouTube channel trailer should do the same. It should instantly identify the awesome parts of your channel and make it extremely apparent what your channel is about as quickly as possible. It should hook a viewer and get them excited about your content and start watching videos.
Some YouTube channels create a new short little intro video designed specifically to be the trailer and pitches directly to the viewer what the channel is making YouTube videos about and what you can expect if you subscribe.
Other channels will take one of their extremely popular videos–one that has a very high user retention rate, usually–and advertises the actual content of the channel itself. The trailer throws you directly into a regular video and hopefully gets you to subscribe.
Both methods are valid, and depending on your videos, one may work better than the other. If your content isn't as exciting as to grab someone within 5 seconds, you may want to create a dedicated trailer to create that excitement by describing the channel and its content. But if your videos are particularly spicy out the gate, putting your high-performing content in this spot is quite successful.
Either way, you'll want to have something in the trailer spot that is eye-catching and gives the best representation of your channel as possible.
Go forth and upload videos to your new YouTube channel!
So, you've seen how to create a YouTube channel, you've signed up for your account, you've customized it to your liking, and you can now start uploading your videos to your new channel. Let your creativity flow in any way you'd like, (as long as it falls under community guidelines, of course).
If you're not sure where to start or find yourself in a bit of a creative rut, you can always look at other YouTube channels for inspiration or ideas. Watching other content can definitely help you identify things that you would like to cover yourself.
You shouldn't necessarily just copy someone else's video, but if a video doesn't answer a question enough or it brings up another question not covered at all then you may want to make your own to fill that gap.
And sometimes a video will lead you down a path of ideas you wouldn't have come up with otherwise. If you have an idea, be sure to write it down somewhere–we love Notion for content planning and idea capture/project management.
Just remember: be patient. Most people don't become big on YouTube overnight; it takes time. Probably a lot of it. Don't be discouraged if you don't get hundreds of thousands of views (or even just hundreds) on your videos right away.
Keep on making content that you enjoy making and let time and effort do their jobs of bringing in viewers and subscribers. The key is to enjoy the journey and the process; if you're looking to just get rich quickly you're going to have a bad time.
Final thoughts
We hope to have helped make sense of how to create a YouTube channel and give some useful tips to get you started along your video journey. With online video becoming more and more popular we think there's no reason why anyone shouldn't think about creating a YouTube channel, even now when many people say it's "too late" (spoiler: it's not too late).
Is there anything that we've missed or could use some further clarification or assistance? Leave us a comment down below and let us know your thoughts! We'd love to hear from you and help answer any YouTube questions you may have!