Last Updated on August 31, 2020 by Lou Wheeler
We're in an exciting time for being able to broadcast whatever it is we want to say, as there are so many platforms on which to stream live video. YouTube Live is the de facto live streaming platform, however, Facebook Live is now pushing strong to catch up. YouTube has had desktop streaming and just rolled out mobile streaming. Facebook is the opposite, at first allowing everyone mobile streaming capabilities and now allowing everyone–not just fan pages–to stream from their desktop/laptop. Twitch, of course, is the popular spot for streaming video games, again, usually from your desktop or laptop. And that's where this will focus: What are the best webcams or cameras for streaming live video to Facebook Live, YouTube Live, Twitch, or whatever your video broadcasting platform of choice is?
Best overall streaming camera: Canon EOS R
Last update on 2020-09-16 / Affiliate links / Images from Amazon Product Advertising API
There are a lot of amazing cameras out there, but when it comes to picking the best overall streaming camera we have to give the nod to the Canon EOS R. As the first flagship mirrorless camera the EOS R arrived with a bit of hesitation from the community it has now been embraced as a popular go-to camera for a wide variety of uses.
The dual-pixel autofocus on the EOS R is second to none, and the color science is tops as usual. The camera provides an excellent HDMI output and doesn't have any overheating issues under pretty much any use condition.
While it does use the EOS R mount, you can adapt it to the standard EF/EF-S mount and use your existing Canon lenses without issues. There's a flip-out touchscreen monitor making it easy to monitor without needing to open your streaming software to check your framing and focus.
The absolute sheer quality of this camera along with the great quality R mount lenses make this an amazing streaming camera for years to come and gets our top pick.
Best budget streaming camera: Sony a5100
Last update on 2020-09-16 / Affiliate links / Images from Amazon Product Advertising API
For new streamers just looking to get into the game, or people upgrading from a webcam or lower quality camera, the Sony a5100 gets our pick almost every time. For the money, this camera just cannot be beat.
The colors are excellent and the autofocus is extremely reliable. The image quality is actually really great for a mid-tier camera, and the camera itself will run for hours and hours without overheating.
If you're just starting or looking for your first camera upgrade, the Sony a5100 gets our pick as the best budget streaming camera.
Best webcam streaming camera: Logitech C920
Logitech HD Pro Webcam C920, Widescreen Video Calling and Recording, 1080p Camera, Desktop or Laptop Webcam
Full HD 1080p video calling (upto 1920 x 1080 pixels) with the latest version of Skype for Windows; Webcam with 5 foot cable
Video compression, Built in dual stereo mics with automatic noise reduction; Automatic low light correction, Tripod ready universal clip fits laptops, LCD or monitors
Compatible with: Windows 7, Windows 8, Windows 10 or later; Works in USB Video Device Class (UVC) mode: Mac OS 10.10 or later (HD 720p on FaceTime for Mac or other supported video calling clients; Full HD 1080p video recording with QuickTime Player) Chrome OS,Android v 5.0 or above (with supported video calling clients),USB port,Internet connection
Last update on 2020-09-16 / Affiliate links / Images from Amazon Product Advertising API
Sometimes a full camera is a bit too much for some peoples' space or resources and a webcam is the way to go. While, yes, webcams are almost always inferior to the quality of a DSLR or mirrorless camera, there are some good options like the absolute legend that is the Logitech C920.
The C920 has been around for many years, and you'll find them in a multitude of desk setups. The image quality for this size sensor is quite great and delivers some of the best video for the price hands down.
You also don't need to mess with any sort of capture devices that you would need when streaming with a video camera, making it a dead-simple plug-and-play setup.
That said, you'll need to compensate for the lower quality image sensor with more light than you think you would need for a full-size camera. Thankfully there are some amazing streaming lights out there that won't break the bank. But even with that taken into consideration, the C920 gets our pick for best webcam and a reasonable ultra-budget option.
Best affordable mobile streaming camera: iPhone
If you want to really stream live video without being tied to a desk, the easy option is to use your smartphone as long as you have either good wifi or good 4G/5G signal. No, it's not the best video quality, but if you're out and about and need to jump on to Facebook Live, YouTube Live, Periscope, or any other mobile-first streaming application, your phone's the way to go.
Fortunately you can put together an incredibly portable and efficient iPhone video kit for not much money at all, and depending on your needs you can make it as elaborate or streamlined as you need. You can still get some quite amazing streaming video quality out of an iPhone, a good gimbal or stabilizer, and perhaps an external lens and ND filter without breaking the bank.
How do I connect my camera to my laptop/desktop to live stream?
The process of getting your camera connected to your laptop in order to live stream is probably the most misunderstood aspect of live video broadcasting for those who are new to the process. When we wrote this guide it was written with the assumption that people looking for a good live streaming camera already knew how to do this and skipped over this as we were writing a camera-focused guide.
But we've since circled back around to this process and have explained the process for beginners in our guide How To Live Stream With A Camera.  If you're unsure of how to connect your existing camera to get yourself live streaming with it, pop on over, give it a read, and then come on back here when you're looking for your camera information.
Do I need a high-end computer to connect a live streaming camera?
As it often unfortunately is the case, the answer here is "it depends". In general, modern CPUs are powerful enough to handle processing a connected facecam or other streaming camera while doing other tasks, such as gaming.
Modern CPUs have more cores and threads and can handle multitasking better than older CPUs, in addition to just being better at single tasks in the first place. You don't need to break the bank to get the horsepower you need anymore.
That said, it will definitely depend on which game you're streaming (or Photoshop, or Reaper, or whatever else you're working in), how heavy you're compressing footage, what resolution your camera signal is set to, and other variables.
Also, you won't really need to be terribly picky as to which other specific features you need for a streaming computer, unlike say, with a video editing laptop. Having enough CPU power to handle the streaming camera, your streaming software, and the game you're streaming is pretty much the only requirement. And if you're not game streaming then your need for CPU power is lessened by quite a bit.
What kind of cameras can I use to stream to Facebook Live, YouTube Live, and Twitch?
There are really three main types of streaming cameras you can use to stream to Facebook Live, YouTube Live, Twitch, and the others.
Webcams
First, is the good ol' webcam. While most laptops have them built into the monitor bezel, they're almost never any good. This is where you would buy an external webcam with a larger sensor, better lens, and higher quality mic than what is built into the laptop.
Webcams are usually the first choice in kicking off a live stream broadcast due to their availability, low cost, ease of use and many streamers' first camera is a Logitech webcam. They make excellent affordable choices for streaming cameras, as long as you've got a reasonable amount of light on you to keep the exposure within a reasonable range.
DSLRs and mirrorless cameras
The second option gets a bit more complicated, however can possibly up the quality of your stream considerably. DSLR and mirrorless cameras are often the first choice of cameras when learning how to start a vlog as well as independent filmmakers and established content creators. That said, many YouTubers these days are running DSLRs for their live video streaming camera needs as they make excellent live video cameras.
The reason this gets complicated is that DSLRs aren't necessarily made to be video cameras. Most do not have native video interfaces via USB and require an HDMI output to a capture device. And even then, not all cameras output clean HDMI at full resolution (clean resolution refers to not having the onscreen display data on the output).
Most DSLRs don't come with power adapters and require separate purchases, as well as not always being easy to use–many are battery inserts that leave a cord coming out of the battery compartment. And that's not even getting into the overheating issue with many consumer DSLRs. But if you do some research and get a setup that works well, you will absolutely get better image quality for your Facebook Live or YouTube Live videos.
Camcorders
Dedicated camcorders are the third option for live video streaming. Whereas DSLRs aren't necessarily designed for always-on video capture, camcorders are. As such, they have clean HDMI outputs at the common resolutions and frame rates, and don't heat up the way that a DSLR does. Camcorders are most often your best bet for quality streaming video for long durations and are most likely the easiest method to get going, outside of webcams.
The downside to camcorders, however, is the fact that usually, it's only one half of the hardware equation. As these output HDMI signals, you do need some sort of HDMI video capture device, which then will connect to your computer via USB, Thunderbolt, or another similar interface. Unlike DSLRs, the options of connecting directly through USB (depending on your DSLR model) are basically non-existent.
At this point, however, very few Facebook Live streamers are probably using this setup outside of established media/video outfits and is much more common on YouTube Live or with larger budgets for high end streaming cameras.
What makes the best live streaming camera for Facebook Live, YouTube Live, Twitch, and more?
Excellent overall image quality – Live streaming video already takes a visual hit from compression, so you'll want the best quality going in.
Strong low light performance – You may be live streaming in darker rooms, and a camera with low noise levels in darker situations will help immensely.
External power adapter – Live streams can go for hours, and your camera battery definitely won't. Plug it in!
Clean HDMI output – If you're not using a webcam, you'll need to connect to a capture device, and a clean HDMI output ensures your image won't have the camera menu/interface on it.
Ability to run for a long time without overheating – Computers build up heat as they're being used, and there's a tiny one in your camera that's no exception. A good heat dissipation system will ensure your camera won't shut down mid-stream
A flip-out screen – Being able to see–and control–your camera during the stream is helpful when you aren't able to have your monitoring software up on your computer display. Also helps changing settings with touch screen models.
Easy operation – You don't want to waste time figuring out how to change a setting or going through menus. The easier to change settings, the faster you get to go live!
Update, 3/26/20: Due to the increased demand for live streaming devices, the Cam Link 4K and many other devices are pretty much sold out in most places. We've started a guide to some of the best alternate live streaming devices to this and other equipment that live streamers may need during this crisis and will be attempting to update it as often as possible. These alternatives will be ones that (at the time of updating the guide) will be shipping faster than the normal Amazon delayed notice for most items. If you can't find this device, please see our list of alternatives.
Best webcams for streaming live video
The Logitech HD Pro C920 has been out for quite a while, having been released in 2012. That said, it's probably the absolute go-to webcam for most people. The camera shoots at full 1080p at 30fps, has dual stereo mics, and a solid build.
It's definitely the best camera around for performance per dollar and sits atop many a monitor as a result. There are newer versions at higher price points, but honestly, you can't go wrong with the C920 even with those other options.
While the C920 is actually pretty affordable for the quality you get, the Microsoft LifeCam HD-3000 is our pick for the best true budget webcam. Coming in at less than half the cost of the C920, it still delivers great image quality and just works reliably to deliver 720p 30fps video. You may see some issues with color temperature here and there, but at this cost, it's definitely acceptable.
Buy Microsoft LifeCam HD-3000 here
The follow-up to the C920 is the Logitech C922 Pro. It's essentially the same camera as its predecessor, however, does allow for shooting 1080p at 60fps, if you're into that buttery smooth video look. It also comes with a few months of free Xsplit Live, which is cool, but other than that, you may be better off buying the C920 at the lower cost.
With rising broadband speeds and many people already streaming gameplay at high frame rates, the 60fps that the C922 Pro provides makes this a new favorite Logitech webcam for streaming on Twitch and YouTube Live.
Buy Logitech C922 Pro here
The Logitech C930e is the business version of the C920. Basically the same camera, however, this model offers a wider field of view, along with pan, tilt, zoom, and other conference-friendly options. Unless you do a lot of group videos, the better choice would be any of the other cameras on the list.
Buy Logitech C930e here
For those who absolutely, positively shoot every pixel available, the Logitech Brio is your weapon of choice. Yes, it shoots 4K. No, most streaming/chat platforms don't support 4K. But you can record locally, and then edit/upload that 4K footage.
And honestly, as a 1080p camera, this thing just kills it. The Brio is sharp, adapts well to not-so-great lighting situations, and also has Intel RealSense in order to function as a Windows Hello unlocking method. This camera also offers 5X digital zoom and adjustable field of view, which makes it a very versatile camera.
But if you want all these goodies, it'll cost you, coming in at a crazy high $200. That said, it's worth the money on a pure features/quality level; it just may not be worth the extra cost if you're on the lower side of the budget.
Buy Logitech Brio 4K here
Best mirrorless cameras or DSLRs for streaming live video
While Sony's flagship cameras have been highly recommended for vloggers and filmmakers, the smaller siblings actually are really excellent streaming cameras. The Sony a5100 is probably the best all-around streaming camera when taking performance into consideration with absolute affordability for that power.
The a5100 has excellent autofocus thanks to 179 AF points and works well in a wide variety of lighting situations. There is a micro-HDMI output (unfortunately) that provides a clean HDMI output for connectivity to your capture card and the output looks great for a compressed stream. Paired with no auto shut-off and the ability to run for hours without overheating and you have an amazing streaming camera for a very low price.
Currently, this is probably our number one suggestion for most streamers, especially if you don't already have a large selection of lenses for Canon.
Canon has finally delivered a camera with two features that they haven't paired together before: 4k video and a flip-out screen. Although it's not without its compromises, this is a great new entry geared toward vloggers and similar creators, and also makes an excellent streaming camera!
The strengths of this camera lie in the 1080p footage, which has Canon's great dual-pixel autofocus and will do up to 60fps, but no more. Jumping up to 4k means ditching the dual-pixel autofocus and limiting frame rate to 24fps. You can get 120fps at 720p, but you lose so many other options it's not even worth it.
And the only reason this camera makes the list whereas the Canon SL2 doesn't is because the M50 also features a clean HDMI out, making it not only one of the best vlogging cameras, but also a perfect streaming camera with great autofocus and other helpful features for streaming.
Buy Canon EOS M50 here
The Panasonic GH4 is one of the most popular DSLRs among YouTube content creators and is an extremely versatile camera. It falls under the Micro Four Thirds sensor format, and unlike many DSLRs that do video, it seems to have been designed with video as a forethought.
While it's an excellent stills camera, it shines in video, offering 4K 24/30fps, and up to 60fps at 1080p. The GH4 has all the other video options you may need, with a great flip-out screen, long recording times, and the ability to run for an extended period without overheating. It supports both 8- and 10-bit output at various formats, and of course supports a wide variety of compatible lenses.
If you look into the setups of many serious video content creators, you'll see the GH4 pop up in a vast majority of them. If you want a flexible option for offline video, stills, and streaming to Facebook Live and YouTube Live, this is always an excellent choice.
Buy Panasonic LUMIX GH4 here
The successor to the GH4, naturally, is the GH5. Arriving earlier this year, the GH5 is very much the same camera loved by video creators, with some helpful upgrades. This time around, 4K can shoot in up to 60fps, with 1080p at 180fps. These features, along with an improved autofocus system, make this not only still a great streaming camera, but one of the best vlogging cameras out there.
If you do a lot of cinematography and need slow motion functionality at higher resolutions (or more slowness at standard HD), this camera is a great option to cover all your bases. The camera can also output 4K 10-bit images at 4:2:2, whereas the GH4 can only do 10-bit at 4:2:0. This would almost never be used during streaming due to image bandwidth sizes but is great for non-live recording.
The GH5 also adds a cool "rack focus" focus shifting system, which will allow for changes in autofocus to emulate cinematic focus pulls, instead of requiring manual focusing or an all too quick change in focus like previous autofocus systems.
All in all, if you need the extended color depth and upgraded sensor and focusing, it's a great option. This camera pulls double duty as a killer live streaming video camera and also an affordable cinema camera. But if all you need is basic streaming camera functions and don't need the updated autofocus system, save the money and get a GH4.
Buy Panasonic LUMIX GH5 here
In 2018, Blackmagic Design revealed one of their most anticipated cameras to date with the Blackmagic Pocket Cinema Camera 4K. If the name is familiar, it's because it's identical to their previous incarnation, just with 4K tacked on. But don't let that fool you–the BMPCC4K is a full-on game changer in the sub-$2000 cinema camera market. And even then, believe it or not, this camera is only $1300 and it includes a full copy of Davinci Resolve Studio.
Yes, you get 4K recording, of course–up to full DCI 4096 x 2160 at 60fps–but this camera offers so much more, I'm not even sure where to start. You'll get 120fps in cropped HD for that slick B-roll, multiple raw video formats (breaking! Blackmagic Raw is now available with up to 12:1 compression!), Prores 422, and dual-native ISO allowing for clean images in both normal light and low light.
While there is no autofocus on the BMPCC4K, it still has a Micro Four Thirds mount, and can be adapted to pretty much any mainstream lens lineup available with the help of adapters. There are also micro-XLR inputs for high quality audio, and even has a USB-C port for saving files to external drives or charging your camera.
As a streaming camera, as long as you don't need autofocus, the clean, high quality HDMI output has you covered. You'll want to ensure you're using the power adapter for longer shoots, as the Canon LP-E6 batteries won't last terribly long, but the camera also does a great job of not overheating on longer shoots.
Buy Blackmagic Pocket Cinema Camera 4K here
Even with Blackmagic Design having replaced the Pocket Cinema Camera with the Pocket Cinema Camera 4K, is still an excellent live streaming camera. For under a grand you can get true cinematic video thanks to its Super 16 sized 1080p sensor. Again, no 4K on this one, but the quality of 1080p video more than makes up for it.
The ability to save videos into lossless CinemaDNG or Apple's Prores 422 formats give you great-looking video files that are easy to work with for recorded content. The Pocket Cinema Camera also has a Micro Four Thirds mount, allowing you a huge selection of compatible lenses.
Although be sure to stock up on spare batteries if you're shooting without AC power because this camera will absolutely chew through them. But I think this is still a great option for streaming because you won't necessarily run into the issues faced while shooting on location, and can't be overlooked as a live streaming video camera option.
Living in the massive shadow of the BMPCC4K, this camera is still a great buy used or discounted if you can find it new in box. The video quality can't be beat, and still packs a huge punch for any sort of video project.
Buy Blackmagic Pocket Cinema Camera here
Best camcorders for streaming live video
Sticking with Panasonic, the HC-V770 is a great entry-level camera for 1080p video with a quality clean HDMI output. The camera has a bunch of great video features for the price, including HDR, wifi/remote monitoring/shooting, 20x optical zoom, 5-axis image stabilization, manual focus, mic/headphone jacks, and 1080p at up to 120fps (software interpolation can get you up to 240fps). At the just barely sub-$500 range, this would be an excellent entry-level live streaming camera.
Buy Panasonic HC-V770 here
Zoom isn't really known for video recording at all, but are a well-known name in the audio game. Striking gold with the H4n handheld recorder, they've reached further into the portable content creation market with the Q4 Handy Video Recorder, along with some other models in this lineup.
The Q4 shoots 1080p video, but the audio is where this camera stands out. It has dedicated X/Y mounted stereo mics for excellent field audio capture without requiring external mics, amps, or adapters. You can control the gain manually or let it go on automatic gain control, as well as apply an optional low cut filter to remove boominess if you're shooting somewhere with a ton of volume. There are also, of course, dedicated headphone and external mic jacks on the back.
A distinguishing feature to the Zoom cameras is that you don't need a capture card–USB will connect the camera to your PC for transfer and live streaming video. Add a flip-out screen, tripod, and three-prong action camera mounts, and a small portable size and you have an excellent on-the-go lightweight video capture system as well as an excellent streaming camera for those who love great audio without the hassle.
Buy Zoom Q4 Handy Video Recorder here
The Q8 is two levels up from the Q4 (the Q4n falls in between the two) and offers some massive upgrades in the audio department. First, the included X/Y mics are removable and can be replaced with other mic capsules that have been available for the Handy Recorder series of portable audio recorder devices. You can replace the usual stereo configuration mics with a shotgun mic, mid-side mic, as well as a few others depending on your audio needs.
Then there's the addition of two phantom-powered combination jacks at the back, allowing for XLR or quarter-inch inputs with individual gain controls. The headphone mini-jack remains, offering a serious set of I/O for such a small camera.
The video features still take the back seat here, with no zoom and what is referred to as 3M HD, or a resolution of up to 2034 x 1296 up to 60fps. Again, not the highest-end video options, but the audio offerings here cannot be beat on an inexpensive device like this. If you stream music or like to broadcast your band performances, for example, this makes an excellent live video camera.
Buy Zoom Q8 Handy Video Recorder here
Finally a Canon camera in this list! The G40 is the successor to the popular G20 and G30, both of which can be found used or from sellers who still have them around, but for the sake of this list, we'll run with a newer version.
The G40 provides great video performance with all the usual offerings for a 1080p/60fps camera. Image stabilization, wifi control/shooting, 20x optical zoom, all of the useful IO for input/monitoring, and even dual SD card slots.
You also have the choice of encoding the video into AVCHD or MP4 codecs, depending on your destination or workflow process. If you're looking to step up into a serious video camera, the G40 is a great intro to that realm.
Buy Canon VIXIA HF G40 here
If you're looking for a flexible, high-quality 1080p camera for any production need, the XA35 is a great option. No, there's no 4K here, but there is a high-end sensor, great glass, and built-in XLR inputs on the removable handle for a self-contained video/audio rig.
HDMI and HD/SD-SDI output start to show that this is a camera for serious video enthusiasts and also includes the increasingly common prosumer feature of wifi control.
The XA35 is a very common run-and-gun journalism camera because of its compact size and impressive feature set. If you don't need 4K, but want top-end video and audio features and are serious about a presence on Facebook Live or YouTube Live, the XA35 is most likely your solution.
Buy Canon XA35 here
Best HD capture devices for streaming live video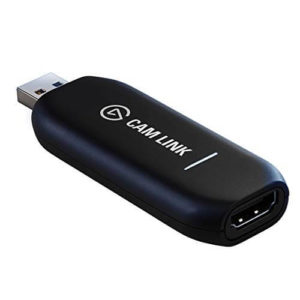 Update, 3/26/20: Due to the increased demand for live streaming devices, the Cam Link 4K is pretty much sold out most places. We've started a guide to some of the best alternate live streaming devices to this and other equipment that live streamers may need during this crisis and will be attempting to update it as often as possible. These alternatives will be ones that (at the time of updating the guide) will be shipping faster than the normal Amazon delayed notice for most items. If you can't find this device, please see our list of alternatives.
Elgato's original Cam Link was a pretty decent little device, however it lacked some features and stability. The Cam Link 4K is a huge upgrade to the original device and now is one of our favorite video capture devices.
The Cam Link will accept an HDMI input from any video source up to a 4K 30fps signal and will turn it into a webcam device that can be recognized in any app that works with webcams, such as OBS/SLOBS, Skype, and many more. It will make your DSLR or camcorder up to a 1080p60 webcam that you can then stream to nearly any platform.
If your device has a clean HDMI output, chances are it will work with the Cam Link 4K, and is probably the easiest option to get up and running for anything you're wanting to do, whether it's live streaming games on Twitch, or doing live broadcasts on YouTube Live or Facebook Live.
If you're looking for a solid capture device at an affordable price that works with most software out there, start with the Elgato Cam Link 4K.
Buy El Gato Cam Link 4K here
There are a ton of inexpensive HD capture devices out there, but as far as reputable, quality budget capture devices go, the AVerMedia AVerCapture HD is a great option. Despite being geared toward capturing game console video for live streaming to YouTube Live, Facebook Live, or Twitch, you can connect your 1080p HDMI camera without any issues. No fancy features or uncompressed video here, but for less than $100 it gets the job done.
Buy AVerMedia AVerCapture HD here
Blackmagic Design Intensity Shuttle
The reviews on the Intensity Shuttle devices are a bit mixed, but if you have compatible hardware and get things set up properly, you have great capture of your 1080p devices. The Intensity Shuttle is available in a USB3 version as well as a Thunderbolt model, so you're covered regardless of what side of the OS divide you come down on.
You can capture uncompressed video, however, the storage requirements might be a bit more than you can provide for it depending on your drive configuration. But if you do your homework and have some patience, it's a great option for HDMI capture.
Buy Blackmagic Design Intensity Shuttle USB3 here
Buy Blackmagic Design Intensity Shuttle Thunderbolt here
Epiphan AV.io HD and 4K
Epiphan is a new brand to me, however, after looking into it further, they've got some great gear. I first heard of Epiphan from Linus Tech Tips regarding their hardware revamp for their live streaming show, The WAN Show. Not only do they go over all the new audio hardware (which, of course, is one of my favorite types of hardware), but Linus introduces the use of the Epiphan converters, and later on demonstrates a full-on hot-swap disaster situation live on-air. This stuff just friggin' works.
Epiphan has a 1080p model as well as a 4K version, and neither is cheap. They don't require drivers and are natively detected by Windows, so setup and config are entirely done within your streaming software with the AV.io devices merely acting as a camera source. If you need no other features other than to capture video and audio from an external HDMI source and have the budget for rock-solid gear, look no further.
Buy Epiphan AV.io HD here
Buy Epiphan AV.io 4K here
Conclusion
Well, that got a bit long-winded. But as you can see, there are so many options for so many needs and budgets that this could just go on forever. I didn't even cover any of the higher end cinema cameras such as the Canon C100 or Blackmagic Ursa 4K Mini (although those are both excellent cameras!). But it all comes back to this: What is best for your situation? To be honest, even the venerable Logitech C920 webcam will get great results if you light yourself properly.
And what will you actually be doing? Will it be a daily news vlog? Facebook Live posts to your friends? Live hangouts with your fans? Facecam for YouTube Live or Twitch streaming? All of these could warrant different hardware choices or limitations, so keep that in mind.
When it comes down to it, I think you're really looking at two realistic conclusions. Either you're using a traditional webcam and are alright with what I would call good but "less than professional" video quality or you're attempting to create a more polished product, and invest in a camcorder-style camera and a decent HDMI capture interface. The DSLR option is fine if you have that already, but I wouldn't advise it for people starting from scratch, hardware-wise if you're unsure how far into this you want to go or if your budget is tight.
And then the topic of 4K: Unless you plan on doing a large amount of non-live video and need the glossy sheen of all those pixels, 4K isn't necessary yet. Your internet probably won't even support uninterrupted streaming in 4K, so if streaming is the majority of your usage, skip the extra pixels and get a better sensor/lens. And lighting.
I hope this helps narrow down some choices and answer some questions regarding live video camera choices for video broadcasting platforms like Facebook Live and YouTube Live. If you have a question that I haven't covered here, leave a comment below!
Update 4/3/20: Added the Sony a5100 (finally!)
Update 6/25/18: Added the Canon M50
Update 3/11/19: Added the Blackmagic Design Pocket Cinema Camera 4K
Update 5/25/19: Added the Elgato Cam Link 4K