Adobe's Creative Cloud suite is the industry standard for many types of creative, from amateur to top-level pro.  Whether you're a graphic designer, photographer, video editor/motion graphics artist, or marketing/print designer, chances are you pretty much live inside Creative Cloud.  But as most of us know, with this awesomeness comes a fairly high cost.  As a result, let's take a look at the best free Creative Cloud alternatives.
While Creative Cloud is definitely more accessible and affordable to "normal people" than before the subscription model kicked in with the massive Creative Suite prices, it's still a bit pricey if you don't make money off of the Creative Cloud subscription.  The full subscription is $50/month, individual apps are $20/month, and the photography bundle is actually a ridiculously awesome $10/month for Lightroom and Photoshop.
Best free Creative Cloud alternatives
I personally don't feel that it's worth getting an individual app for $20, seeing as most of the apps do somewhat work with at least one other.  In my book, it's either the full suite, or just the photography bundle.  Otherwise, you're better off looking elsewhere.  And with that, on with the show.  Here's our list of the best Creative Cloud alternatives.
Best Photoshop alternatives
GIMP (Windows, Mac, Linux)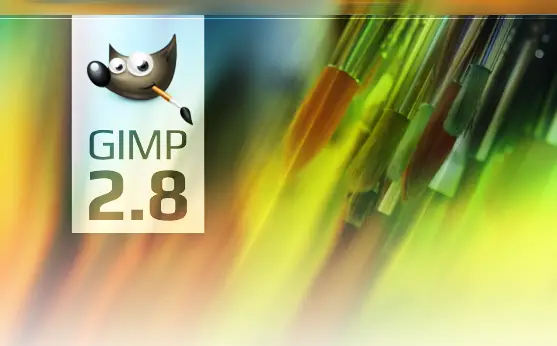 No list of the best Creative Cloud alternatives would be complete without GIMP.  GIMP has been around for a long time.  It's been a go-to Photoshop alternative for two decades, as it's been an open-source application the whole time.  GIMP is just about as powerful as Photoshop, and will let you do pretty much everything you would do in Photoshop without the price tag.  Layers, filters, effects, all the tools you know and love in Photoshop are present in GIMP.  It's even had some features, such as Content Aware Fill, before Photoshop, so don't expect to miss ALL the features you rely on in Photoshop.
The downside to GIMP is that, well, it's not Photoshop.  Keyboard shortcuts aren't always the same, and some of your workflow will take some adjusting to get back up to speed if you're a Photoshop refugee.  But pretty much everything you would need to do can be easily Googled and will get you back on track quickly.  Hands down, one of the best Creative Cloud alternatives.
Best Lightroom alternatives
Lightzone (Windows, Mac, Linux)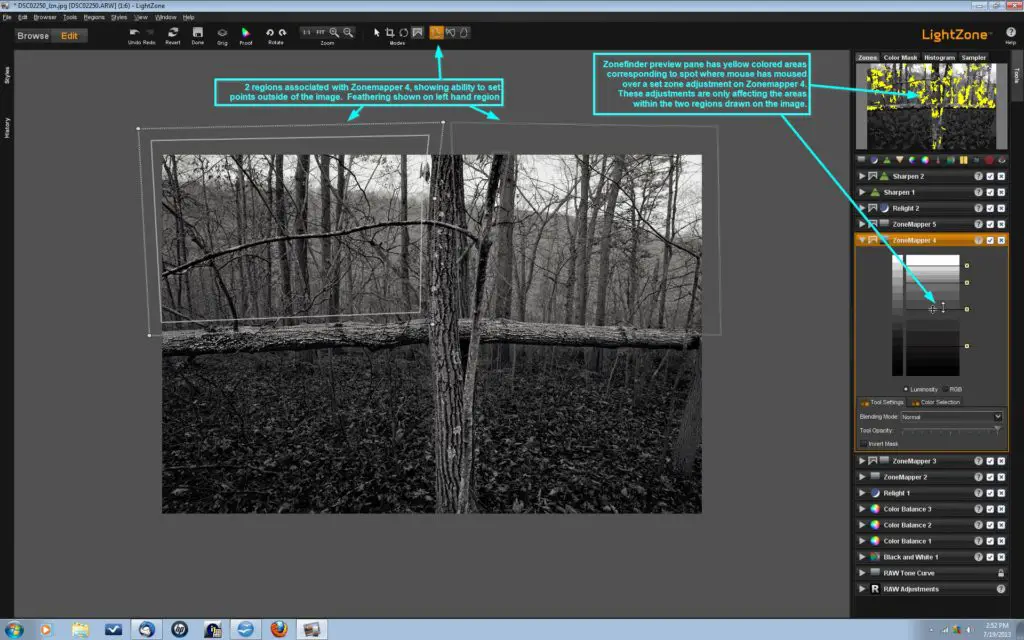 I first discovered Lightzone a long time ago, maybe ten or so years ago, definitely before I got into using an app like Lightroom as my primary photography workflow environment.  Looking for a way to organize, cull, edit, and export better than using Photoshop/Bridge or Picasa (lol), I took Lightzone for a spin.  Back then, however, it was a commercial app, and I never purchased after the demo period.  But now it's free, so, huzzah!
The cool thing about Lightzone is that it tries to recreate the Zone System, created by Ansel Adams.  Through Lightzone's implementation, it had 16 segments in which the editing would scale through, and to be honest, it was pretty interesting.  I haven't used it personally since that time, but it still looks to be pretty unique in how editing is accomplished.
Darktable (Windows, Mac, Linux)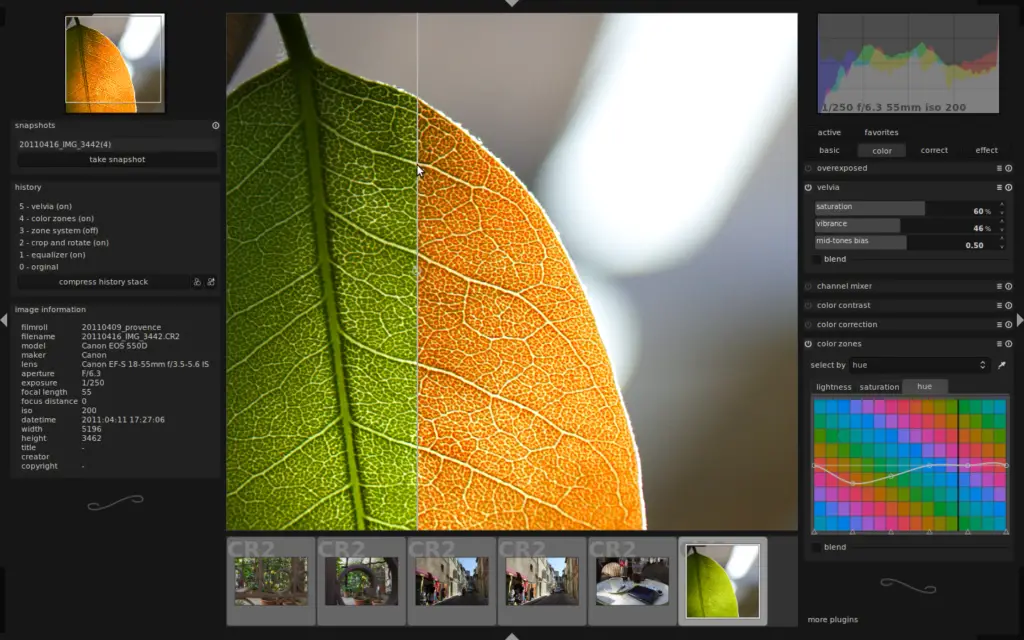 Darktable is just about as close to a Lightroom clone as you can find.  Sadly, it's no longer available for Windows, as apparently the community isn't compiling the builds for the OS anymore.  But back when I was using an Ubuntu Linux OS on my old laptop and HAD to edit something, Darktable was my go-to.  Very easy to get up to speed in Darktable if you're coming from Lightroom, and you won't feel like you're hampered by much at all.  If only they'd get the Windows development spun back up.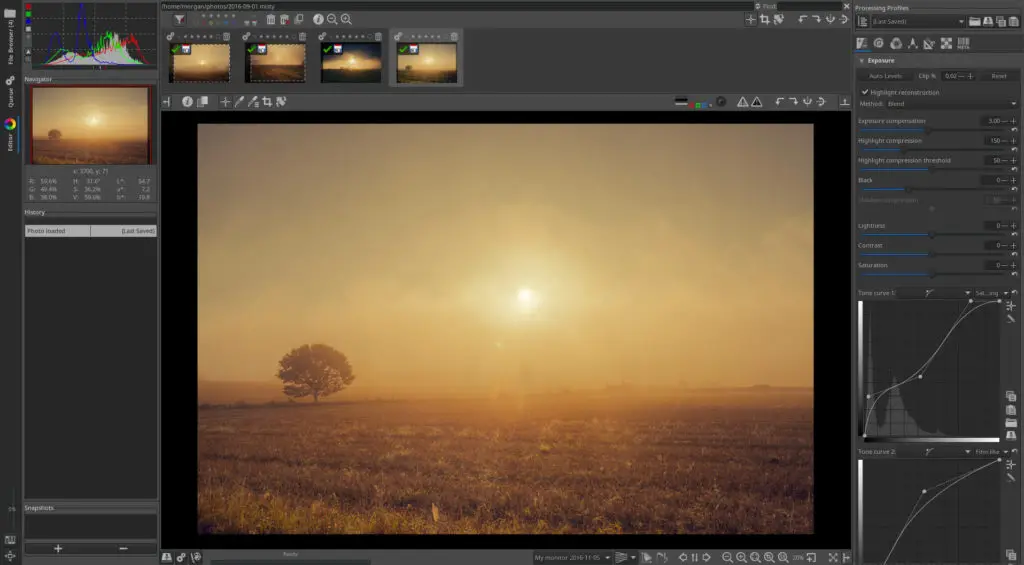 On the Windows side, Raw Therapee is probably the best Lightroom substitute as a Creative Cloud alternative, if you're looking for a close analog as far as editing workflow goes.  While the name has always irked me, you can't deny the fact that the developers have been making a huge effort of keeping it updated, supporting new cameras, and doing RAW right.
Best Premiere Pro alternatives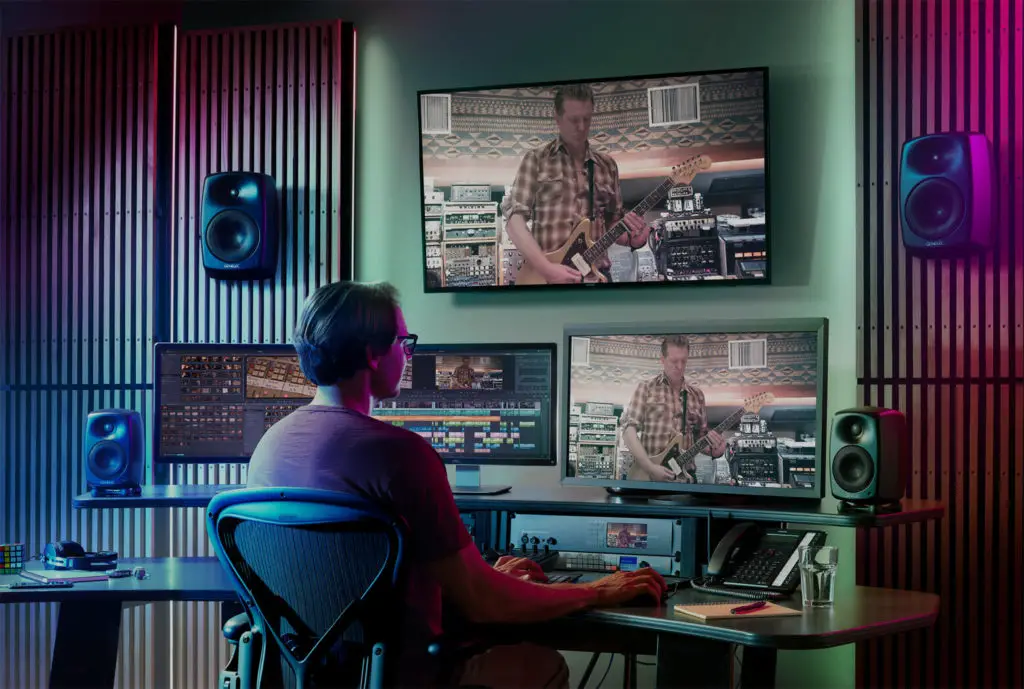 Initially, Resolve wasn't on my list here.  The only reason for that is that back when I was using it for some projects, it was for color correction.  Most of my work was in After Effects and Premiere, and at the time Davinci Resolve didn't have editing functionality.
That's all changed.  Davinci Resolve is now one of the most powerful editing suites out there, getting better all the time.  The color correction and color grading features are still the core of the app, but now things can be done entirely within Resolve, with the exception of motion graphics (which is handled by Fusion).
Even better is the fact that Resolve is now free for the standard edition, and came with a massive price drop for the studio version at a mere $299.  The free version does not allow for noise reduction and sharpening in the grading module, and also doesn't let you make use of the insanely useful collaboration features.  These tools, along with the noise reduction, are really worth the $299 alone in my book.
There is also some pretty great audio mixing capabilities as well, with the Fairlight audio engine.  Full-scale production mixing is now possible from the same application you're editing in, which is pretty slick.  No more having to dump out to ProTools or Reaper, just do it in the same session you're editing and grading in.  Super tight.
So, yes, the free version is lacking some key pro-level features.  But still, the free edition is insanely powerful!  There's absolutely no reason you shouldn't give this one a whirl.
Shotcut (Windows, Mac, Linux)

Shotcut is a completely free, open-source NLE (non-linear editor) that is a direct analog to Premiere Pro.  It definitely has a feature set that can compete with any pro NLE, and thankfully doesn't skimp on the audio aspect of editing.  Shotcut also supports hardware for monitoring, which I wouldn't have assumed an app like this would do.  If you're looking for a pure editor, you can't go wrong here as a Creative Cloud alternative.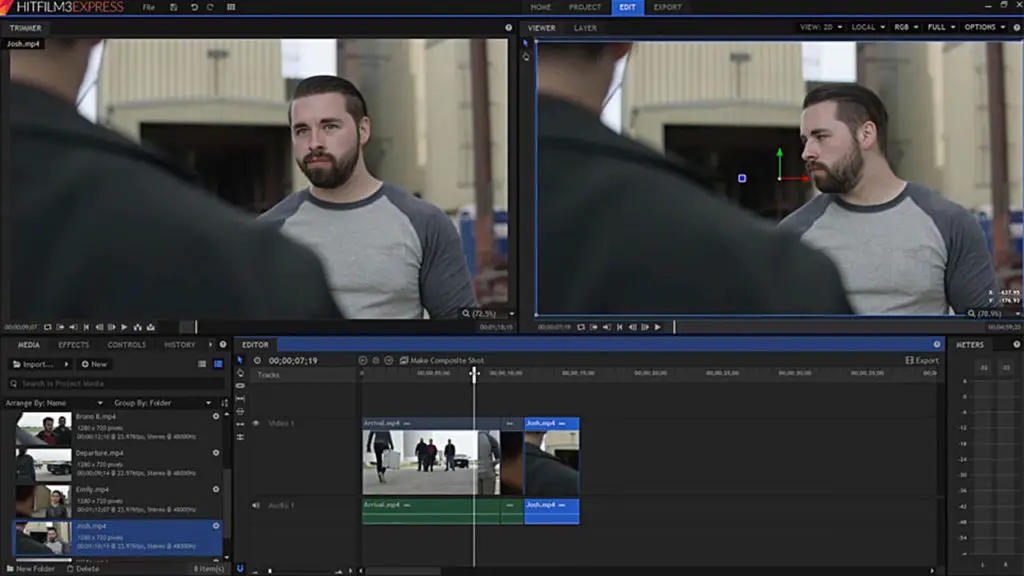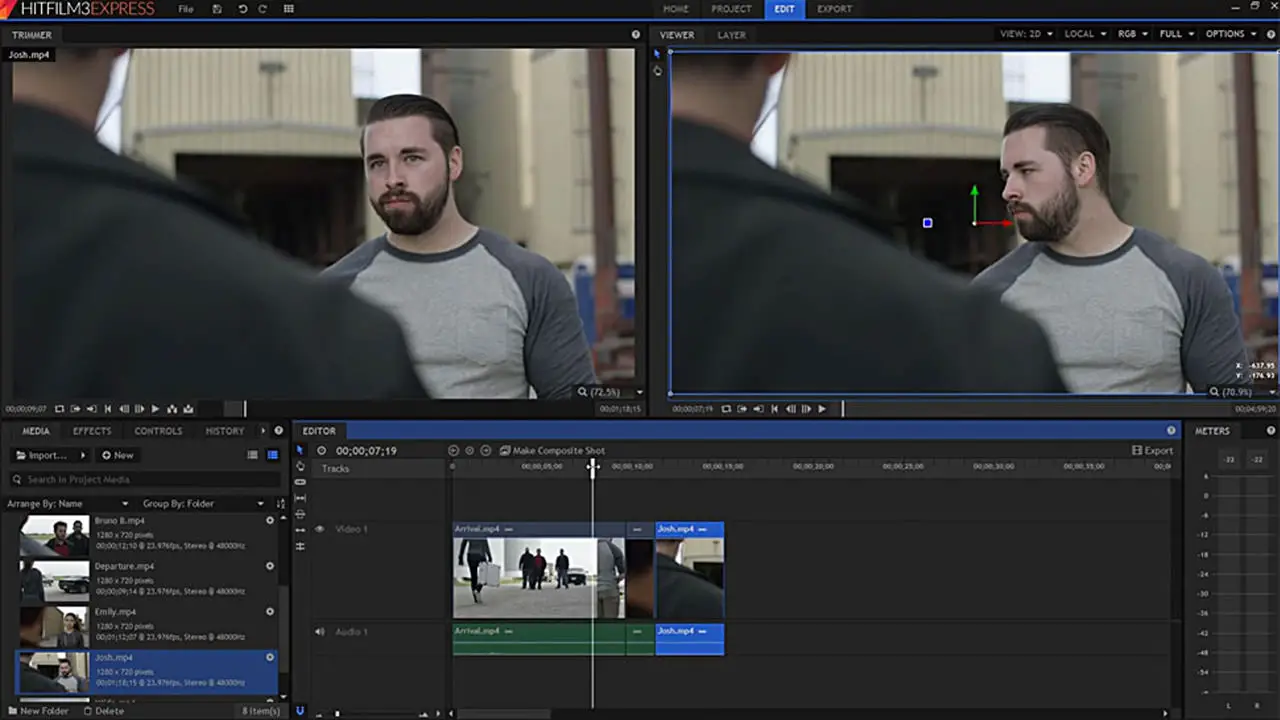 HitFilm is a versatile combination of applications, covering both replacing Premiere Pro and After Effects.  With even the free version allowing for editing and motion graphics, this will very likely cover most of your needs.  HitFilm's workflows are very similar to Premiere Pro and After Effects, however you will definitely find that there's a bit of a learning curve as you adjust to hotkeys and some features.
However, being a free version with a premium option existing, there's definitely some limitations on the free one.  Granted, I was able to successfully edit a YouTube video and do some light graphics/effects work on it, I was longing for Premiere Pro and After Effects when it comes to more specific needs.  Audio options are definitely lacking, but at least there's basic monitoring.
That said, it's still awesome to have a complete NLE/mograph package, and is a definite must-include when talking about the best Creative Cloud alternatives.
Download HitFilm 4 Express here
Best Illustrator alternatives
Inkscape (Windows, Mac, Linux)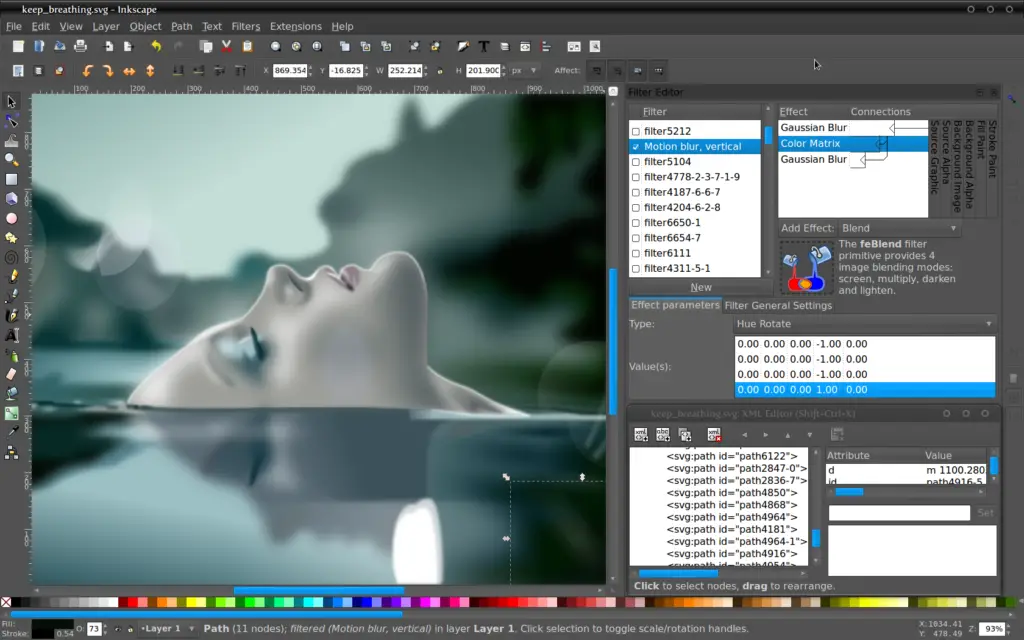 Similar to GIMP, Inkscape is the go-to free open-source counter to Illustrator.  While I don't do a lot of vector graphics work, I haven't played around with it much.  But it definitely runs well, and covers a large swath of the feature set that Illustrator has.  Inkscape will support all of the formats you expect it to, and definitely is familiar to Illustrator users.
Best InDesign alternatives
Scribus (Windows, Mac, Linux)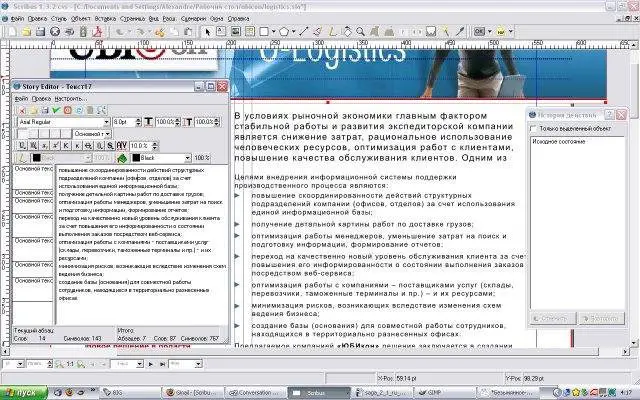 For those of you who work in desktop publishing and want a good alternative to InDesign, Scribus is your answer.  While it's not the best analog to a Creative Cloud application, it'll get the job done, definitely.  It's similar enough that InDesign users will be able to get work done, however there will be a transition period that you'll have to fight through.  But hey, you get what you pay for, sometimes.  Until you land that gig that will afford you a Creative Cloud subscription, Scribus will take care of you.
Best After Effects alternatives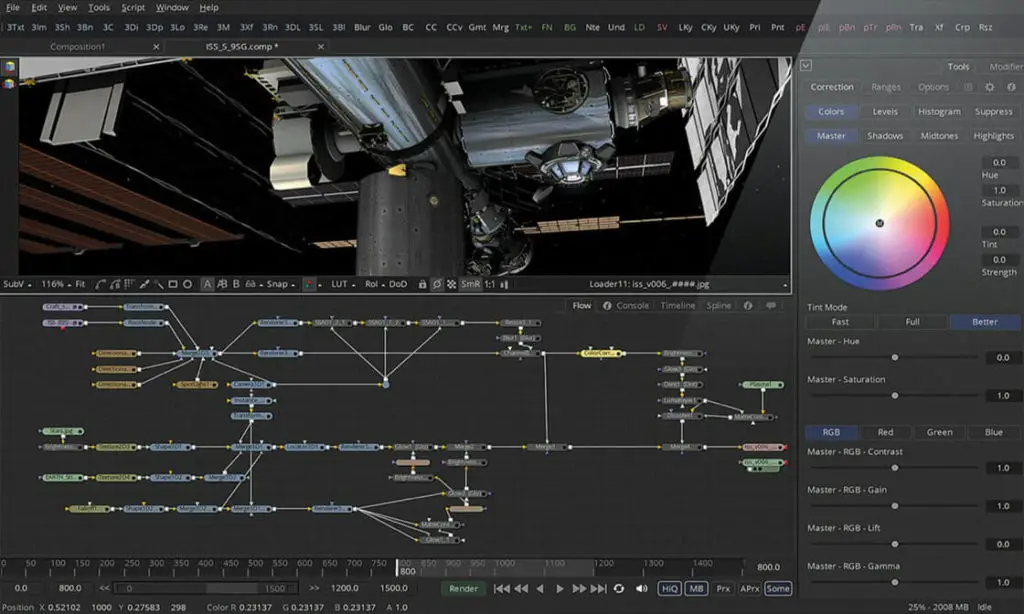 In addition to the free (and studio) Davinci Resolve, Blackmagic Design has a motion graphics app called Fusion 9 VR.  Following the same pricing model, the standard version is free, with the Studio version at a mere $299.
Just like Resolve's color grading module, Fusion works with a node-based system instead of the typical After Effects layer model.  Fusion has all the stuff you'd expect in a motion graphics package, including animated text, 3D text, particle engines, compositing, keying, tracking, planar tracking, and, well, a lot more.  But with the latest version, there's also a push towards VR and more specialized 3D applications.
Wax (Windows)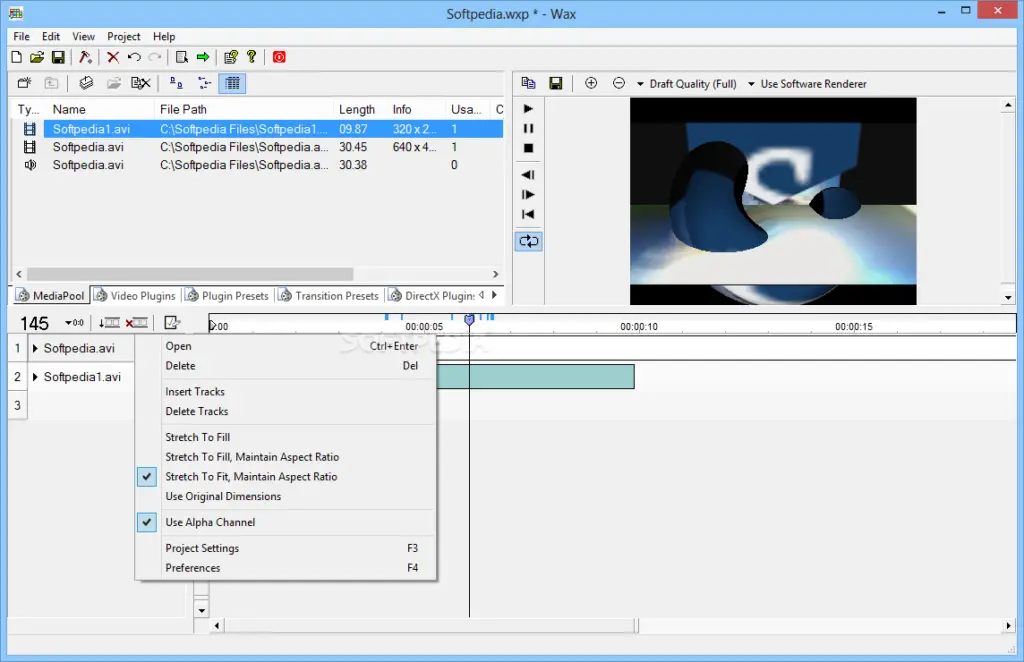 Wax is a lightweight 2D/3D graphics/compositing application for Windows.  It can work as a standalone app or a plugin for other standard NLEs.  It may not look like much, but it will definitely get the job done.  Wax even supports graphics acceleration for improved playback and rendering speeds, and supports plugin frameworks such as DirectX and Windows Movie Maker.
Fusion (Windows, Mac, Linux)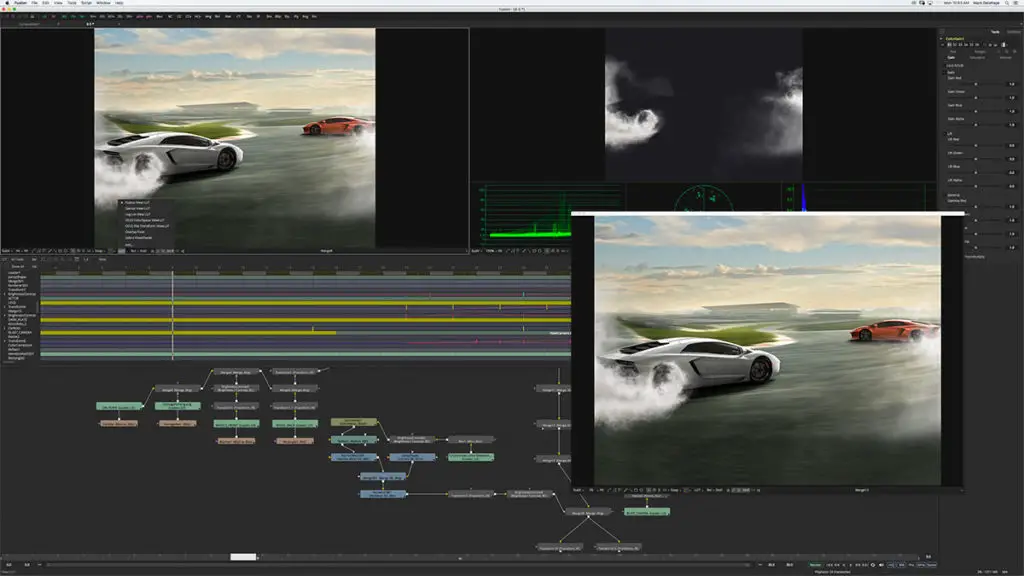 Fusion is now part of Blackmagic Design's portfolio of software, after being created by Eyeon.  Fusion is a state of the art graphics compositing suite used for, well, compositing in video.  Major motion pictures have been using Fusion for years for compositing, and if this is a high-demand task in your projects, look no further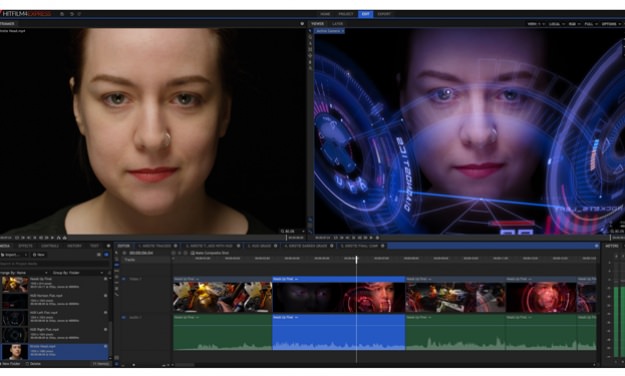 Mentioned above as a free Premiere Pro alternative, HitFilm is also a motion graphics application, and does it quite well.  HitFilm even has some really great free tutorials on how to make or replicate well-known VFX scenes.  Again, the free version isn't as comparable to After Effets as an open-source analog, but it's polished, and is familiar to After Effects users.  And of course, the paid version ups the feature set considerably, but you can still get a lot of work done without it.
Download HitFilm 4 Express here
Blender (Windows, Mac, Linux)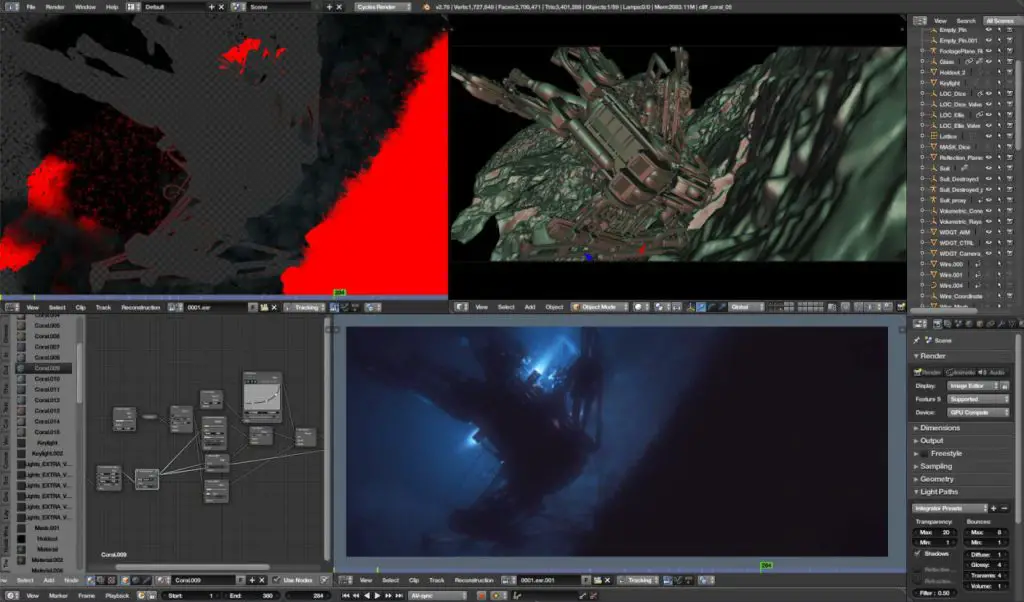 Any Creative Cloud alternative list would not be complete without Blender.  Blender is definitely the go-to 3D alternative to, well, anything 3D-related.  Animation/rigging, modeling/sculpting, compositing, editing, you name it, Blender does it. Blender is well-polished, and is extensively supported, including hardware acceleration and many other standard features.  It's not terribly uncommon for pros to use Blender alongside the paid, commercial tools at their disposal.
Best Audition alternatives
Reaper (Windows, Mac, Linux)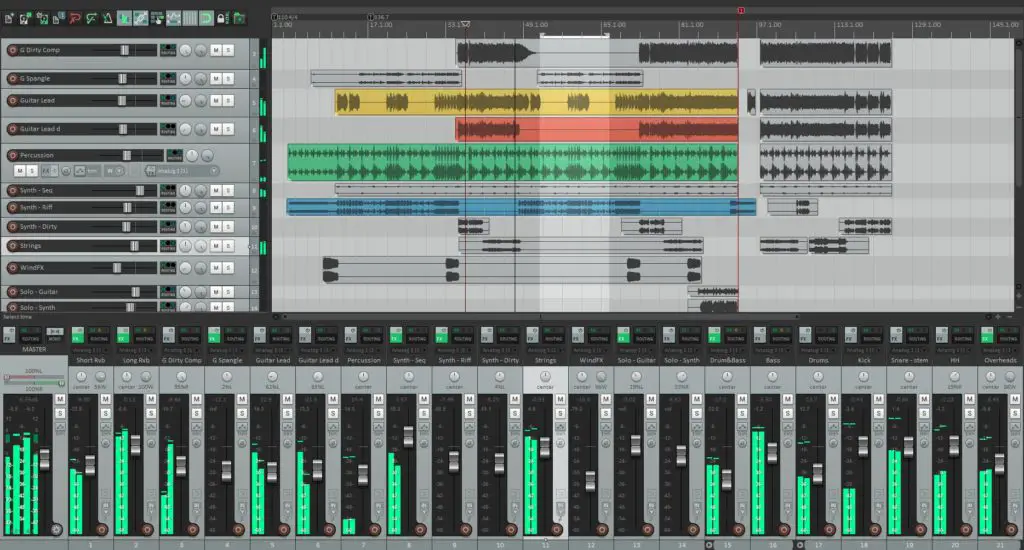 Reaper is my DAW (digital audio workstation) of choice for my audio engineering work.  Reaper is known for being lightweight, very powerful, and customized to fit any sort of workflow.  As an alternative to not only Adobe Audition, but ProTools, Logic Pro, Cubase, and others, Reaper is growing in user base, and is constantly updated, taking user feedback into consideration.
Granted, Reaper is not a "free" application, however the license is ridiculously cheap at $60, and you are able to use the program well past the trial period if you sit through a delay screen at loading.
Audacity (Windows, Mac, Linux)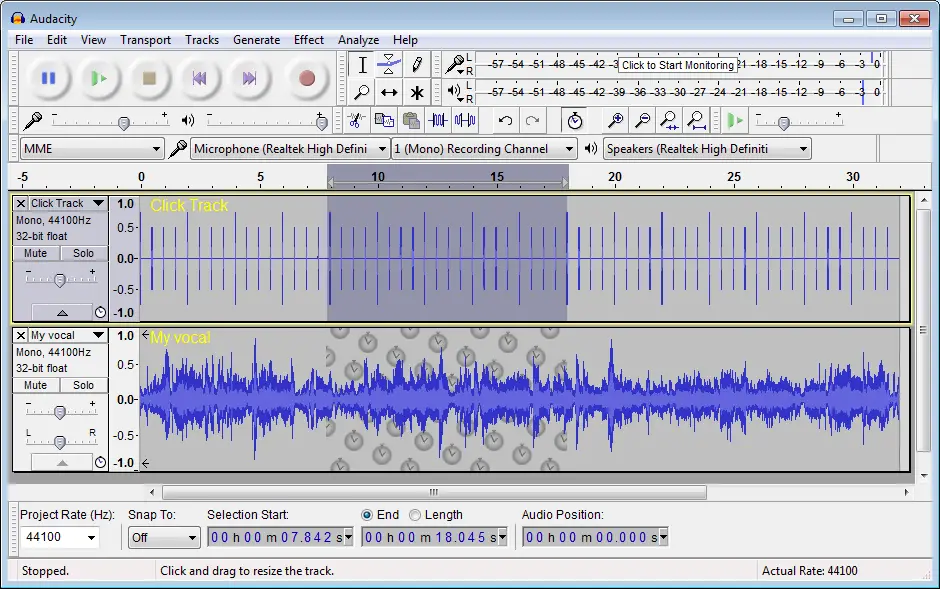 Audacity is a longtime staple of any audio editing, recording, or manipulation suggestion list. Because of this, Audacity shows up in pretty much every mention of the best Creative Cloud alternatives.  Audacity has been around for about ten years, and is a favorite of many budget creatives.  Pretty much any feature you would need for post-processing audio, and shouldn't be overlooked.
Ardour (Windows, Mac, Linux)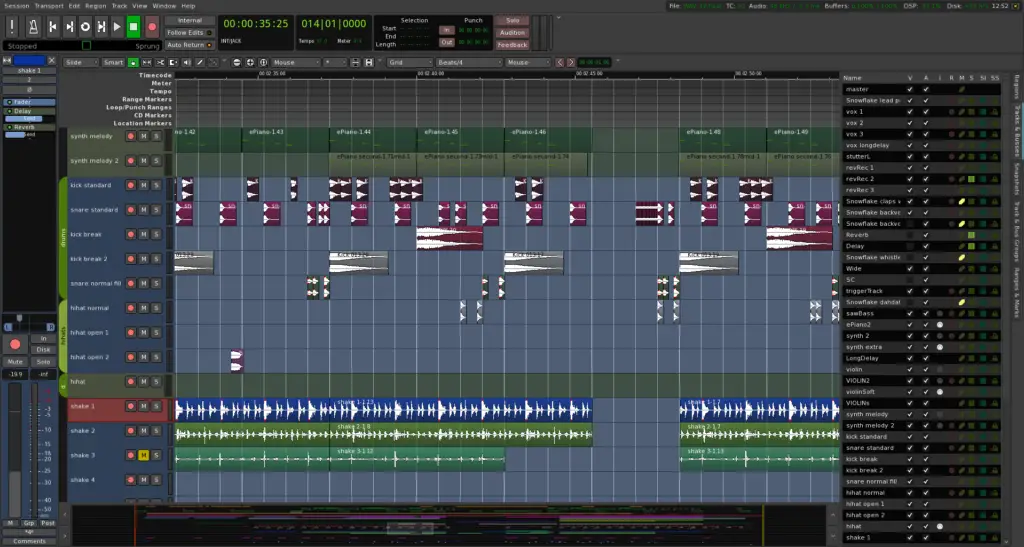 Ardour is another full DAW, similar to Reaper.  While Reaper has added video recently, Ardour has placed emphasis on using video within the app for soundtrack creation purposes.  Ardour offers all the advanced mixing, editing, routing, and tracking features you would expect in a modern DAW.
Conclusion
There are so many great free, or inexpensive applications out there for creatives.  If you look around and do some research, you can almost always find an application to do what you need to, without breaking the bank.  And this is only scratching the surface, so if these don't do it, just keep looking and find the best Creative Cloud alternatives for you.
Updated 2/14/18 – Added Davinci Resolve and Fusion