It's unfortunate that we're even needing to write this article, but so far 2020 has been a most unfortunate year.  In all of the panic and craziness that has come along with the COVID-19 pandemic, we're seeing shortages of the most unexpected varieties.  We've decided that we should look into some good alternatives to these various devices.
As our content often revolves around tech, live streaming, and content creation we've either noticed or have been informed of shortages of the popular, go-to products and have realized that it's becoming increasingly difficult to obtain some of this gear, necessitating some good alternatives for those who still need something.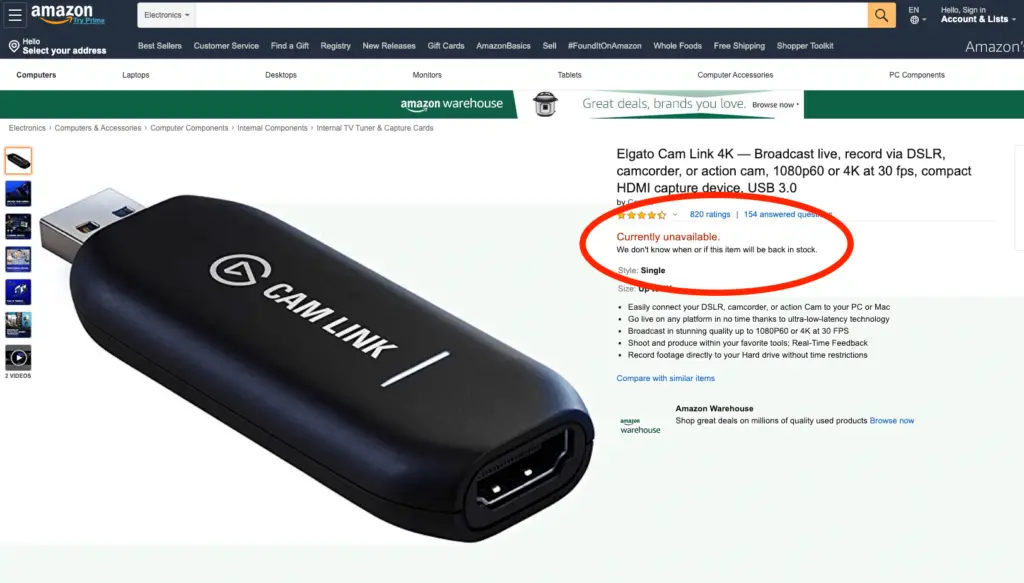 Unfortunately, as more and more people are staying at home, working from home, or just otherwise finding ways to make a living, a lot of the tech that we normally suggest is now very difficult to find.
People are finding themselves on admin leave, furloughed, or even laid off, and they want to try to take a stab at creating a YouTube channel, streaming on Twitch or Facebook and don't know where to start if the most popular devices aren't even coming up on Amazon search results.
Instead of our normal long-form well researched (and quite frankly way too long) posts, we're going to put up this one hub article and update it as we get requests, suggestions, or find things that need alternatives ourselves.
If there's anything that you've been trying to track down and can't find a good replacement for it, please drop a comment below and let us know, or reach out to us at @creatorbeat_ on Twitter.
Note: While we are attempting to list devices that are shipping currently or sooner than the device in question, we can't make promises as to how much longer these devices won't be affected, or if they change delivery dates after orders are placed.  We'll keep trying to find options for you!
Best alternatives for Elgato Cam Link 4K
Elgato Cam Link 4K, External Camera Capture Card, Stream and Record with DSLR, Camcorder, ActionCam as Webcam in 1080p60, 4K30 for Video Conferencing, Home Office, Gaming, on OBS, Zoom, Teams, PC/Mac
Professional Webcam: easily connect your DSLR; camcorder or action cam to your PC or Mac.
Stunning Quality: broadcast live or record in 1080p60 or even up to 4K at 30 fps.
Ultra-Low Latency Technology: go live on any platform in no time.
Last update on 2023-11-03 / Affiliate links / Images from Amazon Product Advertising API
Update: We've put together a more comprehensive guide to our favorite Elgato Cam Link alternatives, which we'd definitely suggest checking out in addition to our original choices below. With stock levels normalizing now, we've got some better, more affordable choices no matter whether you're hooking up a streaming camera or a game console.
The Cam Link 4K has been one of the more popular video capture devices for live streaming with a video camera because of its simplicity, ease of use, quality, and affordability.  When looking for an alternative you'll most likely be giving up on at least one of those facets, but not by much.  Any of these devices would be perfect for not just game streaming but also upgraded video conferencing if you're working from home.
Last update on 2023-11-03 / Affiliate links / Images from Amazon Product Advertising API
Every one of these devices will do 1080p60 streaming, and some will do 4K30.  A few do offer H.264 encoding as well, especially the PCIe devices and higher-end external devices.  While some of these are specifically geared toward game console capture, they'll still work quite well with a DSLR or mirrorless camera.
One thing of note is that in order for a capture device to be visible in applications that access webcams (as opposed to how OBS and Xsplit access video feeds) is that they need to support what's called "USB video class", or UVC.  Some of these devices (like the Cam Link 4K) support this, whereas others (like the AVerMedia LGP LITE) do not.  We've added the AVerMedia Live Gamer Portable 2 Plus as an alternative to the LGP Lite if you need UVC compatibility but want a gaming-focused feature set from the LGP LITE. 
Note: We now have a full list of UVC-compatible video capture devices to allow you to use your mirrorless or DSLR as a webcam, and it has every major manufacturers' devices we could find with UVC support.
If you need H.264 hardware encoding, definitely look at the Elgato PCIe expansion card offerings or the AVerMedia game capture devices.  And the Epiphan devices are some of the most rock-solid reliable capture devices available, but they're also some spendy little boxes.
Update 4/28/20: Good Guy Canon actually has released a new software utility to allow Windows users to connect their select compatible Canon EOS or PowerShot cameras via USB to use as a high-quality UVC-compatible webcam, negating the need for a capture camera if you just need basic webcam functionality.  Definitely check out our quick overview of the Canon EOS Webcam Utility Beta announcement to see if your camera is on the compatibility list.
Best alternatives for GoXLR Mini
Sale
Last update on 2023-11-03 / Affiliate links / Images from Amazon Product Advertising API
The TC Helicon GoXLR Mini is one of the most popular audio interfaces for live streaming video, and it's also pretty much the only one specifically designed for streamers.  Since the release of the GoXLR people have wanted a lower-cost version that they could add to their setup without breaking the bank.
Its specific features for audio manipulation, control over separate streams of audio and other effects and post-production make it an excellent option for game streaming.  Unfortunately, it also means that there's really not much else out there as an apples-to-apples comparison, and it's going to be at least a month or more at current availability levels before they ship out.
Last update on 2023-11-03 / Affiliate links / Images from Amazon Product Advertising API
Yes, we're advising the GoXLR as an alternative to the GoXLR Mini.  While this is most likely not the option you would want to hear, it's the option that is available.  If you REALLY want the functionality you can spend a bit more money and get one sooner.  It's still not shipping any time soon, but it's at least a week or two sooner at the time of writing this.
The Behringer Xenyx 1204USB is currently available for quick delivery and is an excellent closely-priced equivalent with even more input channels and faders.  There's no motorized automation or RGB, but you do get more physical controls, more inputs/outputs, and a lower cost.  The mic pres are their Xenyx pres, are actually very similar to the MIDAS preamps on the GoXLR and other Behringer interfaces.
We've never seen this before, but the Maker Hart Just Mixer M has a "Premium" version available, which is a "limited anime edition", we can't make this stuff up.  But while the basic version isn't shipping out until late April, the limited version is currently listed as April 7th (subject to change, of course).  It's an inexpensive, small size multi-channel USB interface, and while we're not sure on just how good the preamps are, it's probably going to do most of what the GoXLR Mini can do.  Just beware that there's no onboard XLR port and it uses an XLR adapter.  We can't speak for the quality of this, but at least there's a 4 star rating and it's available sooner rather than later.
The Pyle PMXU67BT 6-channel mixer is currently shipping out fast.  Pyle has been around for a very long time and has been known for making inexpensive gear.  Some of their stuff is great, and some aren't, but this one has good reviews, and a ton of hardware controls and I/O.  It doesn't seem to come with a USB cable, and even more oddly the only USB port on the device is a USB-A port.  We can't 100% verify whether this is even usable as an audio interface, but the reviews say it is, and may get you through if you REALLY need something to take the place of a GoXLR Mini.
Best alternatives to the Elgato Key Light
Last update on 2022-07-18 / Affiliate links / Images from Amazon Product Advertising API
The Elgato Key Light is one of their flagship streaming devices, but unfortunately is very difficult to find right now.  While it is a bit of an overpriced light, it does what it does quite well, and is worth the money if you want the smart features built in for remote control.  That said, there are some other great options, most of which we've already listed in our guide to the best lights for live streaming video.
Last update on 2022-07-18 / Affiliate links / Images from Amazon Product Advertising API
While the Key Light isn't available right now, the new Key Light Air is.  As overpriced as the Key Light is, the Key Light Air is even more egregious.  It's a smaller light source, so shadows will be harder.  It does ship as a desk stand version instead of a desk clamp system, so maybe you can get them closer to you and therefore counteract the smaller light sources.
The Viltrox lights are still our absolute budget-friendly champions.  The L132T is still one of our very favorite lights, and shouldn't ever be overlooked.  For the money, you can't get anything nicer, especially if you can get them close to you.  You'll need to buy an external power supply, but those are inexpensive enough.  The VL-200 II is another great light, however, the diffusion doesn't seem to be as good as the L132T.  The individual LEDs do show through the material, but from what we see the micro-shadows aren't really apparent.  There's a dual-light kit that comes with the adapters, stands, and everything at a really good price.
The next suggestion is a bit bigger, closer to the size of the Key Light, and we covered them in our lighting guide.  The FalconEyes SO-28TD and SO-68TD are excellent flapjack lights, about 30cm and 54cm in diameter respectively.  The lights are very smooth and are thin panels so they can fit pretty much anywhere, and being larger lights you don't need to get them as close as you would the Viltrox lights or the Key Light Air.
A new entry into our suggestion list would be the FalconEyes RX-12T.  These are actually some really affordable flexible lights like the Wescott Flex Light at a fraction of the price.  They're not as big as the circular flapjack lights, but they're much more agile and can be set up in locations that others just can't do.  Flex lights are pretty fun and let you get some creative lighting solutions, don't let the odd form factor scare you off.
Best alternative for the Herman Miller Aeron or Herman Miller Mirra
Sale
Herman Miller Aeron Ergonomic Chair - Size B, Graphite
Your purchase includes One Herman Miller Aeron Ergonomic Chair – Size B, graphite color
Chair dimensions: 41" H x 27" W x 16.75" D. Seat heights: 16"-20.5".
Tilt Limiter lets you set the recline range at one of three postures. Tension control lets you adjust the amount of effort needed to recline comfortably. Seat Angle Adjustment changes seat angle from neutral to engaged
Last update on 2022-07-18 / Affiliate links / Images from Amazon Product Advertising API
Last year I started making an Amazon list of some mesh office chairs I really wanted for not just a planned post but also our own home office. While I wasn't quite able to justify spending the money at the time, I put both the Herman Miller Aeron and Mirra on the list. I've been sitting in a Herman Miller Mirra at my day job for about three and a half years now, and I love it. I've used the Aeron for two years before that, and also loved that one.
Last update on 2023-11-03 / Affiliate links / Images from Amazon Product Advertising API
Surprise!  The best alternative for the Aeron or Mirra is actually the Aeron in the Mineral/Satin Aluminum finish.  It's the only one that's even orderable right now, but as of this writing, it's still a bit of a wait to get one ordered.  But at least it's available!
The Steelcase Gesture is also currently available, but again, with a longer delivery forecast.  It's often mentioned in the same discussions as the Aeron and a lot of people love this chair.
And of course, the current granddaddy of them all is the Herman Miller Embody.  These chairs are ridiculously nice.  It's the opposite of cheap, but after having gotten some hands-on time with one for a day or so before having to give it back, I was absolutely spoiled.
Final thoughts
We're going through an extremely challenging time and experiencing something that none of us have ever lived through.  At the same time, this self-isolation process could possibly lead to new hobbies or interests.  We hope that we can do at least a little bit of a service to anyone looking to get started as a content creator, live streamer, or other similar avenues.
If you have any questions, please feel free to drop a comment below, or reach out to us on Twitter at @creatorbeat_.