Should you put your computer on your desk or on the floor?  The current trend is to get your computer up off the carpet and onto your work surface.  But this isn't always possible, and many people leave their computer tower on the floor, often on carpet.  This isn't the best option for various reasons, and you should really have your PC tower on a computer stand.
Putting your computer on your desk is becoming commonplace for a few reasons, primarily because more and more builds are RGB'ing ALL THE THINGS.  But there are other reasons, such as dust, dirt, and hair.  With large front intake fans and power supplies moving to the bottom of the case over the past decade.  Some towers do have an an intake on the floor panel, which would be an issue if sitting on carpet.
There is also the risk of electrostatic discharge (static electricity) if you're sliding your tower out to work on it, which could definitely cause harm to your computer components if not properly grounded.  This isn't much of an issue if your tower is on hardwood or some other non-fabric surface, but can turn a routine maintenance session into a bad time quickly.
There are also those of us who can't necessarily put the computer tower on our desks because of the need of all the desk space possible.  Audio engineering setups where the studio monitors (engineering speak for the speakers) need to be set up in a certain way for proper listening on your home recording desk.  Some users may prioritize multiple monitors above tower placement, or there may just be not enough room on the desk in the first place in tiny setups.
The proper answer to this is to put the tower on a computer stand, or "PC caddy/CPU caddy".  Typically these are adjustable, rolling stands made of either metal or plastic.  A PC caddy will get your tower up off of the messy carpet, keep it under the desk out of site (and fans out of earshot a bit), while being movable to allow for access to the back if necessary.  Here's a few of the better computer stands that will do the job for you: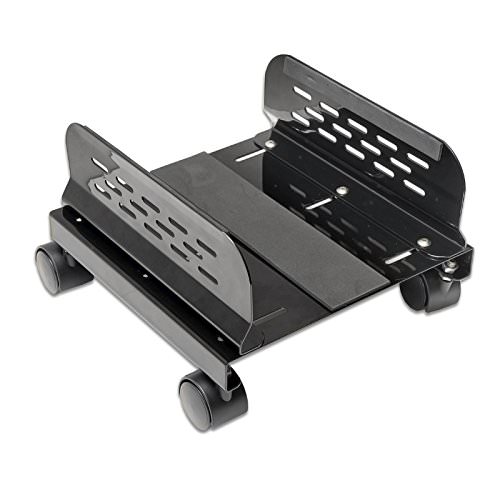 This Syba computer stand has an adjustable metal base, and is a fairly sleek design.  It shouldn't interfere with any window panels, however because it's a bit short, it most likely won't rest on the rubber feet of the tower, so positioning should be paid attention to as to not block the PSU intake fan.
Buy SYBA Metal Base CPU Stand for Large Tower Case on Amazon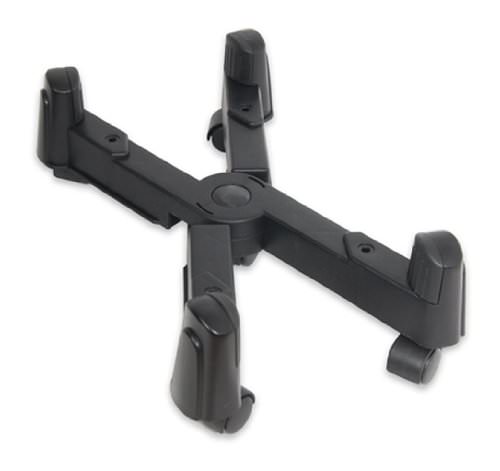 This is branded by IOCrest, however appears to be another Syba product.  While this computer stand is also most likely not large enough to rest on the tower feet, this one won't block the PSU fan for sure.
Buy IOCrest CPU Stand ATX Case Caddy on Amazon
This one's a bit more tall, but more stylized.  I don't know if I would load this up with a heavier tower due to the adjustable design, but for a lighter tower this PC caddy could be a good choice if it matches your decor.
Buy Allsop Metal Art CPU Caddy on Amazon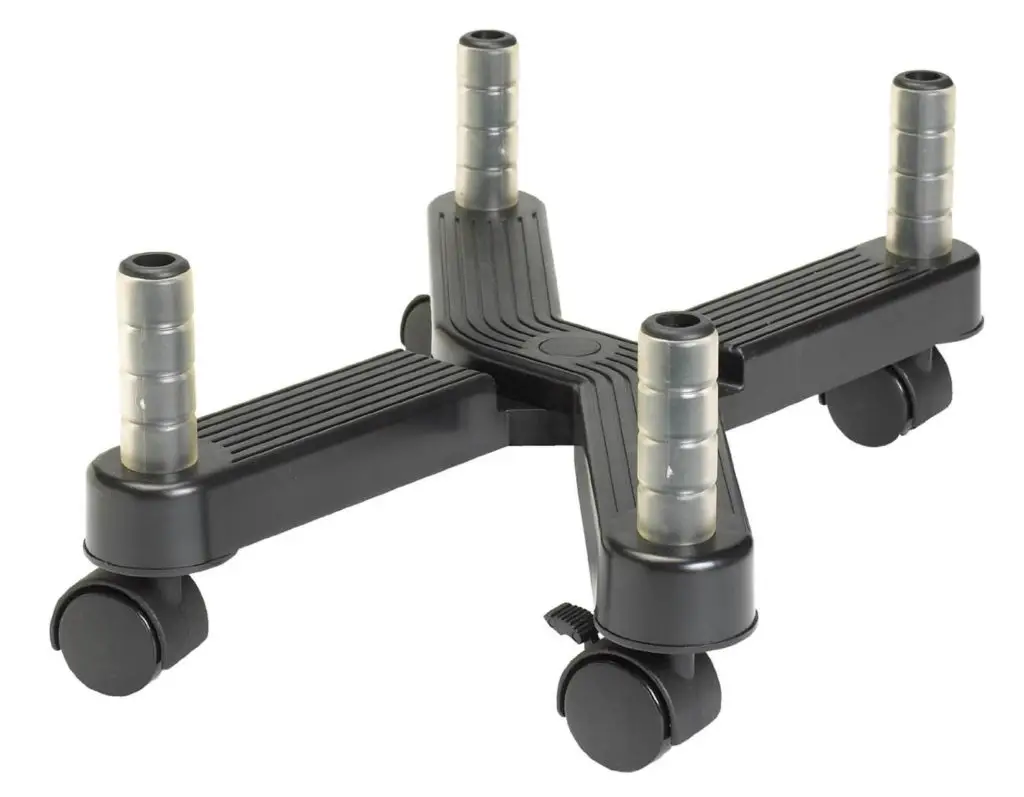 Another X design like the IOCrest above, this is another flexible and reasonable PC caddy.
Buy 3M Adjustable CPU Stand on Amazon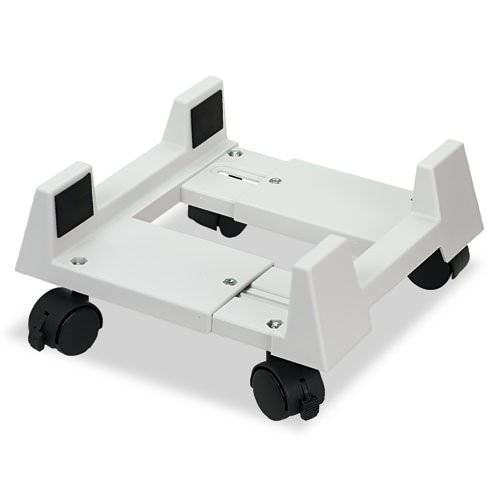 A computer stand that looks like something straight out of Office Space.  This is probably the most pedestrian stand of them all, but also possibly blending in the best in your office setup.  Again, you will need to verify tower placement in regards to the PSU intake.
Buy Econo Mobile CPU Stand on Amazon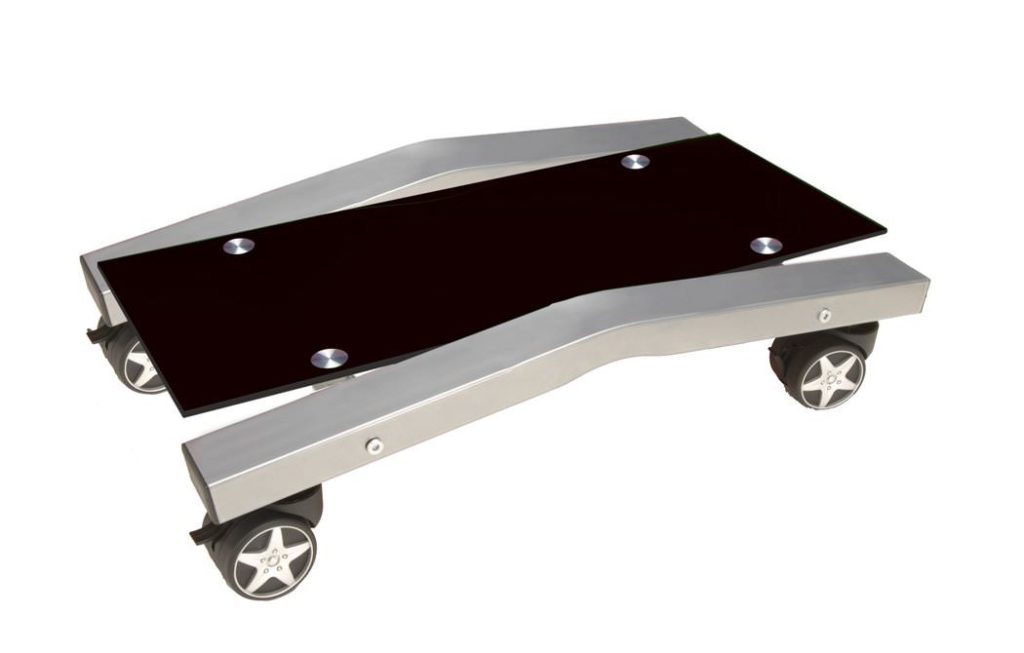 By far, this is the best looking computer stand from the whole list.  This caddy doesn't use any sort of gripping force to keep it upright and on the stand, however that shouldn't be an issue as long as you don't take those "racing wheels" seriously.  This does come in the black above, as well as red and clear platforms.
Buy Pitstop Furniture CPU700B Black Computer Stand on Amazon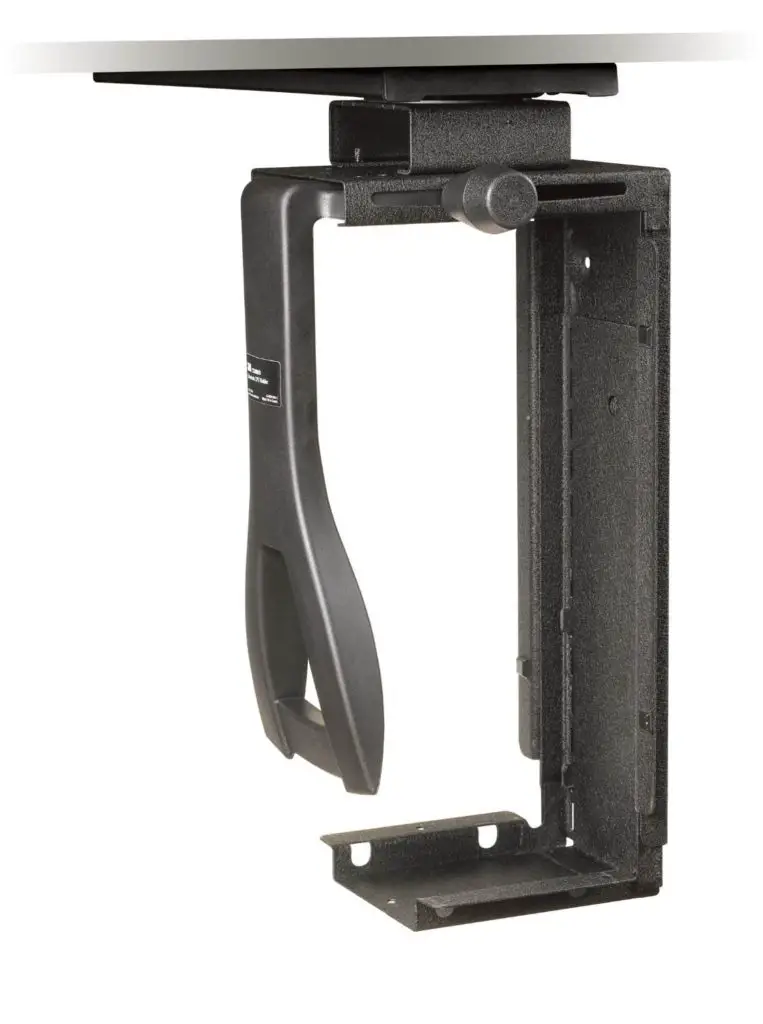 And now for something completely different.  If the floor cpu caddy isn't for you, or you have some bizarre reason for not placing your tower directly on the floor, consider this one.  Many people with sit/stand automatic standing desks do like this tower stand to ensure that cables don't get caught or yanked when adjusting the desk.
If you have a desk that can take the mounting (honeycomb IKEA desks need not apply), this is a great option for a functional and unique way to manage your PC.  The mount spins 360 degrees, and should suit any need you have.
Buy 3M Adjustable Under-desk CPU Holder on Amazon
In Conclusion
We can't all get our towers onto the desk like our favorite YouTubers, but that doesn't mean you need to let your poor PC languish on the carpet, sucking in all that dust directly.  A good PC caddy can elevate both your computer (literally) and your office setup (figuratively), and shouldn't be overlooked as a viable option to keep your computer safe.