Any time someone asks us what the most important component of a home office or desk setup would be, we'll almost always say that it's your chair. Yes, having a functional desk, large, bright and accurate displays, and a clicky-clacky mechanical keyboard is pretty great, but if you're uncomfortable at your desk, none of that matters if you don't want to sit there. Unfortunately, great office chairs are outrageously expensive, but they don't have to be, and we have some favorites. Let's take a look at some of the best mesh office chairs under $200.
Why is a good office chair so important?
Most people spend a large portion of their job duties sitting at a desk. Many also spend large chunks of time at home outside of work at a computer. Whether you work at an office, work from home, or have computer-based hobbies or side-hustles, you're almost guaranteed to be sitting way more than you think.
With that much sitting, having a chair that supports your body properly and encourages good posture habits is critical to your overall health. And beyond that, just having a chair that is comfortable to your hips, back, and buttocks will ensure that you can get more work done with less distraction and frustration.
Those who have spent serious time in some of the more expensive, high-quality office chairs know exactly how helpful having a supportive, durable and comfortable chair matters to your experience. If you're comfortable at your desk, you're less likely to procrastinate getting to your desk and keep from getting up frequently (or at least more frequently than is suggested for recommended breaks).
Unfortunately, we can't all drop $400, $800, or $1000 or more on a chair (even though we really should have this quality of chairs at home!). And while you won't find something with the build quality and feature set of a Herman Miller Aeron for under $200 (or usually even under $500 for that chair), there are some excellent chairs available for $200 or below.
What is a mesh chair, and why would I want one?
Mesh chairs different from your typical computer chair or executive chair. A mesh chair has a rigid frame for the back and/or seat and there's a breathable mesh material that creates the back and/or seat instead of a traditional padded design.
These traditional designs usually have a foam padding wrapped in leather, faux leather, or cloth. Think of the typical leather office chair or the small armless cloth computer chairs from years past. These chairs are often less expensive than a mesh chair but have some drawbacks.
My favorite part of a mesh office chair is that they are extremely breathable. I do personally get warm easily and feel like I'm very uncomfortable in a typical leather executive office chair. With a mesh chair, you're never leaning back upon or sitting directly on a solid, non-breathable surface. A breathable chair ensures that you feel much more comfortable for longer periods of time.
But what about comfortable sitting? Wouldn't a big padded office chair be more of a comfortable sit for you? Well, not necessarily. Mesh seats aren't technically padded, but they have enough give to ensure that no matter how you sit on the seat pan you'll be comfy. They are deceptively cushy, and since finding a good mesh back and seat chair my productivity life has been changed for the better.
What are the drawbacks of a mesh office chair?
In our opinion, there aren't really any drawbacks to mesh office chairs. Some people fear that they aren't as comfortable, or that the edges of a mesh seat will dig into their hips. Most of the time this isn't the case and people end up becoming mesh chair converts.
The one real issue with mesh chairs—especially in the price range we're discussing here today—is that lower-priced mesh chairs can stretch to unusable tensions or just outright rip out of the frame. They've become much better over the years as costs come down but you should still check reviews to ensure that this isn't a common occurrence for a chair you're looking into.
Our pick: WorkPro 1000 Series Mesh Task Chair
Sale
WorkPro® 1000 Series Ergonomic Mesh/Mesh Mid-Back Task Chair, Black/Black
Create a custom seating option in your workplace with this WorkPro 1000 Series ergonomic mesh task chair. The adjustable height and armrests deliver personalized support, while the mesh back allows for air flow to keep you cool. This WorkPro 1000 Series ergonomic mesh task chair features rolling casters so you can move freely around your work area and supports weights up to 275 lbs.
Ergonomically designed with Forward Tilt, Knee Tilt, Synchro Tilt, and Tilt Angle.
Padded adjustable-height arms offer a soft surface to rest your arms.
Last update on 2022-07-18 / Affiliate links / Images from Amazon Product Advertising API
We thought this was so nice, we picked it twice—literally. After testing a handful of chairs around town, we decided on two of these chairs for our home office. My girlfriend is now working from home for the foreseeable future and the dining room chairs at our desks were way overdue for replacement (we throw out our old beat-up chairs when we moved into our current place).
The WorkPro 1000 Series may not look like much but it's got it where it counts. The weight limit is marked at 250lbs, which does seem to be the average for this price range. Unlike many at this price, however, the seat pan on this chair can adjust forward and back, making it very easily adjustable for a variety of people.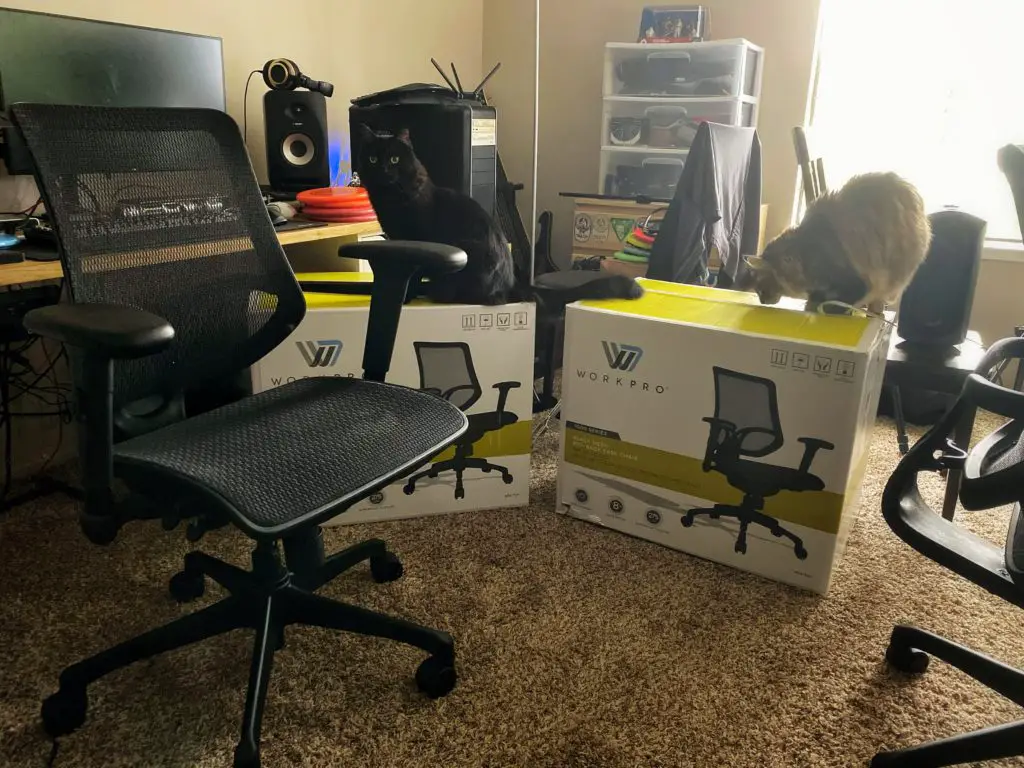 In addition to the seat pan adjustment, the height adjust is robust, the reclining tension is easily adjustable and the armrests are actually some of the best in this price range. The armrests are soft-touch, adjust in height and rotation angle, but not forward/back position (although I personally rarely use this on most chairs). Getting this chair dialed in for you is quite easy and you'll be up and running in no time.
Unfortunately, you won't be getting lumbar support with this chair, however, without having a well thought out, more expensive lumbar system from a higher-end chair, that's not always worth having on lower priced chairs. Also, there's no headrest and the chair back itself is only a mid-back height if that's important to you.
The casters on this chair are also a bit plasticky, but they should hold up for a good while and seem to be replaceable with pretty much any standard casters. The levers for adjusting features are also plastic, so just keep that in mind when using them to not let them snap back in place or crank on the levers too hard.
And last, the assembly is very easy. Five screws total with a functional T-handle allen wrench and very straight forward instructions. I was able to get both chairs unboxed, assembled, and rolled into the office in 40 minutes while watching TV.
Overall this is a pretty solid chair for the money. If you can get it on sale, even better. Because of the price, ease of assembly, and sheer amount of features that usually don't exist in this price range it gets our top pick.
Runner-up: Staples 990119 Hyken Technical Mesh Task Chair
Last update on 2022-07-18 / Affiliate links / Images from Amazon Product Advertising API
The Staples Hyken Mesh Task Chair gets our second-place nod mostly due to a lack of features compared to the WorkPro 1000 Series. This is a good chair, but maybe not for everyone. Fortunately, this is a high-back chair with a headrest included and has the basic adjustability that a chair should have.
While there is no seat pan depth or armrest rotation/position adjustments, the back does recline with adjustable tension and can lock in place. The armrests do adjust in height, but they're not as soft as our top pick.
Assembly is easy just like the WorkPro and also has the same 250lbs weight limit. The reviews on this chair do seem to be mostly positive and it is comfortable for a lot of people. It's not uncomfortable, it just may not be as comfortable as our favorite choice due to having fewer adjustment features.
We would suggest trying to get this chair on sale if possible. While it squeaks under the $200 limit of this article, there are most likely better deals to be had, even with our top pick at its regular price. But if you get it on sale—or if this chair just hits the sweet spot of comfort for you personally—it's a solid and dependable mesh office chair.
Smugdesk Mesh Adjustable Office Chair
No products found.
We've seen this chair (or at least similar designs) from multiple brands out there, but this one seems to have some of the better reviews and prices. The Smugdesk chair has pretty much all the features that our top pick features, except for a few distinct differences.
This is a high-back chair with an adjustable headrest and strong mesh for the back and seat. The back also does have a rather bold lumbar support design that may provide the exact relief some people are looking for.
Unfortunately, the seat pan depth isn't a lever-controlled adjustment and is set during assembly. You can adjust it further by changing how it's assembled—loosen the screws, adjust, and re-tighten.
The armrests are also a harder plastic and may get uncomfortable for some after extended sessions. They do adjust in all directions, however, so at least you'll have that flexibility.
Overall, the reason this chair doesn't get one of our top two spots is because of the hard armrests and lack of seat pan depth lever control. Aside from these omissions the chair is actually pretty well built and might be a great choice if you prioritize both lumbar support and a headrest with a high-back chair.
Final thoughts
Honestly, getting a good mesh office chair for under $200 is a very, very challenging proposition. No chair is going to be perfect at this price point, but there are definitely some winners out there to be found. It just depends on what your personal preference and priorities are when it comes to certain features.
Now let's turn it over to you. Do you have any of these chairs? What are your thoughts? Do you have a chair that outshines our picks? Let us know in the comments below and we'd be glad to take a look!