A few years ago I decided I was going to start working on more music at home and found myself in the market for a set of small studio monitors. I needed more flexibility than my 2.1 Logitech computer speakers and felt the need to upgrade. Even though I was very familiar with how my existing speakers sounded in my space, I definitely needed more accuracy for mixing and make sure my audio in video production is the best it can be. After a decent amount of research, I had narrowed the choices down to a group including my eventual pick, the Tannoy Reveal 502.
What is the Tannoy Reveal 502?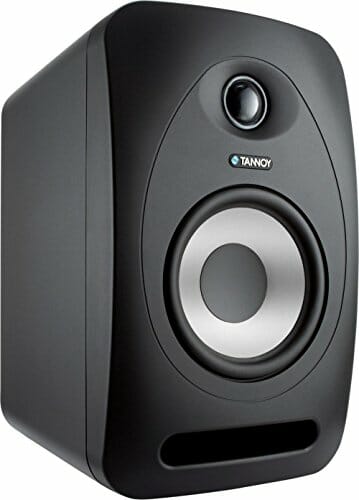 The Tannoy Reveal 502 is an active powered studio monitor geared towards small recording studios and home recording enthusiasts.  The 502 is the 5″ speaker size in the new lineup and hits the sweet spot for bedroom recording setups and other small spaces on a budget.
Tannoy, however, isn't new, and the company has been around for decades. While they produce a lot of commercial and home theater speakers, their main claim to fame is the coaxial driver design, or, a speaker within a speaker.
The original Tannoy Reveal was released in 1999 in both active (self-powered) and passive (requiring a separate power amp) versions, and quickly became rather popular with home recording studios. You could pick up a pair for around $900, and this was way cheap for this quality at the time.
In 2014, the Reveal 502 was released and is the middle child of the British company's latest (and currently only) line of studio reference monitors. Again, targeting the home recording studios at around $400 for the pair, the goal was once more an affordable monitor that gets the job done.
The Reveal 502 is the 5″ version of this line of studio monitors, bracketed by the 8″ Reveal 802 and the 4″ Reveal 402 on either side of the lineup.
All three sizes have the same design and I/O, so there's feature parity across the line. You'll find an XLR balanced input, 1/4″ TRS unbalanced input, volume, neutral/hi-cut/hi-boost switch, aux input/setting section, power, and a removable two-prong power cable on the back.
Around the front is a 1″ soft dome tweeter, a 5″ driver, and a bass port at the bottom of the cabinet (I'll get into this more later). There are no screens in front of the driver and tweeter, however, Tannoy does claim that the tweeter dome is "poke-resistant", so, well, there's that.
The frequency response on the 502 is one of the main features I was looking for, covering from a fairly low 49 Hz up to 43 kHz (again, more on this later). The built-in power amp is 75 watts, with 50 watts to the driver and 25 watts to the tweeter, with the crossover placed at 2.3 kHz.
All in all, it's a pretty minimal and sleek cabinet and will look right at home in pretty much any setup. I'm definitely a fan of the aesthetic of the Tannoy Reveal lineup.
REVEAL 502
REVEAL 802
REVEAL 402
General
Frequency Response
49 Hz -43 kHz
42 Hz - 43 kHz
56 Hz -48 kHz
Max SPL
108 dB
114 dB
101 dB
Membrane Sizes
LF/Mid Range
5" (130 mm)
8" (200 mm)
4" (100 mm)
HF
1" Soft Dome (25 mm)
1" Soft Dome (25 mm)
¾" Soft Dome (19 mm)
Bi-amp Output Power, RMS
Power Output
75 Watts
100 Watts
50 Watts
LF/Mid Range
50 Watts
75 Watts
25 Watts
HF
25 Watts
25 Watts
25 Watts
THD
< 0.7 %
< 0.4 %
< 0.9 %
Input Types and Impedances
Balanced
XLR, 20 kOhm
XLR, 20 kOhm
XLR, 20 kOhm
Unbalanced
¼" Jack, 10 kOhm
¼" Jack, 10 kOhm
¼" Jack, 10 kOhm
AUX Link
Mini Jack, 10 kOhm
Mini Jack, 10 kOhm
Mini Jack, 10 kOhm
AUX Link Output
Mini Jack
Mini Jack
Mini Jack
EQ Options
HF EQ Settings
-1.5 dB HF Cut / Neutral / +1.5 dB HF Boost
-1.5 dB HF Cut / Neutral / +1.5 dB HF Boost
-1.5 dB HF Cut / Neutral / +1.5 dB HF Boost
Crossover Frequency
2.3 kHz
1.8 kHz
2.8 kHz
Low Frequency Alignment
Optimized Front Port
Optimized Front Port
Optimized Front Port
Cabinet Dimensions
HxWxD, inches
11.8 x 7.2 x 9.4
15.4 x 10.0 x 11.8
9.5 x 5.8 x 8.4
HxWxD, mm
300 x 184 x 238
390 x 254 x 300
240 x 147 x 212
Factors in choosing the right studio monitors for me
There were a few key features I was factoring in when looking to buy a set of affordable studio monitors (in no particular order):
Price
I definitely didn't want to spend a ton on monitors, as I wasn't necessarily making money off of them at the time. Even though this was somewhat technically a "band expense", it was also largely just for my own hobbies. I was looking for something around the $200 per speaker price point.
Size
When I bought these, I was in a small room in a shared house, and only had my Ikea Linnmon desk, which was just large enough for my 23″ display and some reasonably sized speakers. Technically, I did have room for 8″ speaker cabinets, but in that size room the 8″ drivers would have been massively overkill, and I would have had a bass problem. I settled on 5″ studio monitors for size and price reasons.
Frequency response
Most of my bands and projects (as well as personal music tastes) have leaned at least partly to the rock/metal genres. My primary instrument in bands has been bass. As a result, I need to have a set of speakers that will go as low as possible.
True, you may not necessarily hear the tone of bass frequencies as low as 49 Hz, but the vibrations will still be there. If mixed improperly, bad bass in this lower range can cause really bad warbling or rumble, ruining an otherwise great mix. Being able to properly gauge the bass and kick drum is critical to tight low end in a mix, and makes a huge difference. And that's not even getting into synths or subkicks. But yeah, having as much low-end represented as possible at my price point and size limits was definitely a major factor.
Port location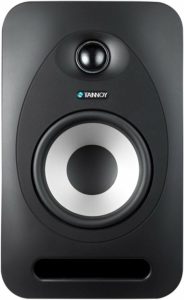 As previously mentioned, I was in a small room when I was looking for my studio monitors. And I had a feeling that most anywhere else I would have ended up in would be the same situation. Small rooms mean not much space to move the speakers out from the walls, and this is usually very critical for accurate bass response in your recording/mixing space.
To combat the fact that these speakers would most likely be within a foot from the wall, I decided on finding a set of monitors that had the bass ports on the front. With studio monitors that have bass ports in the back, these have concentrated bass frequencies slamming against the wall and create weird bass buildups or false emphasis in whatever frequency range that ends up being affected in your room.
Moving the ports to the front means that the bass frequencies have room to breathe, so to speak. They don't hit the wall and start building up in resonant frequencies and negatively affect your mix. Or, at least not as much. Small rooms still are the suck for bass frequency issues.
Inputs (to an extent)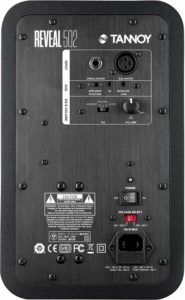 My current (aging) audio interface has two balanced 1/4″ TRS outputs for studio monitors. Whatever interface I upgrade to will have at least those, if not balanced XLR outputs. Preferably I wanted a set of speakers with balanced XLR inputs, and get the appropriate balanced 1/4″ TRS to XLR speaker cables for now.
Eventually, I may just need XLR to XLR balanced cables after a future upgrade, depending on my next interface. And if I absolutely have to use an unbalanced input, I wanted that flexibility too, so having both inputs was helpful to me, but not a dealbreaker.
Update: I actually replaced my old interface with the Behringer UMC-404HD, which has balanced XLR outputs. Been on it for a few years now, and it pairs fantastically!
Overall quality and detail in reproduction
Obviously, you want speakers that sound good. For mixing, recording, and other content creation you want a set of monitors that will accurately represent your final product.
I wanted a pair of studio monitors that had good detail across the board, and fairly tight, focused low end. Basically, I wanted something that was of course flat, but also not too bright or pokey while not masking or hiding flaws.
In reality, the trifecta of key features I was looking for were the price, frequency response, quality. These were really the main driving forces behind my choice, and everything else was secondary factors.
Selecting my favorite studio monitors
After doing some research, I had narrowed down the choices to around five choices. I then set upon auditioning these monitors and ended up with a final choice.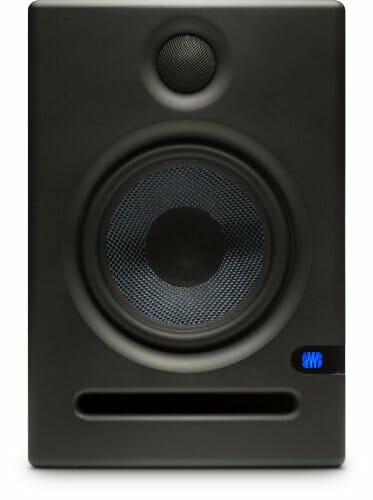 So let's start with the immediate disqualifications of the PreSonus and KRKs. Both are front-ported, have all the I/O, and are really affordable. The Presonus Eris E5 has a less than desirable 53Hz-22kHz frequency response, while the KRK ROKIT 5 G3 is better at 45Hz-35kHz. The Eris E5 didn't sound bad, just not great, even for the price.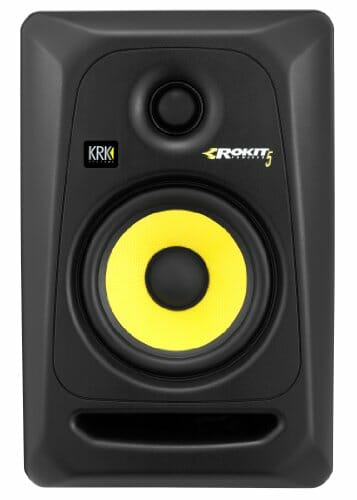 I'll be honest, I've never liked KRKs. Especially the older generations. To me, the 5″ variants are just really muddy in the low end, and the mids/highs can be grating to my ears (the larger ones definitely are a welcomed improvement. But even after giving the benefit of the doubt, I nixed them pretty quick.
JBL LSR305 305P MKII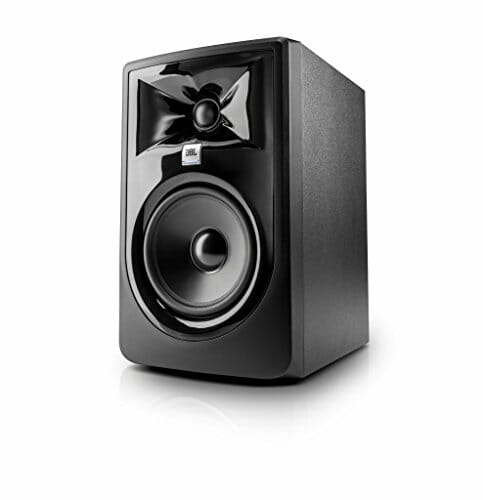 Next was the JBL LSR305 (these have since been replaced by the JBL 305P MkII). These have been insanely popular with home recording studios for a while, and for a good reason. They have all the required goodies and a frequency range of 43hz-24kHz. Unfortunately, the LSR305 is a rear-ported speaker, so that was working against it.
During the audition, I did like them a lot, but the high end just didn't seem to be represented as well as I'd like. The 6″ and 8″ were just unfairly better, but as even the 6″ was out of my price range at the time, leaving only the 5″ version wasn't an immediate choice for me that day.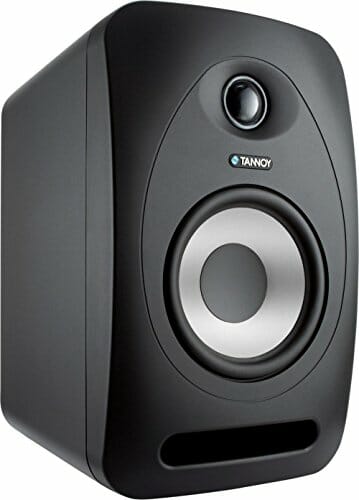 I really wanted to like the Tannoy Reveal 502, but didn't think I would, just based on the raging popularity of the JBLs and Yamahas. Despite a much wider range of 49Hz-43kHz, I had my doubts. But at first listen, I was definitely liking what I heard. Compared to the KRK, the bass was tight, albeit not overly thumping. Next to the LSR305, the highs were crisp and well defined, but definitively smooth. Definitely a close frontrunner so far.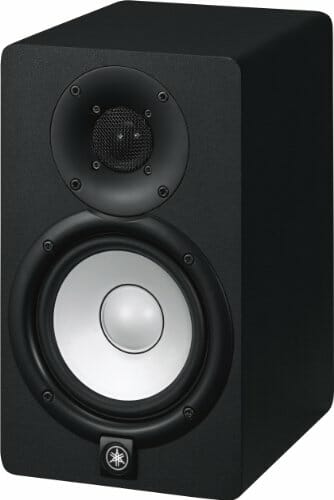 Last was the Yamaha HS5. The bass was focused, despite the frequency range of 54Hz-30kHz. The JBLs were punchier, and the Tannoys were a bit more round. The highs on the HS5 were clear, but a bit sharp to me, but not as airy as the Tannoys. I expected this.
I also, unfortunately, expected the mids to be super prominent, because the HS series is very much influenced by Yamaha's classic studio monitors, the NS10. The NS10 is known for having a very brutally unforgiving midrange, punishing every tiny midrange mixing mistake. The HS5s aren't nearly that bad, but the profile is still there, and I just didn't like how they sounded.
Add to that the fact that the HS5 is a rear-ported speaker, which I knew could be an issue in my small room.
The final three
With my final selection down to the Tannoys, JBLs, and Yamahas, there were a few key points. The HS5s didn't have the low-end roundness and were not pleasant in the mids. The JBLs had great low end and were actually really nice. But the Tannoys kept pulling me back to them.
The Reveal 502 isn't the cheapest 5″ monitor out there, but compared to some of the nicer "high end" manufacturers, they definitely compete with those companies' "affordable" offerings. The highs were unexpectedly detailed and crisp, yet pleasantly smooth. They don't have the thump that the JBLs had, but they didn't have a lot in the first place.
Honestly, no 5″ speaker thumps. The difference between the 5″ and even 6″ speakers is remarkable in the low-end department, never mind moving up to the 8″ drivers. But the extended higher frequencies in the Reveal 502 help give more clarity in that area of the mix, revealing noise or sizzle where you may not hear it with other speakers. That said, it's somewhat easy to put too much airiness in a mix with these speakers because it sounds so damn good.
And all three final choices had excellent stereo width, and the soundstages were all very detailed and spatial. I didn't feel that any of the speakers at all were smashing the instruments together, and could very accurately produce a good stereo image with plenty of definition in the soundstage. And of course, all of these monitors are well paired with any audio interface with proper main outputs.
The winner: Tannoy Reveal 502
Despite my preconceptions about the popularity of the JBL and Yamaha speakers, I ended up being really surprised by the Tannoy Reveal 502 studio monitors. They sound excellent in pretty much any room I've had them in thanks to the front bass port, and I've found that they're a very well-rounded speaker.
I have them on my main PC desk, which means they get used for everything. Recording/mixing, video editing, watching videos, and even some gaming. Because of their flexibility and full frequency range, they've done the job for pretty much everything I've thrown at it.
While I first fired up these speakers in a tiny bedroom, I've had them in increasingly larger rooms (still bedrooms, of course) and they absolutely still put out more sound than the room needs.  I've upgraded to a much larger desk for my studio setup and the sound stage has definitely improved with that wider configuration.
What I've noticed with the Tannoy Reveal 502 is that, despite not having the thump that comes with a 6″ or larger driver, they do an excellent job of representing the whole image of the audio playing through them.  They have plenty of low-end to enable accurate tracking and mixing of bass, kick drum, and metal guitar without hyping anything, and things just sit really well in that register.
The mids are articulate and will absolutely punish bad mixing, but not nearly to the scale of the HS5 (or especially the NS10).  And the top end is incredible.  The Reveal 502 makes excellent use of the extended higher frequency range and everything just sounds very airy but in an honest way.  Put too much EQ on cymbals and you'll realize it.  Sibilance is easily identified and helps you EQ your voiceover tracks with ease.
I'm also not saying that the other studio monitors in this article are bad. They're really not! They all have found popularity with lots of different engineers and home studios, and can definitely do you right. For my personal tastes, I happened to like the Reveal 502 the most, but just like music itself, it's all subjective to a point.
Not purely perfect
There are, however, two things I want to point out as a possible negative for the Reveal 502, and possibly the rest of the Reveal line.  In the early runs of the speakers, there were issues where a slight electronic hum or buzz could be heard from the speaker.  Not all speakers did this, and it was to varying degrees.
Subsequent runs seem to have eliminated this issue, or at least mitigated it to a non-issue.  The speaker I have on my right side has a tiny, nearly inaudible hum, which I can hear if there's no music playing and my air conditioner/heater in the house is off.  I can only really hear it if I lean in a bit, and I almost always forget that it's there.  I've tested on different AC power outlets and circuits, used surge filters, and nothing seems to remove it, so I'm guessing it's a lingering remnant from the more annoying buzz issue.
The other thing I noticed (which may actually be tied into the first issue) is that both speakers do not output the exact same loudness at the same volume knob positions.  The difference is one or two clicks on the knob and isn't a huge deal once you calibrate the two together.  But I've also seen this variance from other studio monitors that are sold individually, so I'm not terribly broken up over this.
Even after noticing these two "issues", I still decided to keep the monitors, as they have never actually impacted any of my projects.  Just know that going into these speakers (or any others, really), you may have some manufacturing tolerance issues to keep in mind.  The audio quality is well worth it in my book.
Tannoy Reveal 502 as a studio monitor for content creators
A lot of my references in this article have been based around audio production and engineering, especially as that's what I've been using them for the most (other than just listening to music).  But what about for other creative tasks, how do they stack up for a wide variety of content creation?
I can't suggest the Reveal 502 enough as a studio reference monitor for any sort of content creator. They're highly detailed, easily listened to for hours on end before reaching a point of listening fatigue, and still sound enough like consumer speakers while totally not sounding like consumer speakers.  They're great for entertainment and creation and do so with minimal drawbacks on either side.
This speaker is just very honest and truthful in a way that I feel really helps with content creation. As a studio monitor for video editing, I think these are some of the best out there in the price range.
Final thoughts
As I said before, speakers are fairly subjective. The Tannoy Reveal 502 isn't the most popular out there, as it lives perpetually in the shadow of the of the JBL LS305 (now the JBL 305P MKII), the Yamaha HS5, and KRK ROKIT 5 G3. But don't let that misguide your choices, give it an honest chance.
Now that I've had the Reveal 502s on my desk for a few years, I can't say enough great things about them. I still love listening to music on them, in addition to mixing and other content creation tasks.
While I don't do much desktop gaming these days, they've always felt right at home there as well. As an all-around set of studio monitors, aside from the lack of thumping bass that my old 2.1 computer speakers offered, they never leave me desiring more. The clarity and quality are definitely worth the trade.
But enough about me, I'd like to hear your thoughts on the matter. Do you use studio monitors for video editing and content creation? If so, what do you have on your desk and why? Leave a comment below and let us know!
Tannoy Reveal 502 review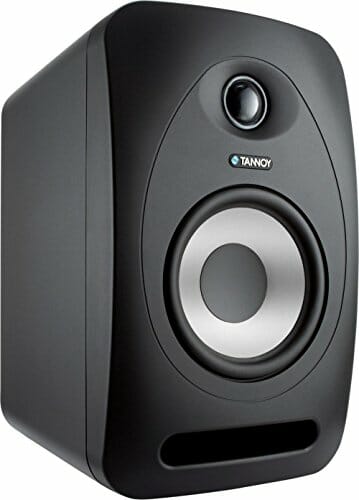 Excellent budget-friendly studio monitors with non-fatiguing sound and accurate reproduction.