High-quality affordable audio interfaces are everywhere these days, with a large number of manufacturers all vying for your hard-earned dollar. And to be realistic, in the price range most of these devices reside, almost all interfaces perform very similarly to each other. So when we see an interface like the PreSonus Revelator io44 that offers some truly different and highly useful features, we tend to get a bit excited about the possibilities.
We've already put some time in with PreSonus' other offerings in the Revelator lineup, having enjoyed both the original Revelator USB condenser mic and the follow-up Revelator Dynamic USB mic. But now we're getting to spend some time with their second-smallest desktop audio interface, and hope to find the Revelator io44 just as good as we expect after the previous devices.
Disclaimer: PreSonus sent us a Revelator io44 for evaluation and review purposes, but our opinions are our own. PreSonus does not have any editorial control over our article nor have we been compensated for a positive review.
Summary of our review of the PreSonus Revelator io44 audio interface
Last update on 2022-07-18 / Affiliate links / Images from Amazon Product Advertising API
PreSonus has delivered a small but mighty audio interface for streamers, podcasters, and anyone else who needs solid audio and effects on the go. Choose any XLR mic or gaming headset and have all of your tone processing needs taken care of by the onboard DSP and Fat Channel effects suite.
Small, well-built interface for high-quality on-the-go recording
Supports XLR mics, guitar/bass via 1/4″ input, and gaming headsets with a 3.5mm TRRS jack
Has a screen for metering and settings adjustment
Offers stereo 1/4″ main outs
Built-in onboard DSP for effects such as compressor, EQ, limiter, noise gate, and more
Can work with most dynamic mics without a Cloudlifter or FetHead
A bit noisy at higher gain levels, but sounds fantastic at lower gain
I/O arrangement is sometimes awkward on a desk
The screen is smaller than we like
The mic input is susceptible to interference from certain other electronics like studio monitors and cables
No hardware mute button for the mic
No pad button for recording guitars with active pickups
What is the PreSonus Revelator io44?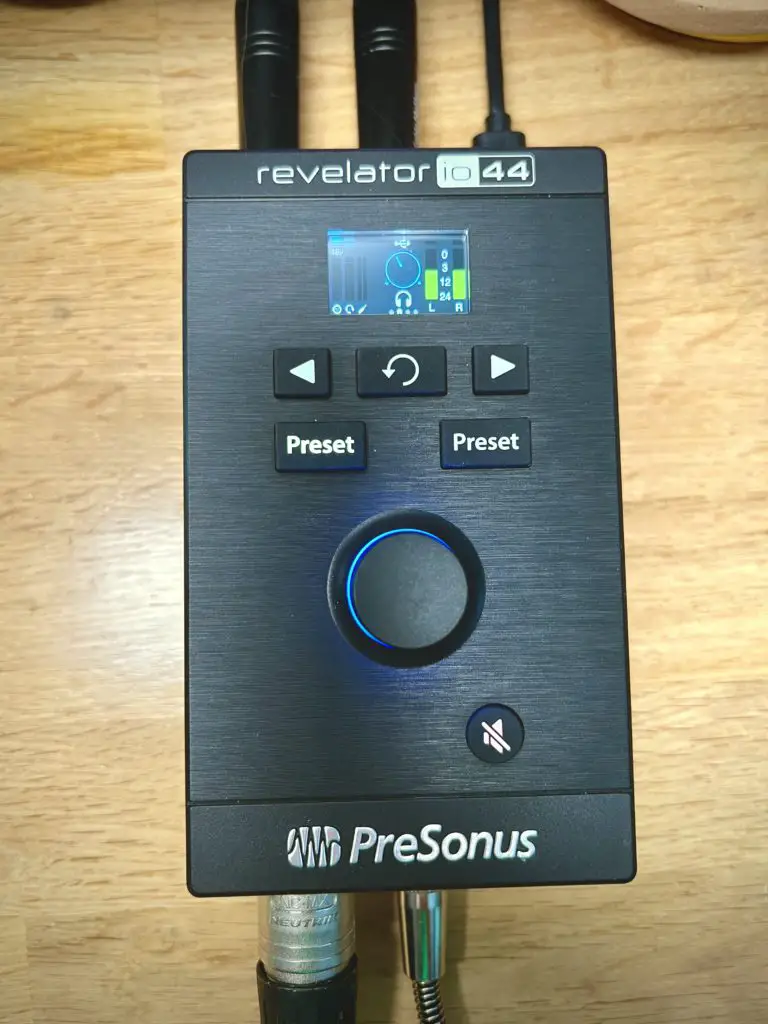 The Revelator io44 is a portable desktop USB 24-bit/96 kHz audio interface with an onboard DSP to provide the effects processing found on the rest of the Revelator line. Just like the USB mics (and the larger io24 interface), you get onboard effects like EQ, compression, and voice processing without ever touching your CPU.
You'll also get all the normal single-channel audio interface fare–XLR/TRS combo channel input, headphone output with support for gaming headsets, a line in, balanced TRS 1/4″ left and right main outs, and on-device controls.
And compared to the io24, this is a much more travel-friendly size. It eschews things like MIDI in/out and a second XLR combo channel for a smaller size to fit in travel recording kits for podcasters or streamers on the go.
Onboard effects processing
This onboard processing is really the most unique and alluring aspect of the io44. If you've used one of the Revelator mics you know exactly what you're getting on the effects side of things.
Just like with the Revelator mics, you'll find the following core effects:
High-pass filter (HPF)
Noise Gate (Gate)
Compressor (Comp)
Equalizer (EQ)
Limiter
Vocal effects (Voice)
The HPF, Gate, and Limiter are single-mode effects, but the Comp, EQ, and Voice each have unique modes to emulate certain types of hardware. Comp has Standard, Tube, and FET modes and EQ has Standard, Passive, and Vintage modes.
The Voice module has multiple distinct effects. Here you'll get a Doubler, a De-Tuner, a Vocoder, a Ring Modulator, Filters, and a Delay, mostly for special effects.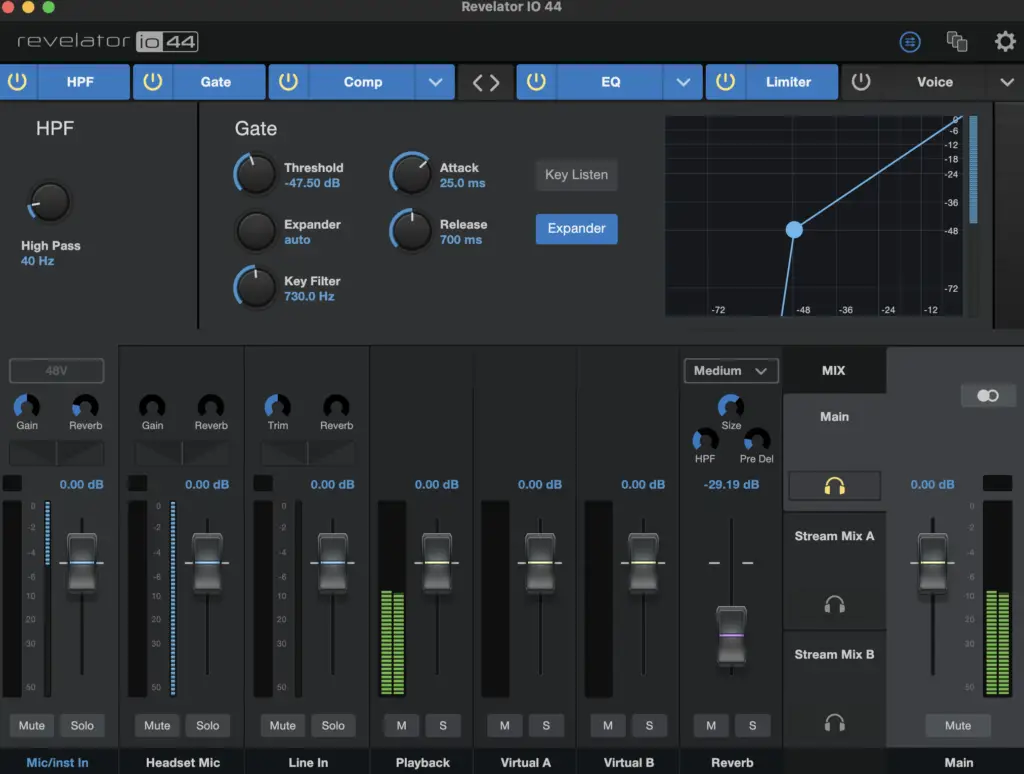 These core effects are what get used for creating the presets in what PreSonus calls the Fat Channel, the vocal enhancement mode. You can choose one of the presets from the rotator knob, tweak the broad strokes of the preset in the Fat Channel section with some generic options, or dive into the individual effect settings screen to get really hands-on with your tone.
It's very easy to get lost in the numerous settings on this advanced screen, especially if you aren't familiar with audio engineering terminology. You can do some amazing work here, but you'll need a considerable amount of time to learn this if you're starting from scratch.
For beginners, we'd suggest staying with the presets and the general Fat Channel options on the main screen. Once you start learning more feel free to dive into the nuances of compressors and noise gates, but until then you'll probably do more harm than good than if you just stayed on the main simplified screen.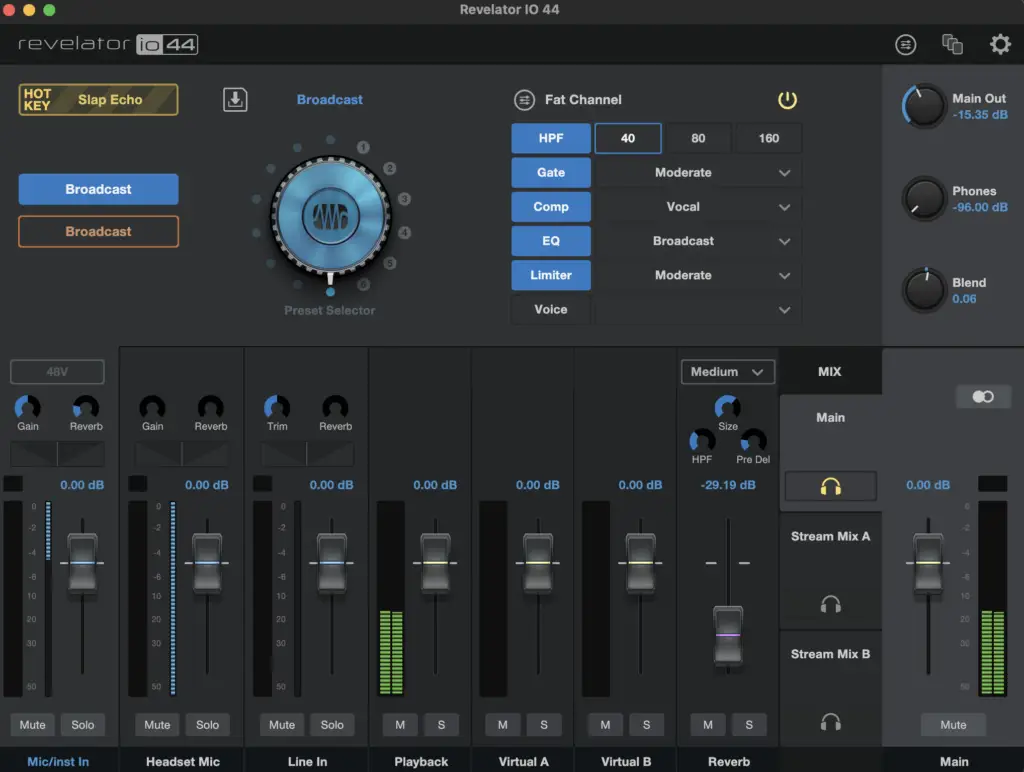 And that's absolutely fine with the Revelator Fat Channel options–the general options and presets are almost always foolproof. While we did notice some weirdness with the Revelator Dynamic Broadcast presets and aggressive compression we haven't seen that with the io44 presets.
As usual, the onboard effects are the heart and soul of a Revelator device and that doesn't change with the io44. In fact, it gets better here because there are presets and general settings for not just vocals but also instruments–guitar and bass, mostly.
This is a godsend for musicians who just want to record their latest idea before they forget it–all while not needing to load up an FX chain in their DAW (any chance of amp sims in the future? No? We didn't think so either, but can't hurt to ask!)
Input channels
The Revelator io44 offers three physical input channels on the front of the device. These are an XLR/TRS combo mic/instrument jack, a headphone/headset jack that works with mics on gaming headsets or regular headphones, and a line-in for things like DJ equipment and other line-level devices.
These are paired with three channels on the Universal Control mixing panel. Each of these has identical controls–gain, reverb send, panning, channel fader, mute and solo buttons. You'll also see a dB reduction meter for how much the compression/gate is working. The Mic/Inst channel also has a button for 48V phantom power for using condenser mics.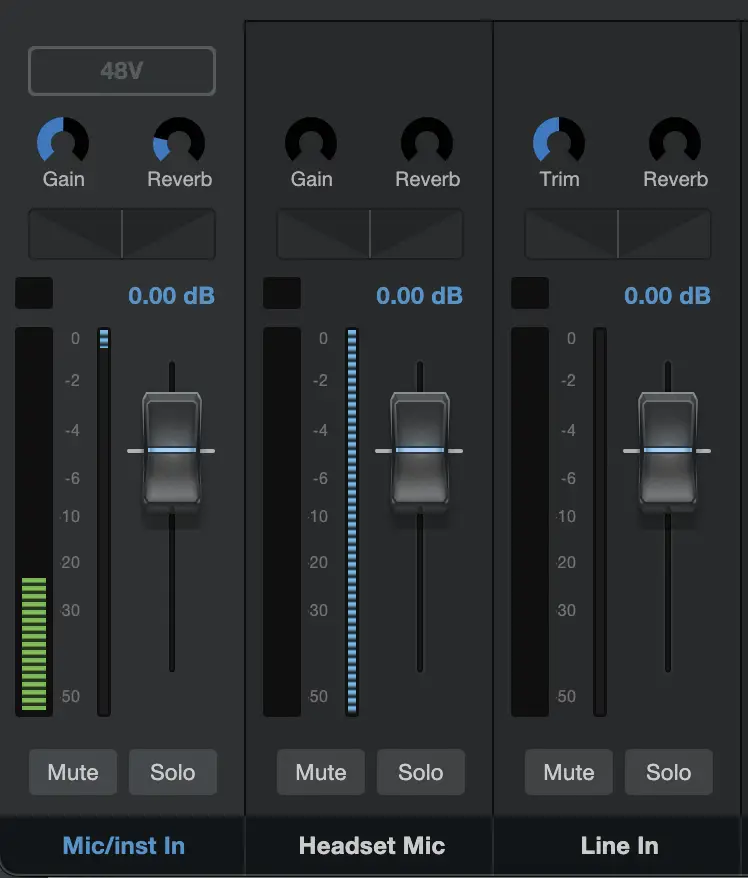 Each of the inputs has its own separate Fat Channel/preset selections and its own advanced controls as well. This means you can customize your presets per input and be able to really fine-tune your sound depending on which input you're using.
It should be noted, also, that there is a secondary and completely independent high-pass filter available for both of the mic channels from the interface's controls. This can be used as a quick setting if you either don't have the Universal Control app up or running and just need to tame some low-end rumble.
To activate it you'll use the left or right buttons to find the XLR (or headset) input, click the knob to cycle from the gain through to the 80 Hz option, and then turn the knob right to turn it on, and left to turn it off.
You can see this in the video above. Keep an eye on the changes of the EQ graph on the left end to see the reduction in 80 Hz and below. There's no indication of it being turned on in the Universal Control channel strip, and it seems to be independent of the high-pass filter in the Fat Channel settings.
Loopback and audio routing
One of the other strengths of the Revelator devices is the built-in loopback control. Loopback is the ability to have individual mix control over your various audio sources like your mic, applications/games, and system audio and route them simultaneously as desired. These controls work on the io44 just the same as they do on the Revelator mics we've looked at before.
Next to the input channel faders, you'll find the Playback and Virtual devices. Playback is essentially your system sound. Whatever normal sounds your computer plays will be routed through this channel.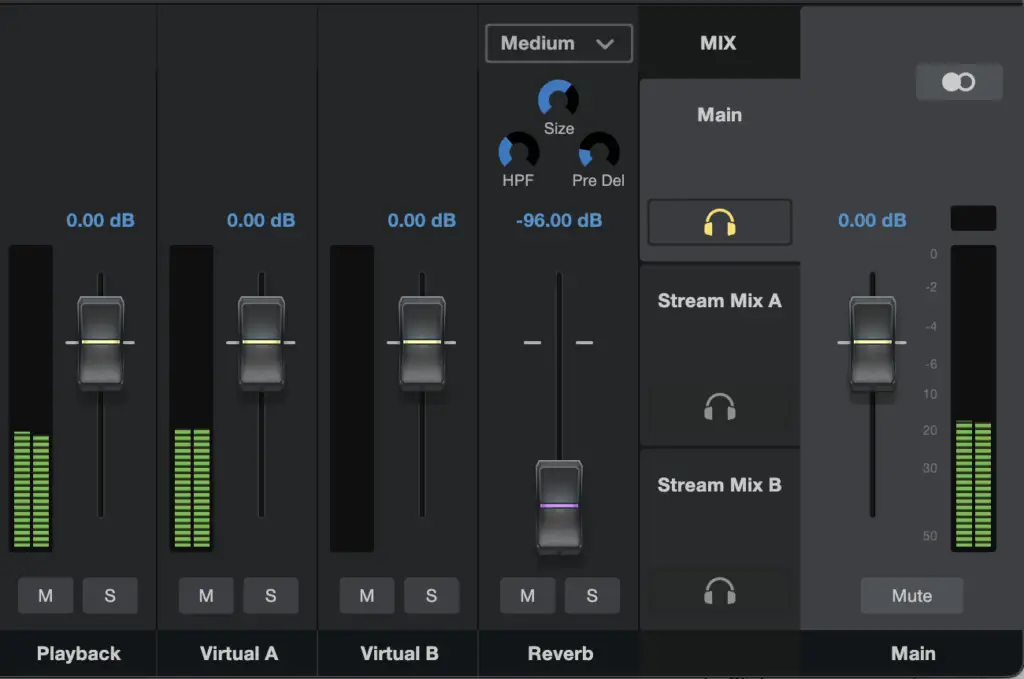 Virtual A and Virtual B are virtually assignable input channels. You can have an application specifically use Virtual A as an audio output for individual control separate from the rest of the Playback.
As with the other Revelator devices, you do have three mixes available–Main, Stream Mix A, and Stream Mix B. You'll be able to choose which of those mixes are selected for your stream, as well as monitor in your headphones independent of the stream output.
And of course, you have the same reverb control as on all other devices, this time with all three physical input channels with their own individual reverb send control.
Revelator io44 physical build and features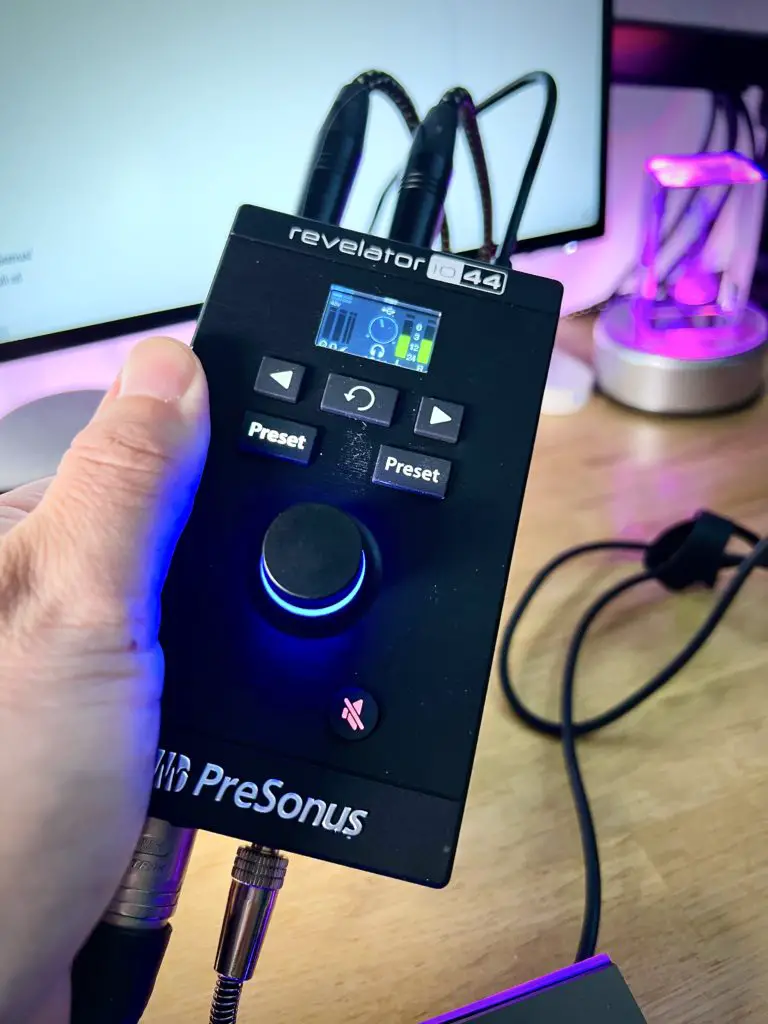 With the io44 being touted as an "ultra-portable" device, we're glad to see that it's built quite well. The chassis is very solid and appears to be all metal with a brushed aluminum top face. It feels solid, but not prohibitively heavy.
The front edge has the XLR/TRS input, headset jack, and line-in jack. The back has the stereo 1/4″ balanced outputs, USB-C port, and a Kensington lock, rounding out the I/O.
The top of the device has all the controls. You'll find a small display with meters and settings, control buttons, preset buttons for each of the mic inputs, an encoder knob for levels and settings, and an output mute button.
The buttons feel similar on the io44 as they do on the Revelator and Revelator Dynamic. They're fine, as they were on those mics. Thankfully the encoder knob is a huge improvement.
The knob has a little bit of play before it engages, but it has plenty of friction to make small adjustments a piece of cake. It's also smooth. Really smooth. The knob is also a button for selecting and changing menu options, and a gorgeous blue LED ring.
The aforementioned Preset buttons will cycle through the configured presets in Universal Control as per their individual Fat Channel settings. Assuming you have the buttons in Toggle Mode, the Preset button will toggle between the two presets in the settings, where a long-press will completely disable the Fat Channel presets and effects. Another single press will re-engage the effects.
The left and right buttons cycle through the inputs, such as XLR, headset, line in, and instrument. From here you can set the input gain, activate the 80 Hz high-pass filter, or turn on phantom power.
The circle/arrow button is to go back to the main screen. Or you could just wait a few seconds.
Meanwhile, on the main screen, you have your input and output meters and control of the main out level, headphone level, and the real-time/USB monitoring blend. It's easy enough to use despite the small screen, but a larger screen would definitely improve things.
The mute button has an icon of a speaker mute, and that's exactly what it does–it mutes the main outputs. We expected this to be a mic mute on a streaming-focused interface but can understand the choice from an audio engineering device standpoint.
The mute controls on the Revelator USB mics are configurable in the Advanced Settings screen of Universal Control. We'd like to see this option made available for the io44 as well, as it would be extremely useful to configure this as a mic mute, especially on a portable device when you may not be bringing a Stream Deck or other hardware controller.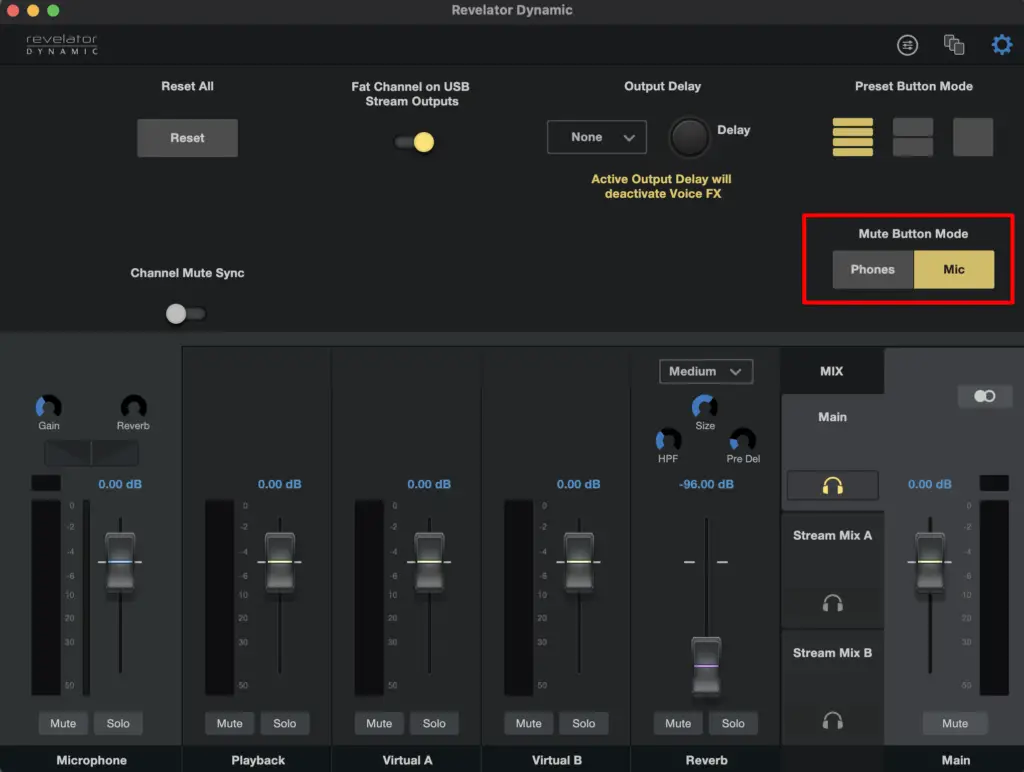 We didn't talk about the screen much, but it's worth giving it some attention. Julian Krause joked in his review by saying "And what's this? A screen for ants?" That's a fairly spot-on jest; it's small. But it's better than not having a screen, or four individual LEDs to indicate signal level.
What it shows is absolutely useful, and it makes the most of the small real estate it's been given. We hope that on future devices the screen can be enlarged and made even more useful. But as long as the device is close enough to you it's absolutely adequate. Still better than single or segmented LEDs.
Apple Silicon M1 and M2 Mac compatibility
All of the Revelator USB mics and audio interfaces are compatible with M1 Macs, and presumably any forthcoming Apple Silicon like the M2. We would advise checking PreSonus' Apple Silicon support document for further details. It also outlines support for Universal Control, Studio One, and other PreSonus hardware as well.
Software included with the Revelator io44
All of the Revelator devices come with several applications, from mixing control to audio recording to virtual instruments and more. While you don't technically need any of the software to use the Revelator devices, some of it is vital to the core functionality of the interface.
Universal Control
The heart of the Revelator devices comes in the Universal Control app. This is PreSonus' single platform for drivers, firmware updates, mix routing, and device control for all of their equipment.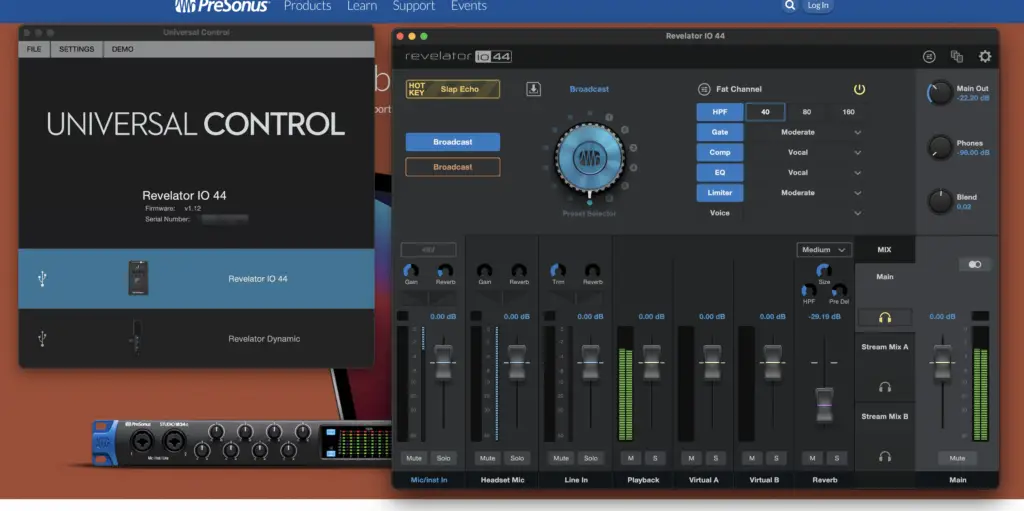 The Universal Control app is as easy to use as we could want. It offers a quick way to access hardware controls and super-simple firmware updates–no having to go to a website and download some random file.
All of your Revelator features, such as effects, mix routing, presets, scene creation, and mix monitor control is done in the Universal Control mixer panel. The controls work well and don't exhibit any weird mouse-based behavior like some DAWs or plugins do when turning fake knobs. Even the odd behavior with the preset knob we observed during our initial Revelator review seems to be gone.
We really like the Revelator mixer panel–it's really easy to use, but also extremely powerful. Creating presets is easy enough, and storing scenes is a breeze. You'll have to know more about audio engineering to really get the most out of the advanced component-level controls, but when you get there they'll be waiting for you.
Studio One Artist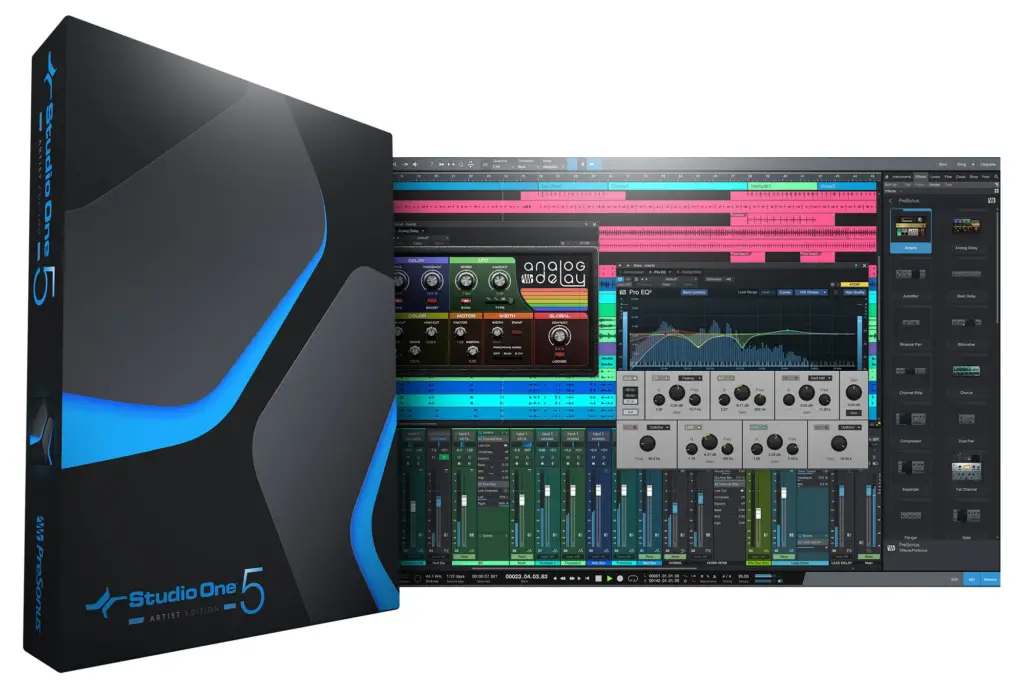 One of the flagship products PreSonus is known for in the audio world is their Studio One digital audio workstation (or DAW). Studio One is among the top professional DAWs in the industry, along with Pro Tools, Logic Pro, Ableton Live, and more.
Like many other professional DAWs, PreSonus offers a lightweight home/consumer version in the form of Studio One Artist. While it may not have all the professional-grade features needed in a commercial recording studio it's a very worthy home studio application.
We didn't really discuss software other than the Universal Control app with our mic reviews, as those were geared primarily towards streamers. But with a more traditional audio interface, the audience widens, so we felt it was worth covering the extra software here.
If you're looking for a powerful tool for editing podcast tracks or want to get into recording music and audio engineering you'll have everything you need to get started with Studio One. It's an easy-to-learn DAW with a friendly workflow and great looks. We've been Reaper users for years, but are always impressed by the Studio One offerings.
Studio Magic Suite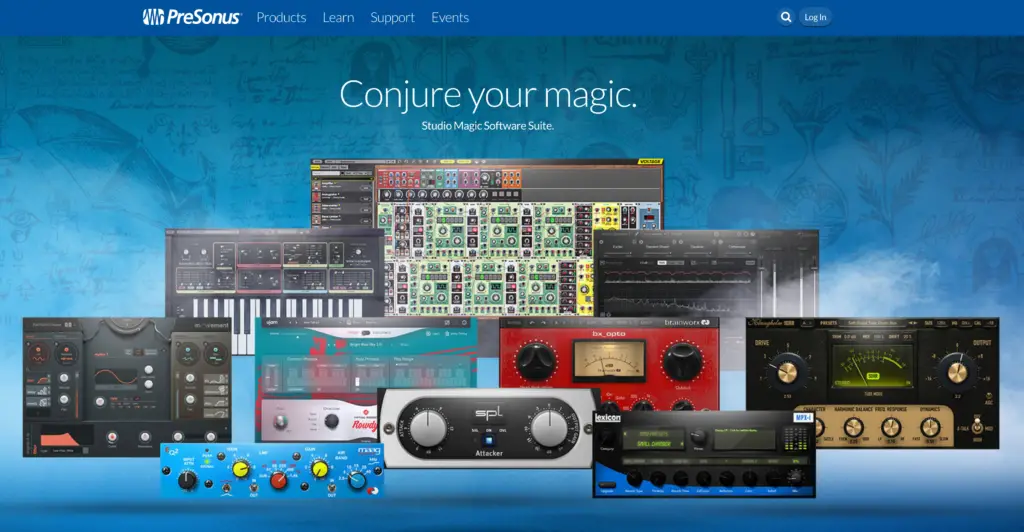 To go with Studio One Artist, PreSonus provides their Studio Magic Suite–a collection of excellent plugins, samples, virtual instruments, and tutorials for you to use in Studio One Artist or any other DAW you like.
There are some really great plugins made available in this package, even if you don't use Studio One. We're huge fans of some of the plugin developers on this list–Brainworx, Mäag Audio, SPL, Klanghelm, Izotope, and more. There are some real gems included in the plugin list and that's not even getting into virtual instruments and synthesizers.
There are also tutorials on synths, the practice tool Melodics, some sound libraries, and effects catalogs to round everything out. There are so many great plugins included for making music or mixing/engineering that it makes the io44 an even more compelling offer if this is something you're interested in.
Revelator io44 audio quality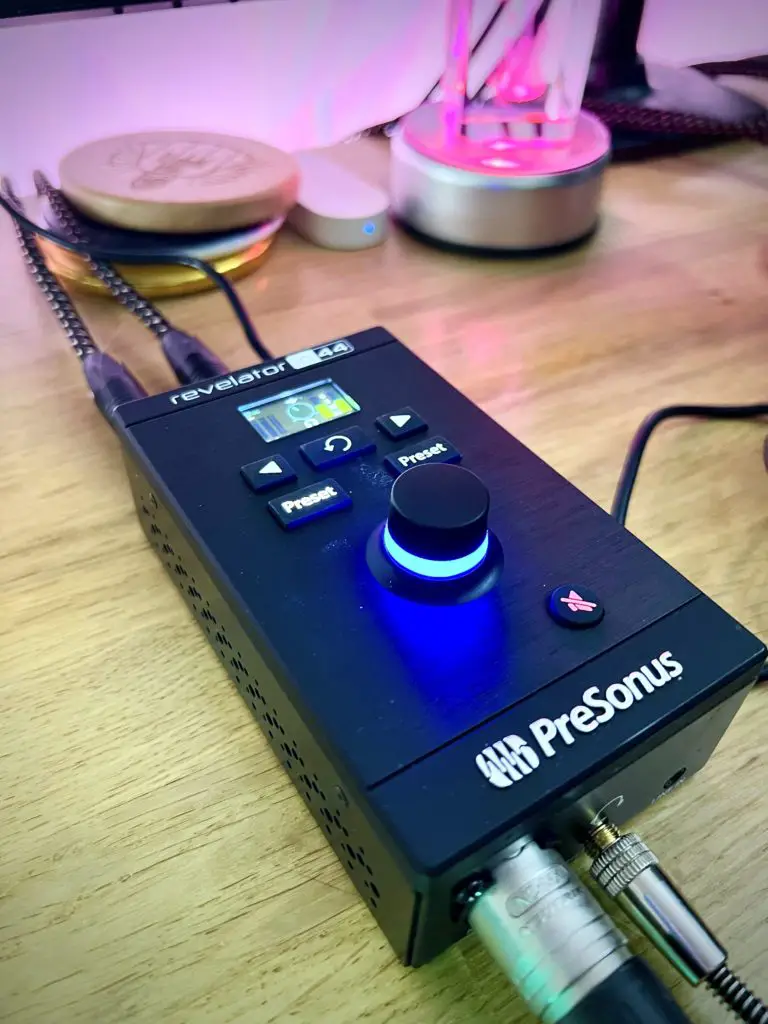 We're happy to say that the Revelator io44 sounds as good as we were expecting. For everything from listening to music through either speakers or headphones to recording on a dynamic mic to tracking guitar, this interface has you covered. Let's take a look in more detail.
Mic and instrument inputs
The XLR input is attached to one of PreSonus' XMAX-L preamps. It's the same digitally-controlled preamp found on their smaller bus-powered Studio interfaces, which is a low-power variant of the XMAX preamps found on the larger Studio interfaces.
Most audio interfaces tend to lean toward more "transparent" mic preamps as opposed to boutique audio gear that often is meant to "color" your sound for creative choices. Preamps on this class of audio interface are meant to capture what came in without doing anything unnatural to it.
XLR mic input
In testing both the mic inputs and instrument input, we can confidently say that they sound as we expect. The tone and color of the inputs are nearly indistinguishable from our other test interfaces in this class of device.
We found the io44 to be a reasonable device when it comes to mic preamp noise and gain. It's not the highest gain in our testing, but it's also not the noisiest. The io44 can get as much gain as our Behringer and MOTU devices, losing only to the oddly loud AIR 192 | 4.
At higher gain settings, the preamp noise profile is similar to our other devices as well. The UMC404HD and AIR 192 | 4 did beat it at higher gain settings but only by a small amount.
We wanted to see how much juice each interface's preamps could deliver, so we cranked up the gain to full and played a pink noise file from a phone exactly 4″ away from each mic in the test. It's the epitome of not scientific, but it shows the differences in loudness between the mics paired with the interfaces.
Speaking of higher gain settings, we've got something to discuss on that topic momentarily.
Instrument input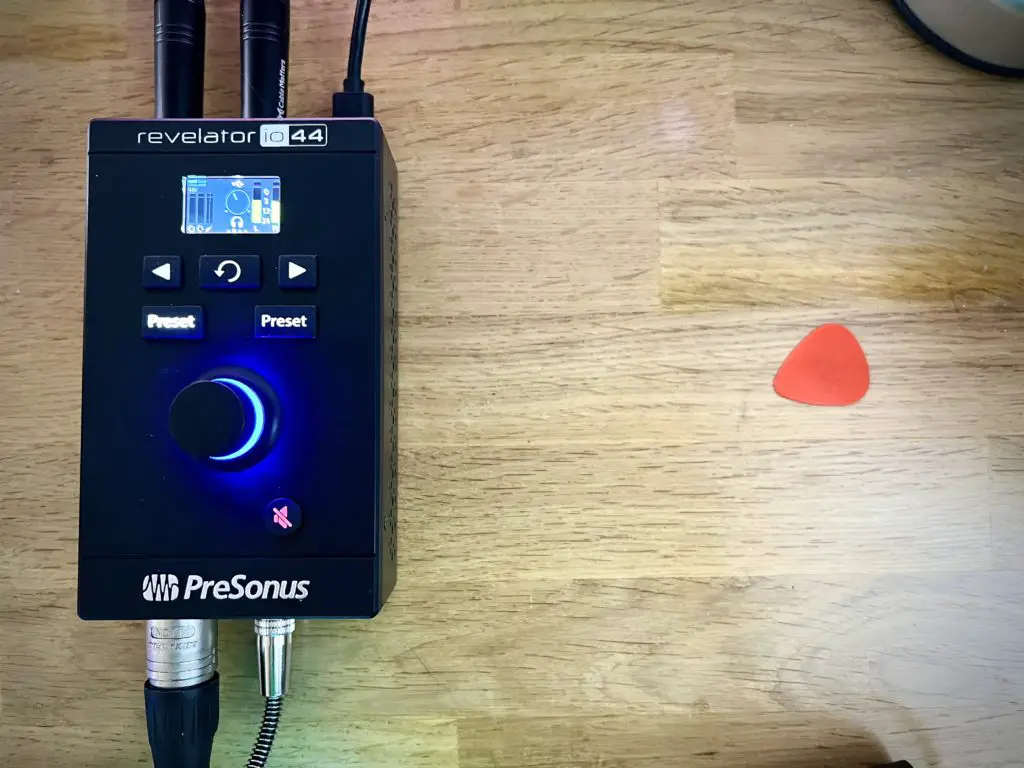 The 1/4″ instrument jack sounds, again, as we expect. Even though this isn't an instrument-focused audio interface, you can definitely get some clean tracking done on guitar or bass.
Unfortunately, there is no pad button for this input. This was a shame because even with the gain turned down to 0 dB, our Schecter C-1 Platinum loaded with active EMG 81 and 85 pickups (notoriously hot pickups, of course) was still peaking between -10 and -7 dB.
From the controls on the interface, there is a setting to let you adjust the instrument level in a range from -12 dB to 12 dB, defaulting to 0 dB. We thought this might work as a pad, but we couldn't get any change out of this setting. We didn't see anything in the manual about it, so maybe it just needs to be enabled in some code somewhere.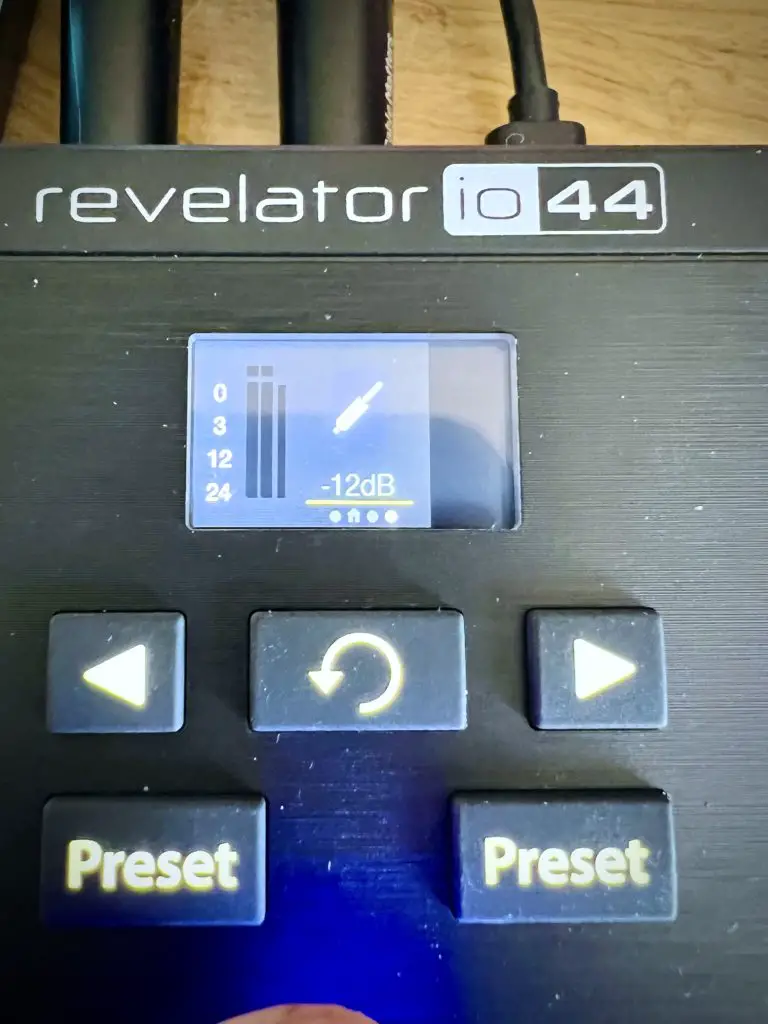 That said, this is not an issue that is unique to the io44. Out of our test interfaces, only the UMC404HD has a pad button–all of the other interfaces share in this problem of not getting quiet enough to handle active pickups.
If you don't plan on recording guitar or bass or don't have any instruments with active pickups you don't have to worry about this–the instrument input is just fine with passive pickups.
Mic input interference
We mentioned an issue regarding higher gain settings in the XLR section, and that's what we're about to talk about now. This does not affect the instrument input, but only the mic input. And not everyone will be able to observe or reproduce this behavior.
We noticed that the mic input is susceptible to interference from some electronic devices. We narrowed it down to (mostly) our choice of studio monitors–our beloved Tannoy Reveal 502.
If the speakers are powered on, the io44 picks up interference in the form of pops/crackles. This was detectable as low as 30 dB gain with the Fat Channel effects turned off.
You can hear the interference in the other 100% gain test we did like the one above. Here's a sample of the "room noise" test and how the interference is picked up by each interface/mic combo at full gain.
Turning the speakers off reduces the interference almost entirely, only still being audible when the gain is around 40 dB or higher.
We are using shielded balanced TRS cables out of the main outs and into a Behringer XENYX CONTROL2USB monitor controller and then balanced TRS to XLR cables from the controller to the monitors.
The monitors and controller are connected to a Fuhrman M-8×2 power conditioner running to a different power outlet than what the laptop, display, Thunderbolt hub, and other accessories are connected to–those are on a UPS as well.
We tried disconnecting the cables at the monitor, at the controller, and at the interface, and nothing caused a change in behavior. Turning off the controller and monitors independently further indicated the monitors are the issue.
We moved our phones away, disconnected other interfaces, made sure no power cables were being run in parallel, and nothing we could do could point to anything other than the Tannoy monitors for about 98% of the noise with the remaining noise most likely unavoidable power line noise from the cabling in the walls–it was highly intermittent and very quiet anyway, so the impact is minimal.
We also tested between the computer and input monitoring blend, we tried multiple mics and even turned off smart bulbs in our room, none of which could affect a change. The only thing we didn't disable was our networking gear in the room.
But the io44 wasn't the only interface in our test that had this issue, so we can't entirely single it out. The M2 was also susceptible to interference, as was the M-Audio AIR 192 | 4. Only our Behringer UMC404HD wasn't affected. As this has been our daily driver at this desk it makes sense we never noticed this with these speakers.
Unfortunately, the io44 was the hardest affected out of all three of these interfaces. But we don't think this is a total loss, and we have some workarounds:
Use a condenser mic that requires lower gain settings from the interface. You won't hear the interference below 20-25 dB
Don't use studio monitors (or power amplifiers) that emit interference. We love our Tannoys but are aware that they possibly aren't shielded as well as they should be.
If you want to use a dynamic mic, pick up a Cloudlifter or a Fethead to give your mic a boost while keeping the interface gain down at a reasonable level. It's actually not a bad choice for some extra headroom anyway.
We really hope that PreSonus can resolve these issues in a future revision to the io44. This is really the one glaring dark mark on an otherwise excellent audio interface.
Headphone output
The headphone output sounds good, it can drive pretty much any pair of headphones you'd want to use–but maybe not as loud as you'd like. It's not the loudest headphone amp out there, but it still has plenty of drive for something like the Sennheiser x Drop HD 6xx, a pair of 300Ω impedance cans. Just don't expect to overpower a ton of ambient noise.
The io44 does, of course, have a louder headphone amp than the Revelator and Revelator Dynamic. We ranked our test interfaces during the Revelator Dynamic review and the io44 fell between that mic's headphone output and the MOTU M2–a headphone output that we already felt is less powerful than we would have expected out of that device.
But what these other interfaces don't have, however, is native support for gaming headsets and other devices with a 3.5mm TRRS combo jack. If you have a headset you really enjoy but still want to take advantage of the full routing and effects capabilities of the io44, this is an amazing feature to have.
Main outputs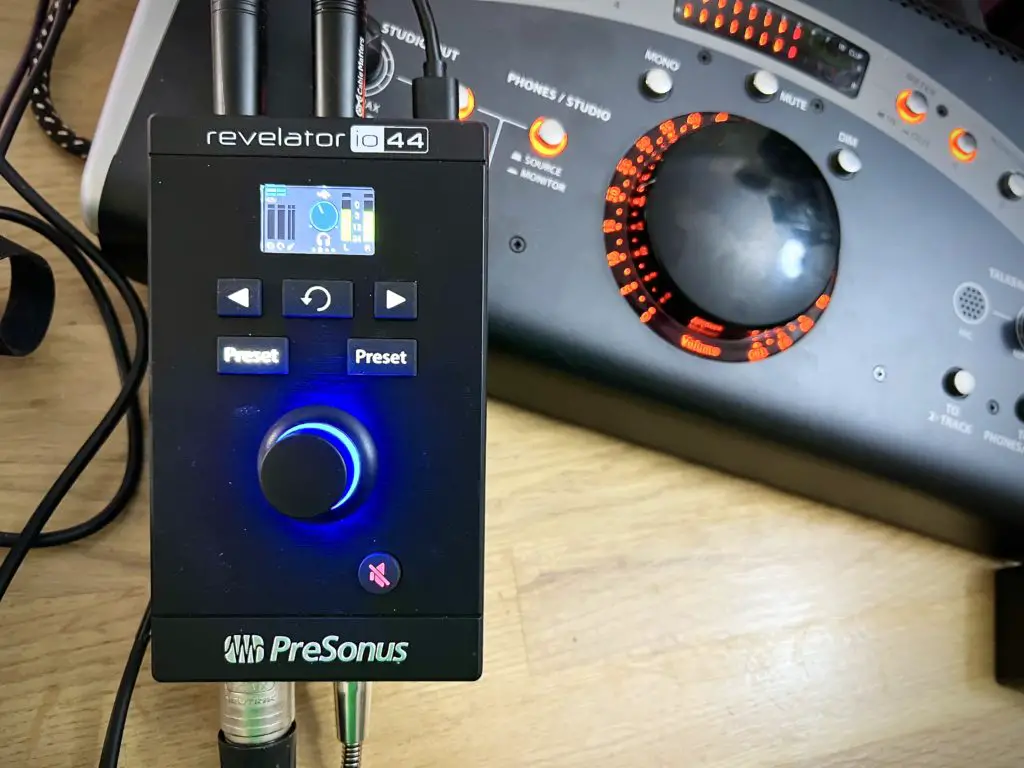 The main outs sound just as we expect from a modern audio interface. When matched against our other test interfaces it was indistinguishable from the others. Not much to say here, they do what they're supposed to do.
What don't we like?
Not every interface is perfect, and there is always room for improvement. There isn't really too much we don't like about the io44, but there are some things we'd like to see improved either via software or in future hardware revisions.
We love the idea of the screen–it just needs to be bigger in the next revision.
The hardware mute button needs to be configurable between the main outs and the mic input. We understand that from an audio production standpoint being able to mute your mains is a common task, but for a broadcast-focused device to not even have the option is an oversight.
No pad button for the instrument input (not even a software option)
While we know not all DAWs or plugins offer this feature, we love it when they do. A tiny little workflow assist would be to add a double-click-to-reset-to-default behavior on the controls in the mixer panel, especially the faders and pan controls. Trying to manually drag a fader back to 0 dB is a chore, and clicking and typing 0 is just annoying. It's not really a big deal, just a quality-of-life improvement we'd like to see. (We just found that Option-click on Mac and Alt-click on Windows will reset faders to zero. Doesn't work on pan though. Better than nothing though!)
While firmware updates via Universal Control don't require a PreSonus account, if you want to update Universal Control without downloading the new installer, you must sign in with your PreSonus account first.
The interference issues with certain power sources and/or unshielded electronics should have been caught in earlier development and needs to be fixed in an upcoming revision. It may be unfair to punish PreSonus for other manufacturers' design choices, but if Behringer can make budget interfaces that don't have this issue, PreSonus can too. And no, MOTU isn't off the hook on this one either.
The size of this interface is awesome, it's easy to throw in any bag or kit. But the I/O being on opposite ends of the device makes it a bit more cumbersome on a desk at times. We can't help but wonder what it would be like if at least the mic inputs/headphone output were on the side of the device. Or, maybe rotate the device 90 degrees and put all I/O on the long edge on the back? We're literally just picking at nits here, but it could be cool! It might even make room for a larger screen, and you know how we feel about that.
Final thoughts
PreSonus has developed quite a powerful little audio interface with the Revelator io44. It sounds great and has all the onboard effects and DSP you come to expect from the Revelator series while being incredibly compact and portable.
If you're looking for a killer single-channel audio interface for either a small desk setup or a portable broadcasting setup we can absolutely recommend the io44 with little hesitation for almost anyone. We're glad to see the Revelator line expanding and making studio-quality broadcast-ready tones available with little to no effort.
PreSonus Revelator io44 audio interface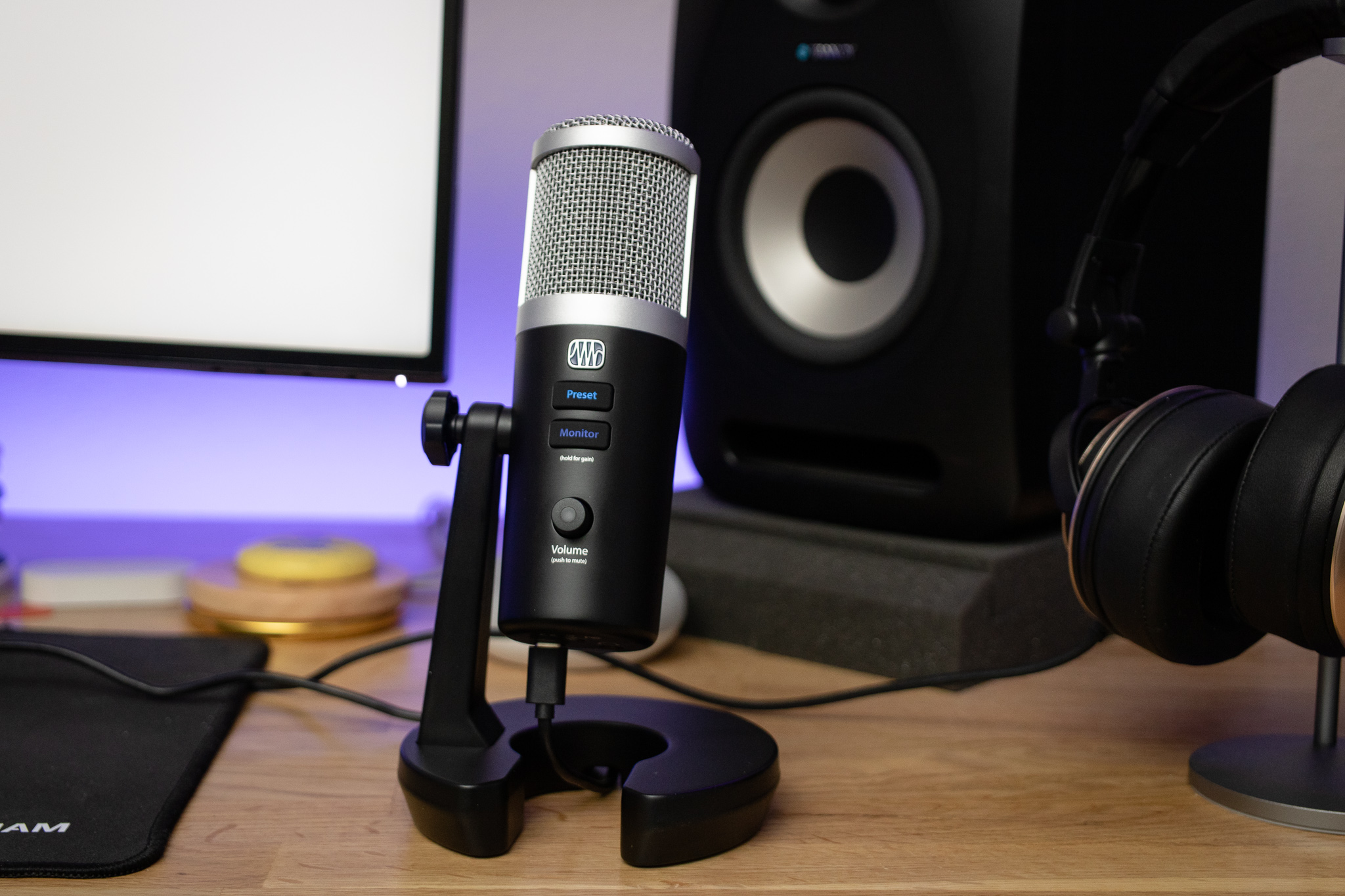 The Revelator interface for the streamer or podcaster on the go.
Audio tone (super subjective!)