I've been needing a new storage solution for a while for my home PC, and thankfully Amazon Prime Day happened.  After doing some research on the drives available, I wound up snagging a Seagate Backup Plus Hub 8TB USB 3.0 External HDD.  And while I wasn't planning on reviewing an external hard drive when so many others have reviewed them in detail, I did want to at least point out why I ended up buying this.  Other than the price.
I suppose the name of the product really communicates most of the main points, right?  8TB drive?  Yep.  USB 3.0?  Sure.  External?  Definitely is!  But "Plus Hub"?  Well, it makes a bit more sense after looking at the front of it.  There are two USB 3.0 ports right up front.  For those of you with a super clean desk setup (not me, at the moment) and are particular about wires this is an excellent feature, as you don't have the need for a big USB hub separately up at your desk if you just need to pop in a flash drive, charge your phone, or whatever your USB-driven heart desires.
The performance is the other main draw to this drive.  No, it's not the fastest in the world, but it's definitely above average.  While I'm not going to bore you with specs (again, because many, many others have done a better job than I would), it performs quite quickly, topping 190 MB/s read and 180 MB/s write in some tests.  And while this drive isn't going to be my daily workspace, it's going to be moving large amounts of data at a time on a regular basis.
The included software is pretty meh, to be honest.  But I rarely use included software for external drives, I'd rather work with something a bit more feature-rich and have control over things.  I'll probably get into tweaking my Syncthing installs to not only sync my desktop and laptop with each other but back up to the external.  One of these days.
Rounding out the drive is the small footprint, relative quietness, and a fairly attractive aesthetic.   And from what I could find, the failure rate isn't an issue on this drive, either.
But yeah, that's about it.  I mean, c'mon, external hard drives aren't TOO sexy or exciting.
What am I using this drive for?
This is the real reason why I'm even bothering writing this.  The main purpose of this drive is really to be a home for my Plex library.  My previous library location was an internal 1TB drive that has basically constantly been out of space for the past several years.  I'd constantly have to delete the content as I finished watching it in order to throw more up there.  Now that's not an issue.
Yeah, 8TB is pretty overkill, but at least this way I know it's going to be good for a while.  I'm not that voracious a media consumer these days, but my girlfriend and I do like to be able to keep our media collection with us wherever we go.  So now we have access to the various TV shows and movies that we don't watch on Netflix, on-demand, or whatnot in any part of the house as well as on our phones.
Once I spent the admittedly way longer than I thought to copy all of my media over to the new drive, the first thing I did was fire up the highest bitrate content I could throw at my poor old Nexus Player and the drive never skipped a beat.  CPU cycles were within reason, and overall the drive performed as expected.
I've also been streaming content to Plex in the living room when other large content is being downloaded over the network to the server, and specifically the drive, and no bottlenecks have been observed that were due to the drive or CPU.  All in all, it definitely gets the job done.
It probably will also serve as an archive for completed video and audio projects as I get to them, but maybe not, as I'd rather keep those on internal media as long as I can since I have a newly available 1TB drive and a substantial portion of my other 2TB internal that isn't already occupied by my full photography catalog and some video projects.  I can't imagine while the drive would be an issue for this use though, it moves other large files quite nicely.
Final thoughts
So yeah, not much detail to go into here, but I definitely would recommend the Seagate Backup Plus Hub 8TB USB 3.0 External HDD to anyone needing a stupid large external drive, but isn't quite ready to move into NAS territory (that's really my ultimate goal here).  But as far as a large single drive for media collections or raw video archives goes, this drive can't be overlooked.  Even at non-Prime Day prices.
Have you purchased this drive?  What are you using it for?  Are you using another ridiculously large single drive option that you love?  Leave a comment below and let us know!
Seagate Backup Plus Hub 8TB USB 3.0 HDD review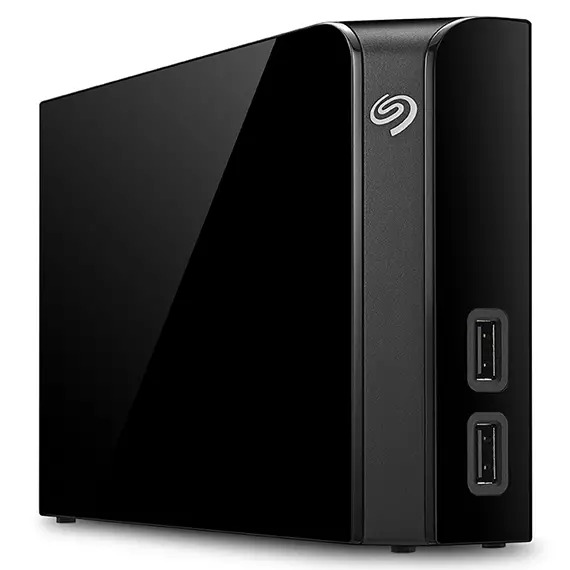 The Backup Plus Hub 8TB is a solid high-capacity external drive that gets the job done with minimal fuss.