An updated version of this article has been published over at AdventureWP.
I've been playing in bands for a large portion of my life, and usually, I'm the most tech-oriented in the group. This has almost always meant that not only was I a musician, but I also was the web designer, graphics guy, and whatever else that may come along with that. I've spent way more time than I would have liked to in the search for the best WordPress music theme for whichever band I was in at the time, but I've found some great stuff out there.
Choosing the best WordPress music theme for your band
There are more than enough out there, and that means that finding one can often take days, or weeks. You look for something that will offer all the features you may want, such as a music player, good photo gallery, ecommerce compatibility, social sharing.
But most of all, you want something that will match your band's image, and look badass while separating you from the rest of your scene. Something that identifies your band as unique, edgy, and professional. In other words, people know that you've got your shit together.  But let's quickly touch on some of the key features you'd be looking for, in addition to the overall look and feel.
WooCommerce compatibility
I always look for WooCommerce compatibility so you can not only sell physical merch (physical CDs, shirts, hats, etc), but also digital downloads and tickets (both with the right WooCommerce plugins, of course).  
This allows you to have full control over your sales, as opposed to relying on iTunes or Google Play Music and those platforms taking their cut.  Even if you don't plan on using it right away, having the theme be compatible means that it's covered if you change your game plan.
Social connectivity
Having a theme with built-in integrations to the various social media platforms is helpful.  Having integration with the music-specific services like Soundcloud, Beatport, Bandcamp, etc, is even better, even if only having included icons in a matching style:

Some themes will go beyond this, and allow for importing of existing content on other platforms, including embedding music from Soundcloud and other places.
Music player
There are a bunch of music players out there, some better than others.  You'll likely want to stay away from Flash-based players, as Chrome is now blocking Flash, and it doesn't work on mobile.  HTML5 players are the way to go.  
Finding one that looks good, imports music if you need it, and has the extra features you need will go a long way to helping your site.  You may want one that allows for rating or comments a la Soundcloud.  Or one that will provide download and/or purchase links to iTunes/etc.
Releases/Albums/Discography
Most of these themes do offer a way to display and promote your released albums.  Usually in a discography format, with each album being a custom post type, and then populating the album tracks into that post.  Album art, links to listen/buy, you name it.  If you're a new band you may not have any releases yet, but keep this in mind for down the road.
About the list
I've put together a list of some of the newer (or at least recently updated) premium WordPress music themes that I liked. While I haven't made this list quite as narrowed down as I would if I were searching for a theme for one of my own projects, it wouldn't make much sense to others if I had. What I did verify, however, was that the themes are still being updated within the past year or so, they look very flexible and modern, and most will support WooCommerce for any band merch or self-hosted digial download needs you may have.
So without further ado, let's get into this!
30 of the best WordPress music themes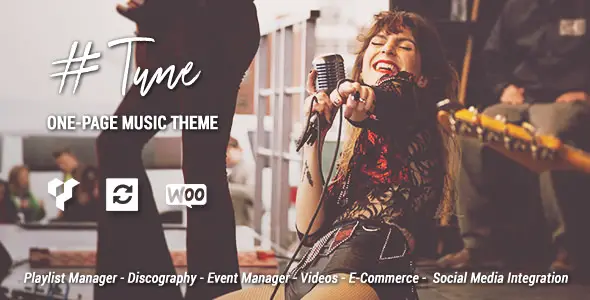 As I've mentioned before, I've gone through this whole shebang before, and the first WordPress music theme I wanted to showcase was Live! by WolfThemes. I ended up picking it for the site of my old band, ForNeveR. Unfortunately, Live! is no longer updated, having last been touched in October 2015. It's the only one of their older themes that haven't been refreshed, and it's a shame.
But there's a new WolfThemes WordPress music theme called Tune, and it looks damn fine. What they refer to as a "multi-concept one-page music WordPress theme", it lives up to the name. There are several demos and configurations for any part of the industry you could want, from bands to managers, to labels, and even recording studios. Full responsive design, WooCommerce integration, tons of extra plugins for further functionality, and great support from my first-hand experience.
Oh, and get this: There's a theme demo called "Remember Myspace?". Yeah, it's pretty much what you'd think, but modernized. Really though, I've been a fan of WolfThemes for a while now, and this new theme looks crazy awesome. So go check it out and see if it will make its way into your new site.
Tune – One-Page Music WordPress Theme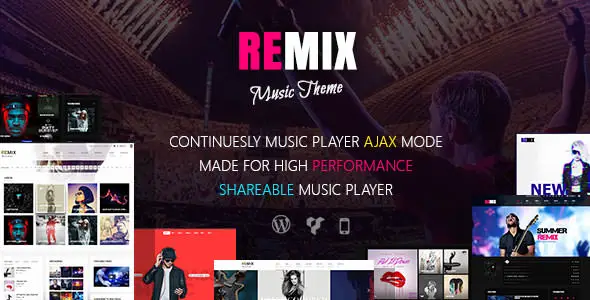 Remix has been around for a few years, and is still updated. It's touted as a fast, flexible, and powerful theme using some cool features such as AJAX versions of the site, a great player, and support for some major plugins.
Built around Visual Composer, the theme is easy to configure and even includes event management for tours and shows. The theme even comes with a copy of Revolution Slider (pretty usual these days) and Essential Grid, the latter being one of my recent favorite premium WordPress plugins, primarily after the latest update. Essential Grid is insanely flexible, and will let you do pretty much anything you want with a grid layout, including galleries, videos, lightboxes, and full theming customization. If you like this style of theme, it's almost worth buying this one just for Essential Grid.
Remix Music – Music Band Theme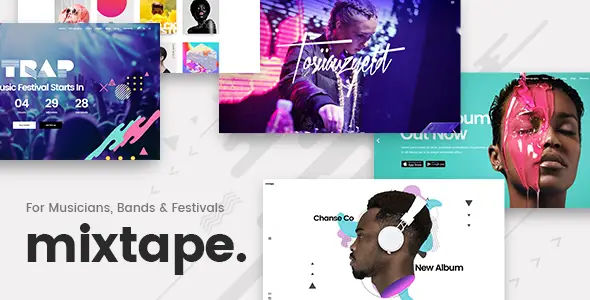 Mixtape is a very new theme, released just in May. It's very modern looking, and will most likely cater to the more pop/hip hop/electronic/hipster sort of acts with the way the demos are configured. But it has everything you'd need, with outstanding galleries, discography, shop, social, and tour dates support. Whether you're a band or solo artist, this theme will definitely get the job done in style.
Mixtape – A Fresh Music Theme for Artists Bands and Festivals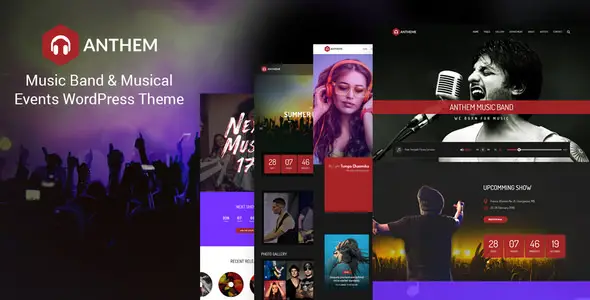 Anthem is a bit more subdued, but it's even more new than Mixtape with a July 2017 release. Shipping with music and video players, album/discography functions along with galleries and tour date management, its five homepage layouts will work for just about any musician or event needs.
Anthem – Music Band and Musical Events WordPress Theme
No doubt about it, FWRD looks damn good. The author, IronTemplates, has been making excellent WordPress music themes for years now and FWRD is no exception. This is a very modern and flat theme, and with Visual Composer and Essential Grid included you should be able to get up and running in no time with a stunning site at the end.
FWRD – Music Band and Musician WordPress Theme
Another IronTemplates theme, this has been around since 2014 and is always updated. One of the more popular WordPress music themes out there, it's very flexible, has several different styles, and just damn gorgeous. With all the features that IronThemes usually includes, Lush has you covered.
Lush – Music Band and Musician WordPress Theme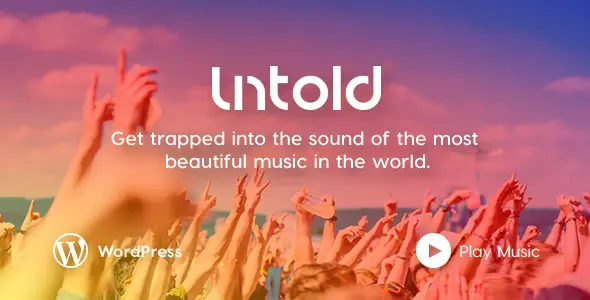 Untold is a pretty straightforward theme. It's customizable, attractive, and fast. With several demos to get you started, you can have your site up and running with minimal effort. The one thing it won't get you, however is WooCommerce support. Yet. It is only a few months old, however, so hopefully this will change soon. But if you don't need a shop page and you like the looks, it's worth saving a bit of cash going with Untold instead of one of the more expensive more featured themes.
Untold – WordPress Theme for Bands and Musicians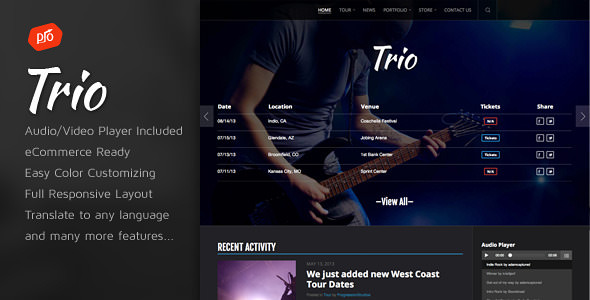 One of the older themes on the list, Trio is thankfully still being updated regularly. You won't see much modern flashiness here, Trio is a more traditional band website theme, eschewing parallax scrolling, one page design, and full-screen splash pages for a much more straight-to-the-content approach. The theme is fully color-customizable and has all your audio/video player needs met, along with photo galleries and the other usual suspects. I do find a certain appeal in the more simplistic design amidst so much "Oooh shiny!" of new modern themes, and this one is just clean, fast, and gets the job done.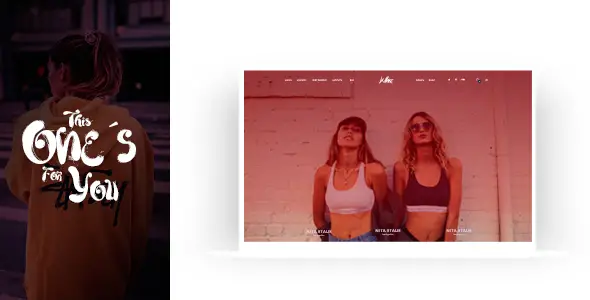 And just like that, we're back to the new shit. Aqura is definitely a bit different from the rest of these themes, but that's a good thing. It looks more like a photography theme, or perhaps a portfolio theme. But don't let that fool you, this is for musicians. The demos cater to different sort of artists and acts, and so far in this list is the only one to feature BandsInTown integration to help your social reach and let people know when you're touring in their area. There are several layouts, WooCommerce support, Retina support, and even the ability to sync your other social presences to be the content for your blog. Not too bad, right?
AQURA – Music Bands Musicians and DJ's WordPress Theme
Mesh is an attractive, clean and fast theme that's flexible to cover many needs. One of the main attractions here is the built-in ticketing system that allows you to sell tickets, reservations, and other similar items without needing a full WooCommerce install. With eight importable demos and social content sync, setting up and maintaining a site with the Mesh theme will be a breeze.
MESH – Music Band Musician Event Club Theme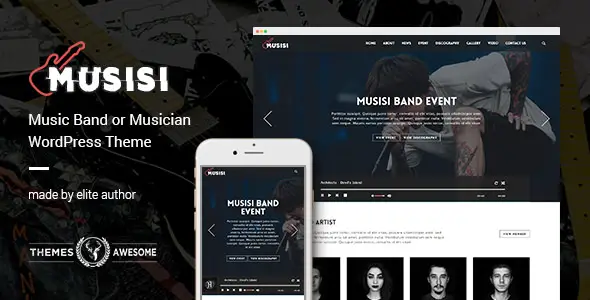 Musisi isn't necessarily flashy or crazy unique, but it looks slick. This is a legit theme that's fast, highly customizable, responsive, and easy to set up. Unfortunately, it's one of the few without WooCommerce support for slingin' merch, but maybe the authors will add it eventually. That said, it's still a gorgeous theme.
Musisi – Musicians Bands Theme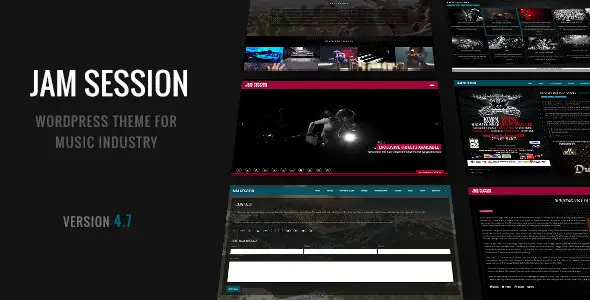 This one's a bit different. It's not visually as modern as some of the other themes in this list, but it still stands out with a fullscreen homepage mode that looks good, and puts social and tour events at the bottom of the frame where it's easy to find. There are other homepages, one with a scrolling page and one with a scrolling page and minimal menu, but JamSession does an outstanding job of displaying content, such as galleries, tour info, discographies, and more. If you're looking for something a bit out of the norm, give it a glance.
JamSession – Music and Music Band WordPress Theme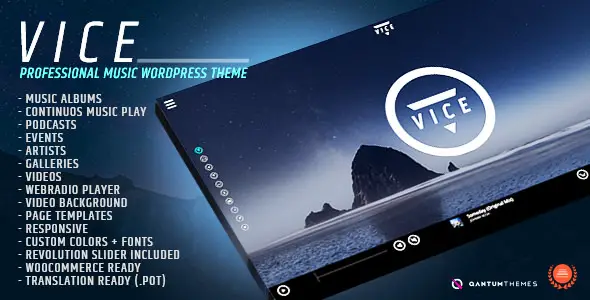 Vice stands out as a very modern, very polished and flat theme, doing the one-page style of site quite well. It will allow for actual pages as well, but the option is there if you want a one-page.
The theme is crazy modern, and just looks stunning. You'll find all of the post types for artists, albums, events, podcasts, releases, and more along with a continuous player and video backgrounds. Vice even supports radio feeds, and is really usable for pretty much any sort of entity within the music industry, albeit traditional terrestrial radio stations won't find the content to be as dense as they usually like to pack their websites.
The standout feature here, however, is the add-ons for physical documents. The author has created InDesign templates for business cards, presentation brochures, and one-page press kits that match the WordPress theme perfectly. Once you've customized the colors for the site, just make the matching changes to the document templates, and you've got instantly matching hardcopy to go with your website. These are purchased separately, but I've got to say that this is extremely rare in WordPress music themes, and absolutely refreshing to see an author take this extra step.
Vice – Music Band Dj and Radio WordPress Theme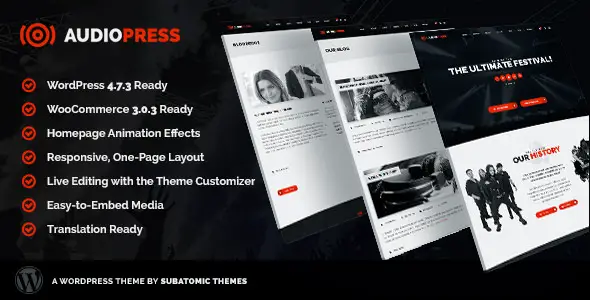 Audiopress is a theme more specifically for festivals and other similar events, but it could definitely work as a band or musician WordPress theme. It's a clean one-page design for the homepage, and is fast and lightweight. Sell your tickets or merch with the WooCommerce integration, and customize the page using the built-in page builder, not a theme options panel. This should be a quick setup for anyone looking for something modern and sharp.
Audiopress – A WordPress Theme for Music Festivals and Bands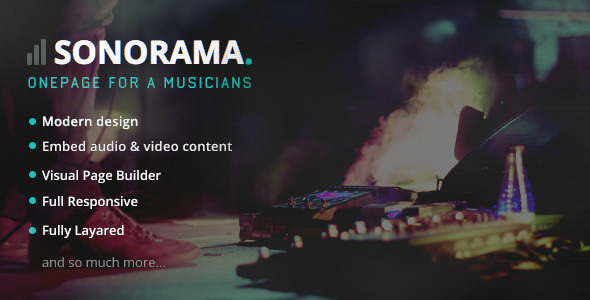 Sonorama is a great all-purpose WordPress music theme, suitable for a wide variety of genres. I could see this theme on an electronic/pop artist site just as much as a metal band. It's flat, sharp, modern, and flexible with a light and dark theme and some preset color choices to get you started. And thankfully the author does include the PSDs for further detailed customization.
Sonorama – Music Band and Musician WordPress Theme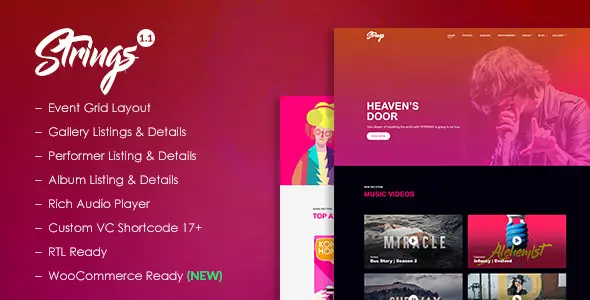 If you're looking for a simple, modern, and sleek page with all of the basic necessities for WordPress music themes, Strings is a great choice. It's not overly flashy, but definitely looks pro. WooCommerce, social, streaming, embedding, and discography features are all here with an easy setup process.
Strings – Music Band Artist and Event WordPress Theme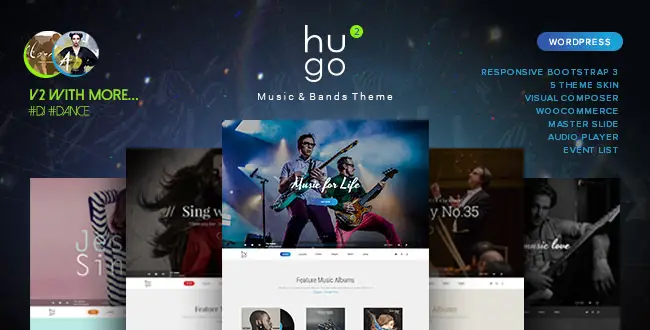 Hugo is a great looking theme with lots of "flavor" customizations, but not necessarily completely rebuildable like some other themes. And that's not necessarily a bad thing though! With Hugo, you get what you see in the demos, and they're pretty straightforward. You'll be able to match the theme to your band's look without any issue, and still have all the prerequesite features WordPress music themes should have.
Hugo – Music / Artist / Singers / Bands WordPress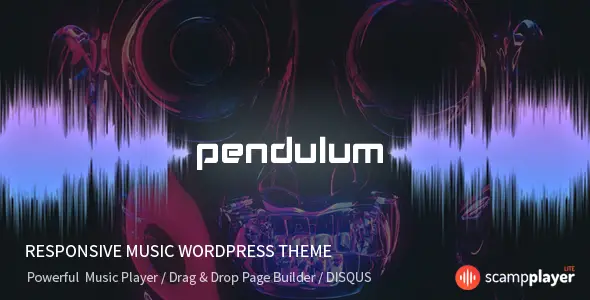 Pendulum is one of the oldest themes on the list, however it's still being refreshed as necessary, with the last update being in December of 2016. For a 7 year old theme, that's well within the acceptable range. And somehow it still looks really good for being as old as it is. While it does have almost all the features that a modern theme would have, it's sadly missing WooCommerce compatibility, but that doesn't surprise me due to its age. That said, the Scamp player that it comes with is quite excellent, and it is responsive and Retina-ready. Don't judge this one by the age, it still will throw down with the best of them.
Pendulum – Responsive Music WordPress Theme for Bands and Djs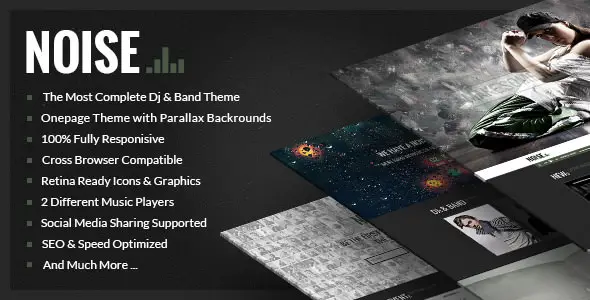 Yet another full-features WordPress music theme, everything you'd need for a band or artist site is covered. The author does a great job of ensuring that the theme is fully compatible with new versions of WordPress and WooCommerce, and there are a ton of customization options available. There's an interesting, unique aesthetic to the theme, and it really stands out, but is thankfully just shy of "too much", in my opinion. Definitely worth a look to see if it fits your bands look and feel.
NOISE – Onepage DJs and Band WordPress Theme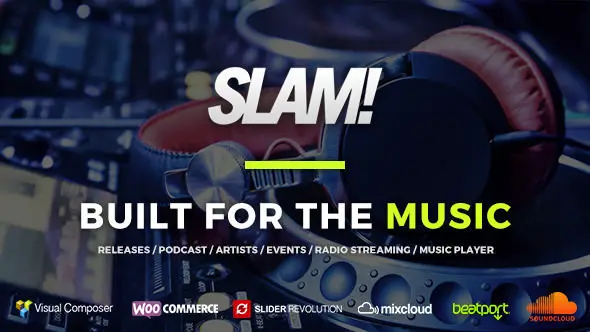 If you have an already-established group of releases on Beatport, Slam may be the theme for you. You can import your Beatport library as releases via the Slam theme, along with Facebook galleries, and easily customize your pages around those using the built-in Visual Composer page builder. The theme has boxed and wide versions depending on your taste, and generally any feature you'd ever want for a band WordPress theme. Worth a look indeed.
SLAM! – Music Band Musician and Dj WordPress Theme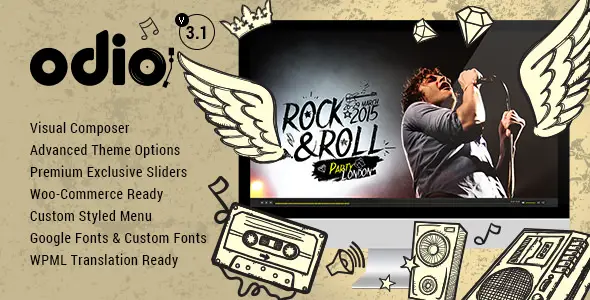 Good god is this theme sexy! One-page, multi-page, whatever you want. It's fast, lightweight, incredibly full-featured, and it has its own distinct feel for sure. It's also one of the very few themes on this list that feel like they cater more towards rock/metal bands without feeling overly cliche'd and extremely dated. But that's not to say it won't work for pop or EDM or whatever you happen to play, so don't worry. All in all, this is probably one of my more favorite themes of this style in the list.
Odio – Music WP Theme For Bands Clubs and Musicians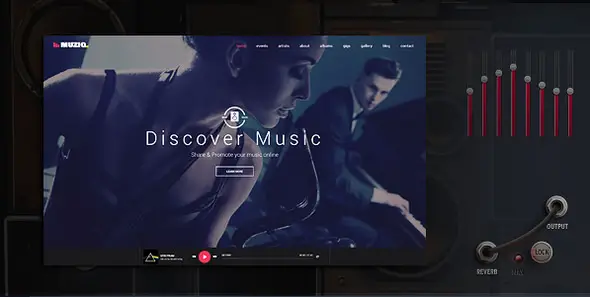 There's a lot to like with the Muziq theme. It's not going to win any awards in the "outside the box thinking" category, but of course that's not a bad thing at all. What you get is a highly polished theme with almost everything you'd need. They even include a "coming soon" countdown page, for use when you're getting everything set up on the site or prepping for an album release. What you don't get, however, is WooCommerce compatibility, and that's just a shame. But the theme's only been around since late 2016, so maybe it's coming shortly. But if you don't have a need for ecommerce yet and sell music via established platforms, this may be the theme for you.
Muziq – Music Band and Musician WordPress Theme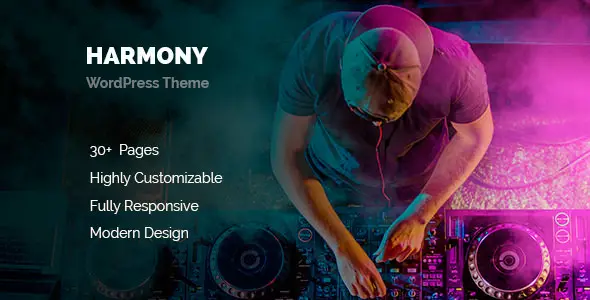 Another very flexible WordPress music theme, Harmony has a big ol' handful of demos highlighting different homepages, headers, and header effects. Yep, there's particle effects and other shiny gizmos to help look "edgy". As a result, I feel that it runs a bit sluggish on some devices, but it still looks good and is fully responsive. And has WooCommerce support including selling music out of the box, always a great add-on.
Harmony – Music WordPress Theme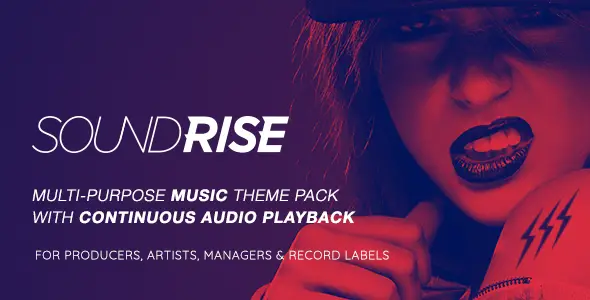 IronTemplates shows up in the list yet again with an absolute monster of a theme. While yes, this theme would work well for bands, IronTemplates has definitely created something specifically for the business side of the industry. Catering towards labels, promoters, managers, and A&R, SoundRise is perfect for highlighting your roster of bands and artists. The theme has all the custom post types you'd need for displaying and organizing these sorts of content, and does support WooCommerce despite not having a shop anywhere on their demos. Speaking of demos, there's a bunch of great ones to get you started, so take a look if you're in the market for a label-esque theme.
SoundRise – Artists Producers and Record Labels WordPress Theme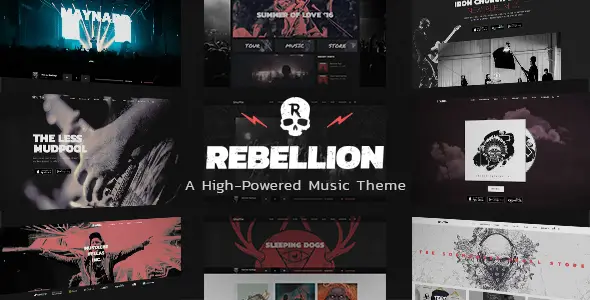 I'm sure that when you clicked on this post, you were hoping to find your next theme. Hoping for something that looks amazing, functions awesome. Hoping for something to make your band look as great as you sound. Well… Rebellions are built on hope (You had to have known that was coming, right?).
Rebellion is a rock-oriented theme with a bunch of great demos to get you up and running as soon as possible. And they're all substantially different, but all great. WooCommerce support, tons of page templates, fully customizable layouts. Connect with a variety of music shop platforms, including App Store, Google Play, Bandcamp, Spotify, Amazon Mp3, and Deezer. Again, this is one of my favorites in the list because of how flexible and clean it is, so give it a look.
Rebellion – A High-powered Theme for Musicians Bands and Record Labels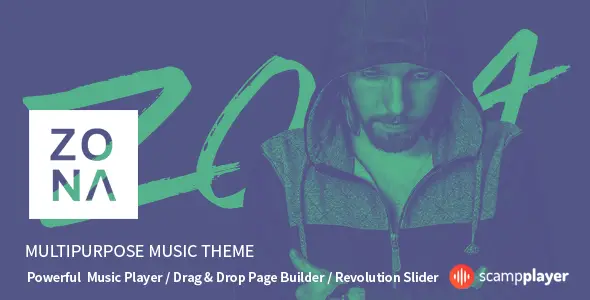 Another flexible theme for all sorts of uses, Zona is fairly simple and minimal, but also doesn't shy away from the flashy. As of writing this there's a light and dark demo, with a third to come. It's also yet another theme built around the excellent Scamp player, however this is a much newer theme than the aforementioned Pendulum. There's great integration with other online music platforms such as Soundcloud, Heartthis.at, Shoutcast, and Google Drive hosting. Overall, quite a well put together theme for anyone in the industry.
Zona – Multipurpose Music Theme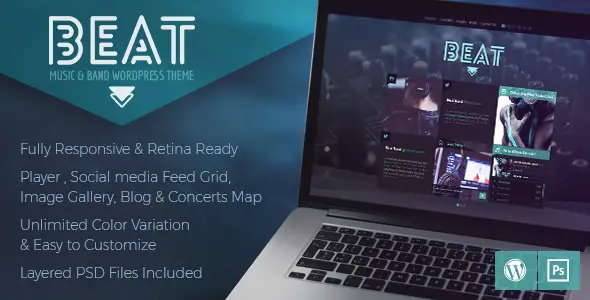 Beat is a bit different, as far as the header goes. It opts to put a focus on content up front atop a hero image, video, or color, and then below is more of the typical one-page style. If you find the typical choices of one or the other not hitting the spot, this may be your answer. It's also one of the few that tout a version for a different CMS, so if you're looking for a Joomla music theme (or might be moving over to Joomla at some point), maybe this is the right choice for you. But as for the WordPress version, what we have here is a clean, light, and fairly unique theme that looks pretty easy to set up.
Beat – One-Page Music and Band AJAX WordPress Theme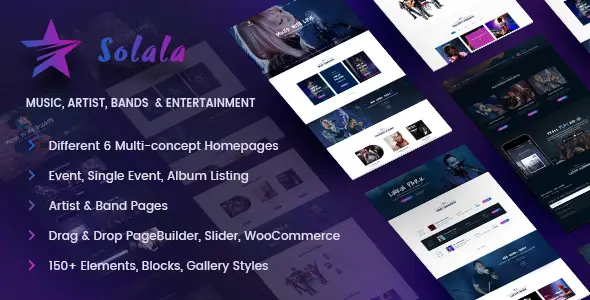 Solala is another full-features WordPress music theme, and an attractive one at that. Several demos show off what it's capable of with its 2 headers, 6 homepage options, and 6 blog layouts. The theme is easily customized and built with a drag & drop page builder, and overall is a very good-looking and powerful theme. Although, won't lie: The example of the Linkin Park "Coming soon" tour date block was a bit painful. Too soon. But the theme was last updated before Chester's passing, so we'll let it slide this time. Meanwhile as we get back on track, this is a great option for any sort of band or artist, so check it out for sure.
Solala Music – Music WordPress Theme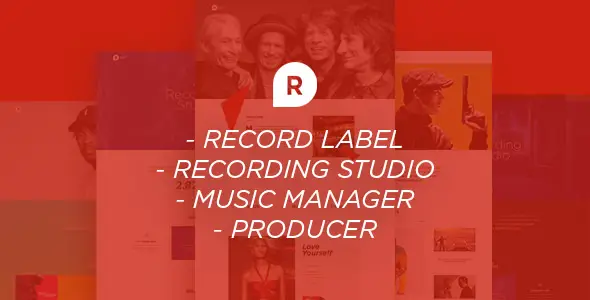 While not necessarily for bands (although it would definitely work), I wanted to include Recording Studio in this list because it's an excellent theme for just about any other part of the industry. It's a very flexible theme that looks great, loads quickly, and has pre-designed options for labels, producers, and studios. And I have a soft spot for studios. Let's face it, recording studios are awesome (I'm in the process of building mine as we speak). So if you're looking for a recording studio WordPress theme, can't pass this one up. If you're a label, producer, or manager, this would be a great theme for you as well. It's very customizable, has a great grid aesthetic, and has pretty much any feature anyone could need for a site in the music industry.
Recording Studio WordPress Theme – DJ / Producer / Music / Soundtrack / Artist / Entertainment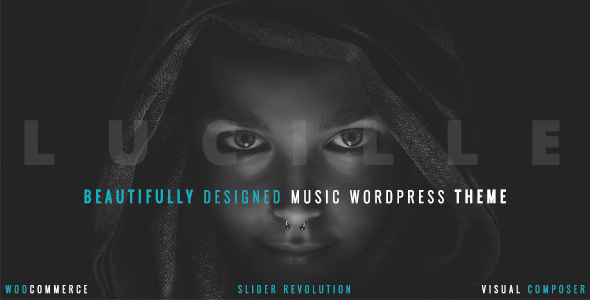 Lucille is a gorgeous all-purpose WordPress music theme. There are a handful of demos that are geared toward certain feels or types of sites, but really this theme could be used for just about anything creative. There's the usual compliment of features that any band or artist could need, and the theme is quick and fluid. With the included Visual Composer page builder, you'll go from install to completion with minimal effort, maximum results. Definitely not a theme to go unnoticed.
Lucille – Music WordPress Theme
Final thoughts
So there you have it. 30 of the best premium WordPress music themes for musicians, bands, artists, managers, labels, recording studios, clubs, you name it. There are a metric ton more, but this is definitely a great start, and some of the more up to date and fresh themes available. These will make sure your band stands out as professional and well put together, providing all of the features you would need at the time.
Have you found WordPress music themes that you like? Do you have questions about site design for band websites? Post in the comments below and let us know your thoughts and we'll answer to the best of our abilities.